Who is a leader that inspires you? Some of the most influential people at Capital One are women, just like you! And at Capital One, many associates find immense support and encouragement through business resource groups — internal groups set up to support designated demographics.
Recently, Capital One's women-focused Business Resource Group (BRG), empowHer, announced new national leads, Ingrid Dahl and Jodi Constantino. This duo will help inform empowHer's strategy to attract, develop, engage and retain top women talent. Jodi is a Senior Director in the Compliance division of Capital One's Risk Management organization. She currently leads the Compliance Governance & Oversight Group, responsible for developing and monitoring adherence to the Compliance Management Program governance framework. Ingrid Hu Dahl is the Senior Director of Experience Strategy within the design organization at Capital One, overseeing development and operations. As co-leads, they'll be able to tackle the job of leading this international BRG.
They are taking on different aspects of this work—Jodi will focus her attention on Regional leadership, communications, and finance. Ingrid will be responsible for the Steering Committee liaison, external partnerships and national campaigns. And this is a big body of work since empowHer is Capital One's biggest BRG and counts over half the company in its membership. That number includes participants across all people centers, both in the US and abroad. Discover what drew them to the work, what inspires them and how they'll incorporate a multitude of voices in 2021.
Why did you decide to get involved with empowHer? What was the draw?
Ingrid: I believe in women and our collective power in making change, shifting culture, and designing a future that is more equitable and human-centered. Women's perspectives and voices, ideas and inventions, courage and bravery turns movements into historical moments and milestones that set the stage for generations to come.
Though we've come far on the shoulders of the fierce women before us, there's much more work ahead to level the playing field. We still have a glass ceiling and a pay equity gap. We lack representation in global leadership positions and opportunities. Our bodies are still a battleground as Barbara Kruger's public art so famously stated in the 70s. The power and social systems in place are outdated and limiting.
Through EmpowHER, we have an opportunity to sustain a psychologically safe environment of sisterhood--where we trust, connect and relate with one another, sponsor and look out for each other, and tackle the impact of sexism -- and the intersection of race, class, sex and sexuality -- on our lives. This opportunity is exactly in line with my personal purpose, values and beliefs--and my leadership, activism and representation.
Jodi: I had joined EmpowHER upon my arrival at Capital One in early 2018, and really loved the engagement I experienced. In early 2019, I was asked by EmpowHER's accountable executive if I would consider serving as her Strategy Advisor to help shape the strategy and execution of the EmpowHER work. It was an incredible opportunity to influence some of the great work being done by our EmpowHER leaders, and network with women across the company to whom I would normally not have exposure.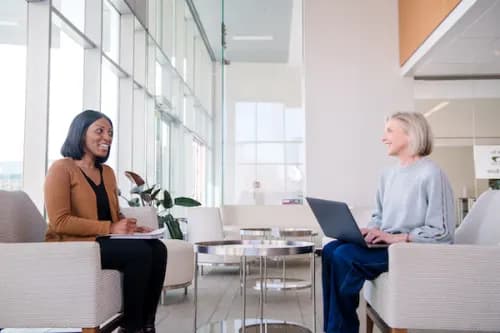 Why co-leads? What advantages or disadvantages do you see in teaming up as leaders?
Ingrid: I can't imagine leading this work solo! As our head of design Heather Winkle says, "It takes a village." And with 20,000 members, an incredible steering committee, accountable executive and core team, I think it smart and strategic to establish a co-lead model. Jodi and I will focus on building our relationship with one another and among our chapter and regional leads, stakeholders and members. Establishing that foundation and communication cadence is instrumental to our success!
Jodi: I am LOVING the co-lead model! EmpowHER is the largest BRG at Capital One, and it drives a TREMENDOUS amount of work. I am very much appreciating that I have a partner with whom I can shoulder it all! I couldn't have asked for a better co-lead than Ingrid - she is incredibly impressive with what she has built both inside and outside of Capital One. I think that the combination of my run-time with EmpowHER as Strategy Advisor and her fresh new ideas will deliver tremendous momentum for us.
Intersectionality is a hot topic when it comes to feminism. How do you plan on incorporating many perspectives in your empowHer work?
Ingrid: Intersectionality is not just about identity or increasing the awareness of the unique dimensions that make us who we are across ethnicity, ability, sexuality, culture and the like. Intersectionality is about power, influence and making visible systemic inequity. It's also about connecting and relating to one another, expanding our awareness of ourselves and those around us.
Intersectionality, inclusion and belonging is personal and will require a re-examination of how we lead with our assumptions, how we heal from pain of exclusion, and how we unlearn what has not served us, our peers, teams and communities. It's also about doing the right thing and seeing with new eyes. It's to approach others with curiosity and kindness--learning how to lead with curiosity, listening to others, and asking powerful questions.
Jodi and I will be putting together our plan to incorporate an intersectional and DIB lens to our approach as EmpowHER co-leads.
Jodi: Our EmpowHER leadership is an incredibly diverse group of women, and I find that our perspectives are very naturally coming together in support of intersectionality. Today more than ever, our BRGs are working together to support cross-pollinating our events, messaging, and strategies and being keen to identify areas where we can partner more closely. Lucky for us, we also have a resource from our Diversity, Inclusion, and Belonging team who not only works with us, but other BRGs as well, and can share best practices, thoughts, and events across the groups!
What's the biggest challenge you see to women in the workplace right now?
Ingrid: Not being seen, valued, or recognized. Not being heard or considered, being misunderstood, and regarded from a position and lens that is biased or gendered.
Jodi: As a single mom juggling 3 kids (who are going to school virtually at home the entire school year this year), I do believe that family obligations (and particularly for single parent households) are something that do over time keep women from achieving what their male colleagues do in their careers at the same pace. Sexier projects still often go to those who can put in the extra hours, and that's often not the single mom. I work hard (and sleep less...) to extend myself that way because my career growth is extremely important to me, but it can be an exhausting endeavor.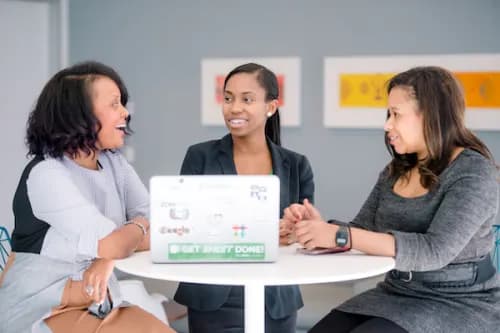 Where do you draw inspiration? How does it impact your leadership style?
Ingrid: I draw inspiration from leadership embodiment, coaching and leading with heart, bravery, and vulnerability while maintaining the presence of a true rebel. You've got to take risks, do the right thing, and elevate others along the way.
I'm inspired by Michelle Obama, Brene Brown, bell hooks, Octavia Butler, Malala Yousafzai, Ali Wong, RBG, Gloria Steinem and many other incredible people; my mother and Asian lineage of fierce women; my fellow queers in the LGBTQ community including my incredible and inspiring wife; the Black Lives Matter movement and the fight for racial justice; and, my fellow female leaders who inspire me everyday at Capital One, including my direct reports and the young women who we sponsor to lead in the years to come.
Jodi: I draw inspiration from several of the strong female leaders around me at Capital One, and the best part is that not one of them is alike - they all exude leadership strengths in different ways, and I love getting that exposure. I started a Leadership Bookclub for my teams when I joined Capital One - once every 3 months we dedicate our team meeting time to discussing a book on leadership (Smarter Faster Better was our last one...). I LOVE exploring these concepts with my team and observing how we each internalize pieces of the book differently. I also love to read autobiographies of strong, ground-breaking women in our culture (Barbara Walters, anyone?) and I do love to follow leadership quotes and motivational food-for-thought on social media (who doesn't love a good positive IG feed?!).
Interested in discovering more about Life at Capital One and how we support women in leadership? Explore our blog!
--
Fairygodboss is proud to partner with Capital One. Find a job there today!