In a major milestone for working mothers, Senator Larissa Waters is now the first person to
breastfeed
on Australia's Parliament floor — and people around the world are loving her for it.
Waters, a Queensland senator and leader within the Greens party,
returned to work
on Tuesday after ten weeks of
maternity leave
, bringing her baby daughter, Alia Joy, with her, the
Sydney Morning Herald
reported. As Parliament discussed voting on a Greens motion, so did Waters — while breastfeeding Alia.
The mother of two took to Twitter to share the history-making moment.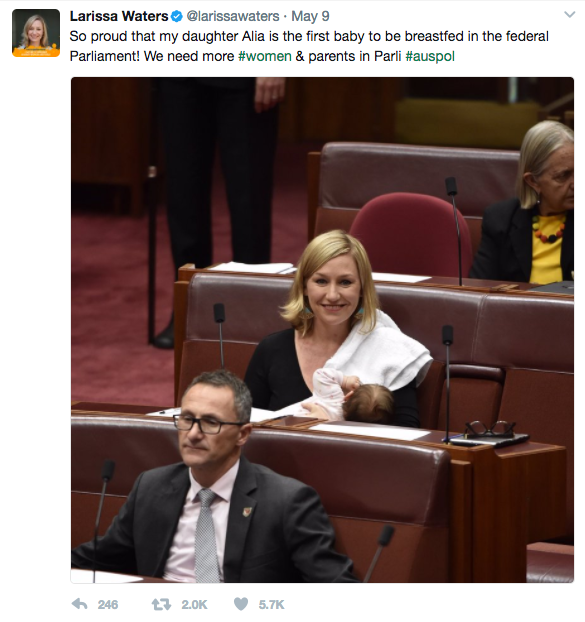 "So proud that my daughter Alia is the first baby to be breastfed in the federal Parliament! We need more #women & parents in Parli," Waters tweeted.
The post had been liked close to six thousand times as of Wednesday, with commenters expressing messages of support. "
Thank you
for fighting and representing us working mothers! There should be more like you in the business world," one person wrote, while another encouraged Waters to "keep on pushing for change."
"Women are going to continue to have babies, and if they want to do their job and be at work and look after their baby... the reality is we are going to have to accommodate that," she
said
.
Poignantly, the senator also
tweeted
a picture of former Australian politician and Olympic skier Kirstie Marshall who, less than two weeks after giving birth to her first child, was ejected from Parliament for breastfeeding.
The February 2003 incident sparked a national discussion about the rights and role of working mothers — but it wasn't until last year that a
change in a law
(one that Waters herself pushed for) made it possible for senators to "briefly care" for their infants on Parliament floor.
In her tweet about Marshall, Waters wrote: "Here is Kristie Marshall before she was ejected from the Vic Parliament for breastfeeding her 11-day old bub. Look how far we've come!"

Fairygodboss is committed to improving the workplace and lives of women.