1.66k
Fan of all things Rihanna- and Ru Paul-related.
Every year, Latina Equal Pay Day falls on November 20, symbolizing the additional 324 days Latinx women need to work in order to make the same pay as white men in 2018.
In 2019, white and black women still earn 79 cents and 63 cents, respectively, compared to the dollar every white man makes. And Latinas make the lowest pay, earning only 53 cents to a white man's dollar.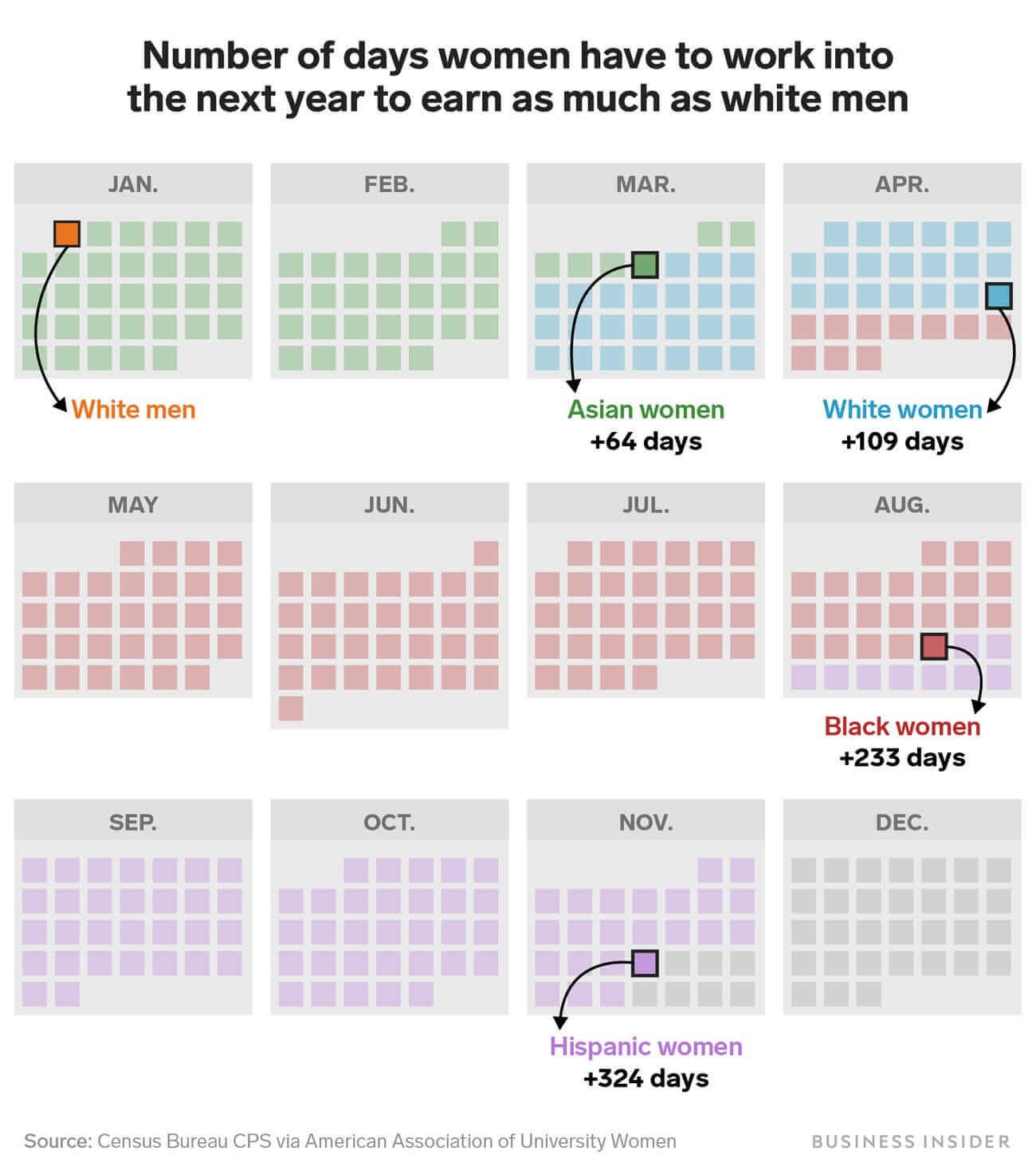 Image via Business Insider
Latina Equal Pay Day is here to remind us that there's lots more work to be done before we've successfully closed the gender pay gap. We welcome you to join the movement by engaging in one — or all — of the activities below.
1. Spread knowledge around the gender pay gap.
In order to hold ourselves accountable for closing the gap, we must first make ourselves aware of the disparity. Raising awareness includes learning about the gender pay gap, maintaining transparency around progress — whether it be company or nationwide — and adopting practices to address it.
By now, we know that the gender pay gap doesn't look the same across all genders or all women, but did you know it differs around the world, too?
Iceland, for example, passed a law in 2018 making it illegal to pay men more than women and is ranked No. 1 on The Global Gender Gap Report for the 10th year in a row. It has since closed its gap by 85%. The runner up is Norway, for the second year in a row, after closing more than 83% of its overall gender gap. The U.S. comes in 51st place (two spots lower than its rank in 2017), but still holds a top 20 spot on the Economic Opportunity and Participation subindex because of "the substantial potential of the country's next-generation female workforce," according to the report.
Nicaragua is the only Latinx country on the top 10 list, and "remains the country with the narrowest gender gap in the Latin America and the Caribbean region for the seventh year running."
2. Get Latinas into positions of power.
In a recent Fairygodboss Hispanic Heritage Month webinar, founder and CEO of The Latinista, Yai Vargas shared these startling statistics: Hispanic people only hold 3% of seats in the boardrooms of Fortune 500 companies. Nearly 350 of the list do not have a Hispanic representative on their board at all, and only 10 Fortune 500 CEOs are of Hispanic heritage.
Of those 10 CEOs, only one of them is a Latina.
The statistics aren't notably better for women of all backgrounds, with only 33 Fortune 500 companies being led by female CEOs. But in the general pool of these high-grossing companies, Latinx women and men receive the shortest end of the stick. Needless to say, we need to get more Latinx members into positions of power — specifically, Latinas.
3. Open up the conversation.
Change won't happen if we continue discussing the gender pay gap amongst ourselves. Two simple ways to move the conversation forward are through the adoption of employee resource groups (ERGs) and diversity programs.
ERGs are company-wide communities that offer support and transparency for underrepresented professionals. The goal of an ERG is not to further marginalize an individual, but to create a space where all company members feel encouraged to learn about the challenges they each face and develop ways to better support one another.
Diversity programs have a similar goal. Many companies, such as CDW and The Hartford, implement diversity and inclusion initiatives in order to hold themselves accountable for providing equal access to opportunities for qualified applicants and to ensure the fair treatment of all employees.
Ultimately, these spaces provide a platform for all company members to engage in honest identity dialogues. And everyone benefits, regardless of how you identify, because they allow you to sharpen your own self-awareness in a wider professional, financial, maybe even global context.
Below are some additional resources to help expand your understanding of the state of Latinx women in the workforce:
--
Stephanie Nieves is the SEO & Editorial Associate on the Fairygodboss team. Her words can also be found on Medium, PayScale and The Muse.