In 1942, Mary G. Ross, changed the course of history by becoming the first female engineer at Lockheed Martin – paving the way for the next generation of female engineers. At the time, working as an engineer within the aerospace industry was a near-impossible achievement for women. Yet through determination, tenacity and undeniable talent Ross quickly made her indelible mark, making especial contributions to the P-38 Lightning.
Now, over 75 years later, thousands of women at Lockheed Martin continue her legacy as engineers, scientist and mathematicians.
Its bold women like Ross who dare to blaze a trail and think beyond today, pushing the boundaries of human knowledge to make the impossible, possible.
By highlighting the extraordinary women that help build the F-35, we hope to inspire future generation of young girls to get excited about the contributions they can make in the science, technology, engineering and math.
Get to know the Women of the F-35 and learn more about how they are breaking new ground in the aerospace industry.
Meet Nikki Boone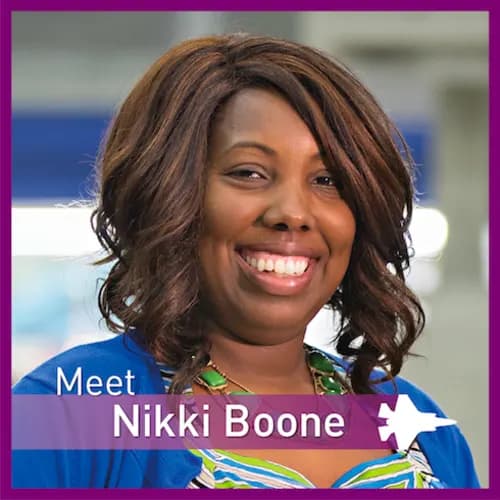 Nikki is an electrical engineer with experience in flight test instrumentation and system design. As a mother of three (soon to be four), Nikki balances her career as an expert engineer, STEM advocate and dedicated mom with almost superhuman skills. Her work at Lockheed Martin has been nothing short of exceptional, having received an award for outstanding patent disclosure on noise technology while simultaneously starting a STEM-related school tutoring program for at-risk youth.
What inspired you to pursue a career in STEM?
While most kids my age idolized fictional superheroes, I admired Dr. Mae Jemison growing up. I admired her being an engineer and the first African-American female to travel in space. After learning about her story, I knew that the sky was the limit. From that point on, I wanted to know more about what engineers do and what career opportunities were available. I sought out classes that would expose me to engineering concepts and would lay the foundation for pursuing this area as a career. Now as a mother and mentor I want kids to see me like I saw Dr. Jemison and know that they can do anything that they set their mind to.
What advice do you have for the next generation?
Never give up, keep moving forward and persevering in spite of adversities. This road isn't easy and many times you may second guess yourself; however, do your due diligence, work hard and be confident in your abilities. You will be amazed on what you can achieve. Be a trailblazer for others that will follow in your footsteps.
Meet Diana Kirkwood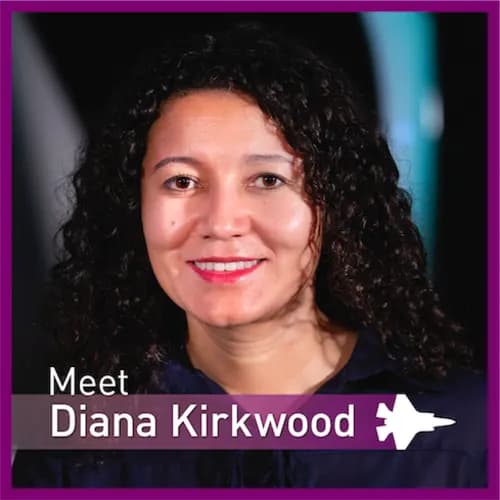 Diana is a mechanical design and systems engineer with experience in F-35 Air Vehicle configuration, airframe structural design, mission systems tests and configuration management. As a proud first generation American, she is dedicated to encouraging underrepresented young women to pursue STEM fields.
What has been the most meaningful moment in your career?
All of my past jobs have given me meaningful experiences, but working on the Cooperative Avionics Test Bed (CATBird) as part of the flight test program was the most meaningful. Flying in the aircraft and seeing how all the systems of the F-35 interact was breathtaking.
What advice do you have for the next generation?
For those young people who come from other countries and have limitations on language, don't give up on your goals, keep working hard and take every opportunity to learn, you will eventually get there. It just might take you longer than others, but the reward and satisfaction from your efforts will be the example others will follow.
Meet Caroline Baer
Caroline is an industrial engineer on the Human System Integration team. In her role she designs the cockpit layout to best optimize the performance of our fighter pilots. From designing life support systems and software displays to picking aesthetically pleasing colors and fabrics – she designs it all.
What's your favorite part of your job?
My favorite part of my job is interacting with fighter pilots on a daily basis. I enjoy creating a product that they are able to use and successfully execute their missions. Every minute that I spend designing and verifying a life support system or ejection system is a minute well spent ensuring that they can come home safely.
What advice do you have for the next generation?
Follow a path that makes you excited! You will spend majority of your day doing your job, and you will excel at something that you are passionate and excited about. You should be excited for every day, and your eyes should light up when someone asks you to tell them about your job. I am proud and excited to explain my work at Lockheed Martin, supporting the war fighter and challenging the norm to create the most innovative solutions that push the limits.
Meet Michelle Maddox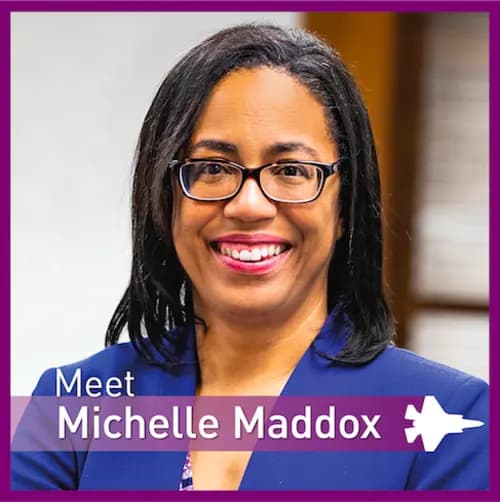 Michelle is an Electrical and Software Engineer who is currently pursuing a Phd in Computer Science. Michelle has worked on the F-35, F-16 and F-22 over the course her career.
What's been your proudest moment?
The moment that I'm proud of is my time on the F-35 Verification Simulator. The verification simulators are used for F-35 training and testing that can't be performed in the field, so they have an important role in F-35 system development. I served as the Lead System Engineer and in that role I implemented multiple process improvements that helped to improve system design and verification test processes that made the systems engineering products more maintainable and affordable.
What advice do you have for the next generation?
Build your network - it sometimes takes many people to present different perspectives, or to solve complex problems. It helps to have people that you can contact for guidance, suggestions, or moral support.
Be a continuous learner!
View challenging tasks and situations as opportunities in your development journey!
--