Before Meghan Markle married Prince Harry, the world wondered whether her father would be there to walk her down the aisle. But, following some conflicting news, the 37-year-old had confirmed that her dad would not be attending the royal wedding after all.
Markle's dad, Thomas Markle, reportedly worked with the paparazzi on a photoshoot to generate more positive press coverage of himself just before the wedding, according to TMZ. Markle's half-sister, Samantha Grant, claimed to have encouraged the arrangement "for the benefit of the royal family," Express reported. Unfortunately for Thomas, the plan backfired. He planned not to go to the wedding, after all, to avoid embarrassing his daughter. But shortly thereafter, he suffered a heart attack, so his attendance would really be contingent upon his health, The Telegraph reported.
Ultimately, Markle released an official statement via the Kensington Palace Twitter page informing followers that her dad was definitely not coming to her wedding. She tweeted, "I have always cared for my father and hope he can be given the space he needs to focus on his health." Meanwhile, Grant told Good Morning Britain that her father was "quite depressed over the unbelievable series of events involving the media."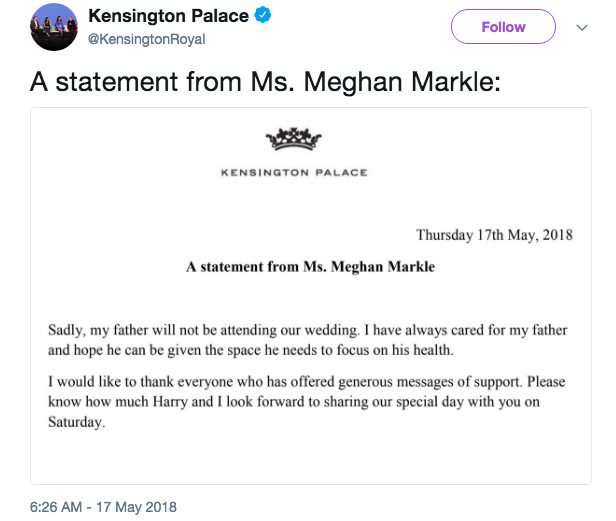 It was never a secret that Markle and her father didn't have the closest relationship, despite how much they may still care for each other. In fact, in July, Thomas told
The Sun
that the Royal family had "shunned him," and, most recently, he
compared the Royal family to Scientology
. The retired lighting director also said that the Duchess of Sussex looked "terrified" in her new life.
Many Twitter users have long defended Thomas, who, truthfully, couldn't stay out of the public eye even if he did earnestly try. And many of them expressed feeling bad for Thomas.
But speaking to
The Telegraph,
Markle's
Suits
TV dad, Wendell Pierce (who plays Robert Zane, father to Markle's character, Rachel Zane), said that Thomas should always be putting his daughter first.
"If you care about Meghan, the Duchess of Sussex, then that should be first and foremost in your mind before you say anything," he said. "If you love your daughter, just love your daughter. It's not for public consumption."
He also added that one of the last scenes he filmed with the now-Duchess of Sussex was a moment he cherishes.
Regardless of Markle's relationship with her biological father, Pierce makes a fair point: Their relationship should be between the two of them.
--
AnnaMarie Houlis is a multimedia journalist and an adventure aficionado with a keen cultural curiosity and an affinity for solo travel. She's an editor by day and a travel blogger at HerReport.org by night.