Not every type of job out there is for everyone. Some people are morning birds and love a career that gets them up and maximizing their energy well before the day is done. Others are total night owls and much prefer to work through the peace and quiet of the night than during the day. In the same vein, some people choose steady and secure full-time roles while others may opt for taking on a few micro jobs to make ends meet.
Micro jobs may be what's best for you. Here is everything you should about what micro jobs are, the pros and cons to micro jobs, and the best places to find micro jobs so you can decide for yourself whether or not you are interested in exploring this route.
What are micro jobs?
Mirco jobs sound like what they are: They're micro jobs. They're typically assignments, like projects or tasks, that you are hired to complete for a fee. You may think of micro jobs as gigs — they allow you to work as an independent contractor who takes on as many or as little micro jobs as you want.
Some people work micro jobs full time, combining a few gigs to equal the income of one full-time job. Others work micro jobs as side hustles to make extra income or to gain experience in certain areas. And other people may work micro jobs while they are students and do not have the time to work full-time jobs.
There are micro jobs in most industries, though some industries like the arts, for example, certainly have more opportunities than others. Likewise, some micro jobs require more skills and experiences than others (like babysitting vs. web designing, for example). Because of that, some pay better than others.
Examples of micro jobs
Here are some examples of micro jobs you can choose to pursue.
1. Babysitting
You may babysit during after school or work hours to make some extra money. You do not need any experience to get a babysitting job, though families may have certain preferences, like a first aid certificate. Babysitting is a micro job because it is a short, one-time task you are asked to complete for a flat wage.
2. Web Designing
Web designing can be an incredibly lucrative job that you can do full time or as a side hustle. You can set your own rates and decide which clients you want to work with, especially as you start really gaining traction in the field. Web designing can be a micro job when you're assigned one project to design.
3. Handyman Work
Maybe you join a website like TaskRabbit, or maybe you offer your services through your own company. As a handyman, you can decide to pick up microjobs here and there, like fixing a sink or painting a house.
4. Copywriting
Copywriting, like web design, can be a very high-paying job, especially once you start building credibility as a talented copywriter. As a micro job, you may offer your services to help people create copy for their landing pages, social media platforms, press materials and more on an as-needed basis.
5. Driving
As a driver with ride-sharing like Lyft and Uber, you can pick up work whenever you want. While this is a different kind of micro job because you very much work for yourself, you can consider each ride a "task." You can take on a ton of tasks driving people around and make it a full-time job, or you can just work when you want to work or need some spare income.
How do micro jobs pay?
Micro jobs pay a varying amount depending on the type of job you work, the length of the contract, the experience required, the skills needed and more. There are a number of factors that determine just how much you can make from a micro task.
For example, a babysitter typically earns $11.71 per hour, according to Payscale. But a web designer typically earns an annual salary of about $51,424. Of course, a web designer job is going to require a lot more of you in terms of experience and skills than a babysitting job. Many companies hiring web designers, even for micro jobs, want to see a degree, specific certifications and a portfolio.
Pros and cons of micro jobs
As with anything, there are both pros and cons to micro jobs. Here are are few of them:
Pros
Micro jobs are flexible. You can typically make your own hours and work according to your own schedule, unless your contract otherwise requires a specific timeframe.
As an independent contractor working micro jobs, you generally have more wiggle room to set your own rates. While some people may not hire you for your rate, you do have the freedom to set it on your own and say no to work that doesn't feel financially worth it to you.
Micro jobs allow you to gain experience in different areas. For example, you can pick up odd jobs in other industries to get a feel for the work and dip your toes in the water before you dive in headfirst.
Micro jobs are great for generating extra income. You can usually pick up micro jobs as side hustles to work during off-hours or even on the weekends and make some pocket money.
Micro jobs keep your days interesting. Instead of going to the same job every day, doing the same work every day, you can mix it up. You can take on different tasks and mix your workdays up more.
Cons
Micro jobs do not generally offer the same security as a full-time job. You may find yourself chasing checks a lot.
Speaking of chasing checks, it is a lot harder to keep track of multiple clients than it is to keep track of one employer. Juggling clients and bookkeeping for all of them can become a lot more complicated.
Micro jobs demand that you make wise use of your time, especially if you are taking on a lot more than one. For example, while you want to treat every client or customer like they are your only client or customer, ultimately, your loyalty lies with you. You have to make sure that you are using your time in a smart and efficient way, without biting off more than you can chew, so that you can complete all of your assignments with 100 percent of your attention all the time.
Micro jobs don't usually come with the same benefits as a full-time job. While a full-time employer may offer you health insurance or a 401(k) match, for example, you will probably have to shop around for your own insurance and invest your money in your own plan. You may also lose out on other coveted benefits that companies, nowadays, are offering their full-time employees.
You may feel you are stretching yourself too thin. It's hard to say no when you are a freelancer or independent contractor. After all, those of us who work in the "gig economy" know that freelance is often feast or famine. Sometimes, you either do really well... or you really don't. So when opportunities come your way, you tend to jump at all of them. But make sure that you are only taking on what you can feasibly handle.
17 best places to find micro jobs
Think a micro job (or a few) might be a good path for you? Here are 17 places to find micro jobs.
TaskRabbit is a great place to get started looking for all kinds of odd jobs. There is everything from planting flowers to moving boxes to putting together furniture and more. Just create a profile and set your own hourly rate.
Fiverr is another awesome site to help your find work. You can find everything from logo design jobs to copywriting jobs to voiceover work to web design to translation and more. You can also choose your rate.
Through Upwork, you can find more professional jobs — everything from UX and UI design work to graphic design and so much more. Upwork's mission is "to create economic opportunities so people have better lives." It's the world's work marketplace where everyday businesses of all sizes come to find talent — from bigger businesses to scaling startups alike.
Handy is full of cleaning and handyman jobs from home cleaning, TV mounting, and wall hanging to kitchen remodeling and major renovations.
Thumbtack is another gig board to find a lot of handyman work. All you have to do is sign up as a pro and complete a background check. And then you can start adding services to your profile and, as you gain customers, you start getting reviews. The more credibility you build on the platform, the more jobs you are likely to get!
Shiftgig puts it this way: "Shiftgig provides staffing agencies with on-demand staffing software to grow and scale their business. Our software solutions empower your workforce with flexibility and choice while allowing you to deliver powerful strategic insights to your clients." Basically, you can browse and claim shifts that you are eligible to take on, and then you can have control over your own schedule.
Flexjobs is arguably the world's largest and most well-known marketplace for remote and flexible positions. You can find jobs all over the world, and work them from anywhere in the world, too! These may be temporary jobs, part-time jobs, or even full-time jobs. But the good news is that you can always find micro jobs on this site.
Gigsmart is a platform that "gives you the freedom and control to find the right work opportunities best suited to your skill set." You can use the mobile app to find local jobs in your area.
Freelancer is a platform that brings millions of people who are looking for workers. You can bid on jobs that appeal to you. There is everything from mobile and web design to Wordpress building to package design to illustration and more.
SimplyHired is more of a traditional job board, but you can still find tons of micro jobs o the platform.
Toptal is a professional marketplace for top talent. As the company puts it: "Toptal is an exclusive network of the top freelance software developers, designers, finance experts, product managers, and project managers in the world. Top companies hire Toptal freelancers for their most important projects."
On PeoplePerHour, clients will hire you, you guessed it, per hour, to complete tasks like translation work, copywriting, editing, digital marketing, design, etc.
99designs is " the go-to graphic design service by Vistaprint." The platform prides itself on making it easy to work with professional, creative experts from all over the world.
Search for remote mico jobs on
Remote.co
. You can do any of these jobs from anywhere in the world! So long as you have stable Wi-Fi, you are good to go.
Krop is not only a place for freelancers to go to create compelling portfolios, but it also has an awesome job board. You can find all sorts of gig work on Krop, especially creative jobs. "Photographers, designers, illustrators, and other creative professionals use Krop to build and manage their own portfolio websites without having to learn a complicated platform or needing to hire a web developer," according to the website. They also use it to find work to add to those beautiful portfolios!
The Freelancing Females Facebook group is an awesome place to turn to find freelancing jobs through other women. There are almost 60k members who all share opportunities all the time! Sometimes, the share opportunities with their companies, and other times, they are just looking for someone to take on a quick micro job and lend a helping hand. Either way, you are bound to connect with likeminded professional women and find work that suits you.
Of course, Fairygodboss is here to help! Not only does the site share career advice articles like this one, but you can also use Fairygodboss to find job opportunities. Yes, there are some contract and micro jobs available as well!
About the Career Expert: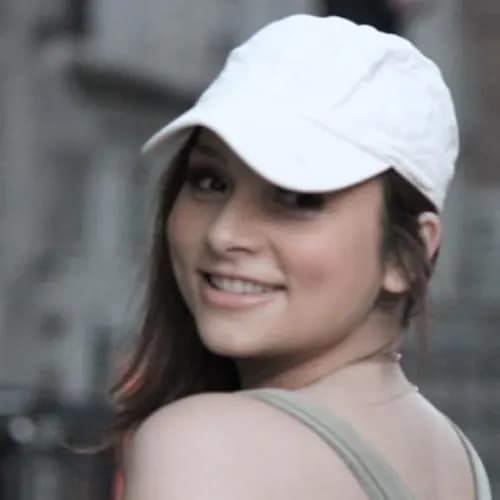 AnnaMarie Houlis is a multimedia journalist for a gamut of both online and print publications, as well as an adventure aficionado and travel blogger at HerReport.org. She covers all things women's empowerment — from navigating the workplace to navigating the world. She writes about everything from gender issues in the workforce to gender issues all across the globe.