Increasingly, a strong ethical culture is crucial for companies to accomplish their business goals and the focus on ethics across industry has moved well beyond merely serving as a function of risk mitigation. A clear ethical direction supports and guides employees and a company's culture in knowing how to make good decisions, how to respond in challenging situations, and how to behave overall.
According to the
World Economic Forum
, progressive companies understand that their actions influence society, and that they in turn are influenced by what is happening in society. The value creation that a strong ethical culture offers can certainly prove tangible and economically significant in the longer term.
Power management company,
Eaton
, takes ethical practices very seriously. It strives to be a benchmark for
ethics and governance excellence
each and every day. How the company gets results is just as important as the results themselves, and an important measure of the company's success. Eaton counts on every employee to make the right decision every time and to never compromise their ethics, values, or integrity under any circumstances.
Eaton's ethical reputation and commitment
to doing business right has earned the company trust of its customers, suppliers, communities and shareholders.
Where Women Work caught up with Carole Mestre, Director of Ethics & Compliance for Europe Middle East Africa and Asia Pacific for Eaton to learn more about Eaton's focus on ethics, what it truly means to achieve solid ethical practice, and to hear why she believes she has one of the best
jobs in the company
.
Why is ethics in business becoming more important?
Mistakes are human… and their acceptability can be debated … but when it comes to companies, the mistakes that make newspaper headlines are generally of an ethics or compliance nature. However, the mistakes that directly impact employees' morale and motivation, customers' and shareholders' trust are the ones that touch integrity and values. It has been recently reported that
ethics and compliance programs
can add 6% to 8% value to a company, a value only second to its sustainability programs.
For me, someone who witnesses it every day through a personal lens, a strong and genuine ethical culture brings something invaluable: psychological safety for employees to operate in a serene and high performing environment. My team and I hear it often: employees are proud and grateful to work for a company where they feel safe to discuss issues openly; they also greatly value their trust in their leaders to protect their interests and make the right decisions each and every time. We do have a responsibility to our shareholders and customers, but also – to quote our CEO Craig Arnold – "to society". And positive changes or evolutions all start with an ethical vision. We not only have a Code of Ethics, we have aspirational goals, an inclusion and diversity mission, community involvement, leadership attributes that contribute to our culture. Our mission is to foster and support that culture.
What is Eaton's approach to ethics and compliance?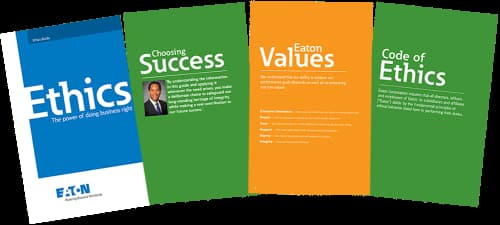 We hold ourselves to the highest ethical standards in all interactions with each other, our customers, our suppliers, and the communities where we live and work. We strive to embed our ethics and values into our business practices on a consistent basis around the world.
In order to achieve this standard, we try to be as close to employees as possible, since they are the ultimate audience of any efficient compliance program. We empower managers of people to build an open environment where employees can confide in them so they can, together, find the right solution. We ensure a continuous dialogue between teams and ask managers to discuss ethics with their teams, so they can hear their teams' concerns or thoughts directly as well as personally set expectations. Importantly, leaders pass on this simple but efficient message: "if you have a concern, we will solve it together – please make your problem my problem". Not only it is very reassuring to hear it from your boss, but data show that the majority of wrongdoings occur when employees do not know where to go for advice, before or after the event.

Like any large responsible company, we have dedicated resources and a clear ethics and compliance framework; our robust approach has made it to the list of Ethisphere's World's Most Ethical Companies. We all share responsibility for supporting and strengthening our ethical culture. We spread the message that we're all on the same ship and, if there is an issue, we can solve it together. Our approach is to avoid legal verbiage as being ethical is, at the end of the day, a very personal experience. From the 12 fundamental principles in our Code of Ethics, to the ability to report questionable conduct anonymously, we try to make it as easy as possible to do business right. Often, I do not even need to actually do something to implement a solution, the teams are immediately taking full ownership!
Our mission, together with the leaders involved, is always to find the best balance between being an organization that learns from mistakes and one that's ethically-driven and holds itself accountable when necessary. This objective, which is essential for our employees and our company, makes my job immensely enjoyable.
What do you need to achieve and deliver in your role?
My role has two main sides: a proactive one spanning risk assessment, program design, training, and communication—and a reactive one, including conducting investigations, giving advice to employees or leaders, analyzing root causes, and remedying issues… which again feeds into the proactive side; it's an endless circle!
Therefore, my role means—and this is what's so great about it—I need to be constantly going from small details to the big picture, and then back from the big picture to the finer details. People feed the company's programs, which then need to operate under a framework designed for people!
We are helped by what I think is a great energy-providing approach, through which our global ethics and compliance team work together on the program's pillars: anti-corruption, anti-trust, data protection etc… just to name a few. Everyone can freely interact, develop and learn to the teams they wish. This approach is a great key to individual motivation, empowerment and development. And, on top of everything, we have succeeded in creating a "team of friends" wherein cooperation and mutual trust are the key words; all these components make working very enjoyable.
Risk management is also a major role for my team and we decide where and when we are going to focus. Last but not least, we also have a duty to maintain the integrity of the investigative process, through confidential, legal, and timely action—at the end of which the people involved will understand the outcome and recommendations, and feel they've been heard and respected.
What skills and experience are necessary in your role?
I think you need to feel comfortable with dealing with complex situations that can be emotional, at times. Long-term strategic vision, organizational and networking skills, and resilience will help to make impartial decisions that are impartial and neutral, while being consistent with the company's culture and direction. Empathy, listening skills also help you develop suitable solutions for different cultural and professional environments. Our customers expect us to be persuasive without imposing and to take their unique situation into account. I fully abide by this expectation, as this allows co-workers to own and embrace the decision rather than an artificially and contra-productive feeling of being forced to comply. Creativity is also required for the job, like any function that heavily relies on communication, especially through training. Technical continuous learning is of course a minimum.
How would you best describe yourself as a person?
I am very curious and lucky to possess a natural energy; I am naturally inclined in assessing situations rather than judging people. I feel comfortable in interacting with any level and jobs, learning from and enjoying every encounter and I like both working in teams and on my own; combining the intellectual strategy and technical aspect of the position with its personal ones gives me good energy. I also feel at ease in "very messy situations" which is a great chance!
What do you like most about working with Eaton?
It is the dream job
because I am an ethics professional in a company that takes ethics seriously! I also work best when I have the freedom to operate independently within a good framework, suggest ideas, appreciate my input - and at Eaton I am able to do just that within an environment that fully supports and encourages regional initiatives.
What outside interests help bring your best to work?
I have always been interested by the anthropological side of history – its constructive side of such as architecture, food, botanic, inventions, costume history ... - and this enables me to relate different cultures and be continuously learning. I like reading and investigating to discover and engage with a place I'm visiting for work, and this also means that, when I talk to people on my visit, I am not faking interest.
What's your advice for women looking to join Eaton?
Eaton hires people who are enthusiastic, curious, and seeking to grow. Our company provides a very positive working environment, because if you're keen to learn and develop, then you are certainly encouraged to do so.
Promoting inclusion and diversity is central to our vision of creating a business where everyone matters, and everyone belongs. When we embrace the different ideas, perspectives, and backgrounds that make each of us unique, we—as individuals and as a company—are stronger. This outlook helps us attract, retain and engage talented women from around the world, with an increasing number taking on leadership roles.
What career advice can you share for further women?
Use the numerous tools at your disposal to understand what energizes you. Do you like long-term projects? Do you prefer execution rather than making decisions? Do you enjoy both? Do you like making material products, or are you satisfied by more intellectual challenges? Do you like to work within teams, or do you work better alone? Would you be ready to change direction every two or three years, or would you prefer to focus on one area? Do you like regular work or ever-changing tasks? There's no shame in being inclined one way or another… it's just your character. Schools usually do not advise people to think introspectively before choosing a career direction that will impact them for the next thirty years or so!
The worst thing anyone can do is follow a career path because they feel they have no choice or to satisfy someone else. It's difficult to be happy unless you pursue a career you enjoy. Then, once you know what your strengths are, find a company like Eaton which will support you.
One of the best strengths you can develop is to take feedback as a gift—especially when it's not so positive! Also, and this is the ethics professional talking, build and maintain trustworthiness, as this is the most valuable asset you can possess.
I'll end by passing on some precious advice I once received: "Work hard and be nice. And wonders will happen".
--