4.87k
Journalist & travel blogger
Need some inspiration to pull you out of intrusive, negative thoughts?
Here are 35 quotes on negativity to help give you the mindset shift that you need.
1. "When someone tells me "no," it doesn't mean I can't do it, it simply means I can't do it with them." ― Karen E. Quinones Miller
2. "People tend to be generous when sharing their nonsense, fear, and ignorance. And while they seem quite eager to feed you their negativity, please remember that sometimes the diet we need to be on is a spiritual and emotional one. Be cautious with what you feed your mind and soul. Fuel yourself with positivity and let that fuel propel you into positive action." ― Steve Maraboli,
3. "Relationships with negative people are simply tedious encounters with porcupines. You don't have the remote knowledge of how to be close to them without quills being shot in your direction." ― Shannon L. Alder
4. "Seeing the glass as half empty is more positive than seeing it as half full. Through such a lens the only choice is to pour more. That is righteous pessimism." ― Criss Jami
5. "Try giving up all the thoughts that make you feel bad, or even just some of them, and see how doing that changes your life. You don't need negative thoughts. All they have ever given you was a false self that suffers. They are all lies." ― Gina Lake
6. "Never judge someone's character based on the words of another. Instead, study the motives behind the words of the person casting the bad judgment." ― Suzy Kassem
7. "It would be easy to become a victim of our circumstances and continue feeling sad, scared or angry; or instead, we could choose to deal with injustice humanely and break the chains of negative thoughts and energies, and not let ourselves sink into it." ― Erin Gruwell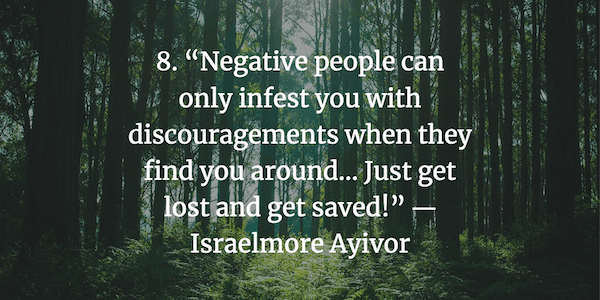 9. "No matter how valuable you are and your ideas, fools will certainly play both of you down, so exclude yourselves from the inflammatory environs of fools." ― Michael Bassey Johnson
10. "When we are aware of our weaknesses or negative tendencies, we open the opportunity to work on them." ― Allan Lokos
11. "He who searches for evil, must first look at his own reflection." ― Confucious
12. "It is better to dwell on the beautiful things in life than the negative." ― Lailah Gifty Akita
13. "Don't ever let someone tell you the value you don't have, in order to be in someone's life. That is often the value they feel you have, not that person." ― Shannon L. Alder
14. "Beware of those who criticize you when you deserve some praise for an achievement, for it is they who secretly desire to be worshiped." ― Suzy Kassem
15. "I only seem negative to the fortunate. That's because I show the less fortunate that they aren't less fortunate after all." ― Criss Jami
16. "If you could achieve something in your recent past, then nothing can stop you from repeating commendable feats in the future, too." ― Dr. Prem Jagyasi
17. "Balanced self-esteem makes individuals glow from within when they are faced with challenges or pitted against overwhelming odds." ― Dr. Prem Jagyasi
18. "No-one ever built a statue of a critic." ― David Nicholls
19. "Negative self-talk and negative affirmation can keep you anchored in old thought patterns and identities." ― Bryant McGill
20. "Pain results from a judgment you have made about a thing. Remove the judgment and the pain disappears." ― Neale Donald Walsch
21. "We need to resist the tendency of the mind to diminish life, the world and who we are." ― Marty Rubin
22. "The problem with preparing for the worst is that that has the power to attract the worst." ― Mokokoma Mokhonoana
23. "It's difficult, if not impossible, to let go of all that negativity, which is a serious drain on your motivation, but you got to let it go." ― Oscar Auliq-Ice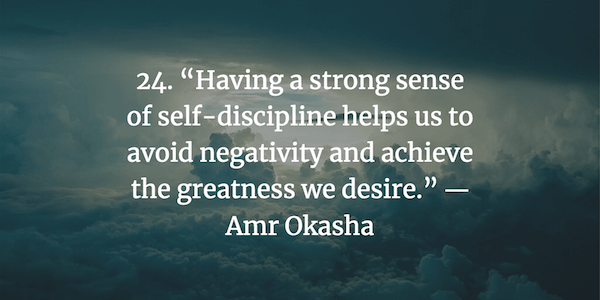 25. "Our bodies evolved to expel all toxins as waste but our minds, unfortunately, did not." ― Rajesh
26. "To build self-esteem, you have to outface your negative beliefs about yourself and change them." ― Asmaa Dokmak
27. "Beware of those around you who subtly sow the seeds of doubt." ― Wayne Gerard Trotman
28. "Don't let negative thoughts of the past or the future ruin your today." ― Avina Celeste
29. "Negativity, like mass, can neither be created nor destroyed — it exists in everything." ― Michael A. Ferro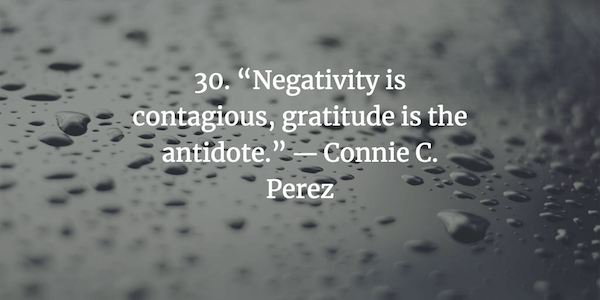 31. "If you see something dynamic in another person, speak up. It's time to stop letting haters set the precedent, while negativity becomes the default setting." ― Andrena Sawyer
32. "There is a big difference between pushing others down and growing." ― Freequill
33. "You can't think away your self-defeating thoughts; you have to dissolve them through action." ― Marty Rubin
34. "A positive attitude is often way more important than education, money and experience." ― Mokokoma Mokhonoana
35. "What are the thoughts that deplete your energy? Replace them with positive ones that infuse energy in you." ― Damola Treasure Okenla
--
AnnaMarie Houlis is a feminist, a freelance journalist and an adventure aficionado with an affinity for impulsive solo travel. She spends her days writing about women's empowerment from around the world. You can follow her work on her blog, HerReport.org, and follow her journeys on Instagram @her_report, Twitter @herreportand Facebook.