Jennifer J. Bryant is a Director of Associate Experience for the Cyber Team and the Learning and Development Lead for the Blacks in Tech Business Resource Group.
Many times when we speak of our career growth, we speak of the series of jobs we've had as we advance in our careers and move onto new roles. For me though, my personal development in my childhood and teenage year deeply impacted my professional development and how I approached my career growth. If not for my love of communicating and connecting, my career path may have turned out quite different. I am thankful that I'm now able to share that ability to connect as a means of creating a level field for associates looking to grow and engage at Capital One. I'd like to share my career journey with you, as well as important lessons on communication that have followed me throughout my career.
Tough times at home inspire a resilient spirit and relentless drive
I've had my share of disappointments starting at a young age. I lost my father when I was just 5 years old. I spent my teenage years caring for a mentally ill mother and being the provider. My mother once threatened to kill me by throwing bullets against my locked door. My only sibling was incarcerated at the time and I was alone to deal with this difficult home situation. After this threat from my mother, I realized I had to be the one to care for myself. When I was 17 years old, I went to work while in high school. I had a burning desire to expand beyond the path that was set for my childhood. I wanted to pursue a career in public service.
I got my chance after one fortunate encounter on the Washington DC Metro subway. As an extrovert who loves connecting with people, I was chatting it up with a lady for nearly 30 minutes as I was traveling to a job fair. When it was time to get off the subway, we introduced ourselves and she asked me where I was going. After I shared that I was going to a job fair, she offered me a job on the spot, as long as I passed the clerk typist test. I passed the second time I took the exam. It was such a special encounter. You never know who you're going to meet and how connecting and conversing with people can open up unexpected doors in your life.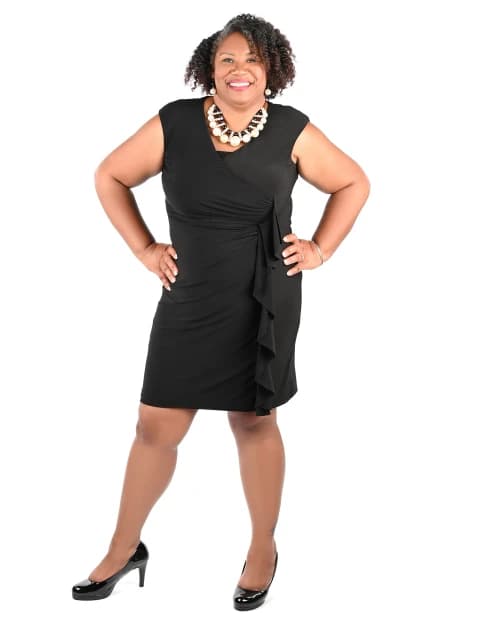 Determination and a people-first approach are the keys to success
Knowing that I not only had to provide for myself and my mother, but also had to pay for college, I doubled down on my work. I started as a clerk typist during the day, while cleaning bathrooms in that same building at night. My hunger and passion to excel looked different than it did for others because I had to earn enough money to live on in the present but also to set myself up for the future I envisioned through my college education. This determination paid off in unexpected ways as well though.
Executives in my department would see me working my second job at night and admired my tenacity. When overtime opportunities came up, they would offer them to me as a chance to get ahead. I was soon able to quit my janitorial job, focus on my education and attend college. I was so blessed to also get nearly all my undergraduate and Master's degrees paid for by the federal government. I spent 31 years working in government, in 3 different agencies at all different levels. When I retired, I was at the executive level with a senior executive service certification. I always strived to keep excelling but never forgot the importance of being a people-person, continuing to make connections and maintain open communication.
The importance of connection in creating an inviting space for all
In early 2019, I joined Capital One as the Director, Associate Experience. Through my role, as well as the additional leadership positions I've engaged in, my main focus is to ensure associates have an equal and level field for growth and development. I'm a vocal advocate for ensuring conscious and unconscious bias doesn't encroach on conversations about associate potential and performance. I have close relationships with leaders across the Tech and Cyber organizations and offer support and recommendations to encourage further Diversity, Inclusion and Belonging practices. I try to be an open and trusted confidant for anyone who needs it, regardless of who they are. My willingness to have tough conversations has helped many colleagues work through challenges and find important solutions.
I also help bring together and match associates across the organization through the Cyber Mentoring and Cyber Site Lead programs. These associates in the mentoring program may not normally connect because they don't do identical work, they don't look/think like each other, or they're not part of each other's "normal circle," so through this program, they're broadening their networks and experiencing unique perspectives from their own. The Cyber Site Lead program similarly brings together Cyber site leads across geographic sites on a monthly basis. The goal is to drive a cohesive team culture, remove any feelings of bias based on the different locations teams are working out of, and work through solutions that create equity across locations and teams.
My life experiences and career have shown me how important it is for people to have equal opportunities and a chance to thrive. Though I did not start out in the best of circumstances in my childhood, I succeeded through hard work, determination, and opportunities available to me due in part to my ability to connect with others. From one fateful conversation on the subway, I grew a 30+ year government career and a passion for creating the same growth potential for others, no matter their background. As a leader, I aim to continue fostering these open spaces and lines of communication that allow us to connect and grow.
--
Fairygodboss is proud to partner with Capital One. Find a job there today!