4.87k
Journalist & travel blogger
Taboo — it stems from the Polynesian root word 'tapua,' which means menstruation. That's right: There's so much shame surrounding menstruation, that the word taboo was born of it.
Because there are so many stigmas that debase women and girls during their cycles, a lack of access to feminine hygiene products is a perturbing epidemic around the world — so much so that the United Nations has recognized menstrual hygiene (or, rather, lack thereof) as a public health and human rights issue.
In ancient Rome, menses could render crops barren and drive dogs mad. Victorian etiquette prohibited the mention of menstruation, which was deemed an illness and kept women confined to private quarters.
Today, in some Latin American countries like Bolivia, for example, some schoolgirls carry around used menstrual pads, warned that period blood is so toxic it can cause diseases such as cancer if mixed with trash.
In Jamaica, common curse words stem from a woman's period. And all around the Caribbean, feminine hygiene products like pads are still wrapped in newsprint and separately bagged in black bags.
In Malawi, many parents refuse to talk to their daughters about menstruation because the taboo against it is so strong, according to UNICEF. In parts of Nigeria, women and girls are expected to isolate themselves during their cycles, as they're deemed "unclean." And, in Somalia, they're not allowed to pray, fast, go to the mosque or partake in any religious customs as observant Muslims until they're "pure" again.
In China, only two percent of women who menstruate use tampons, largely because of health concerns and the notion that tampon use suggests virginity loss because tampons can tear the hymen. And, in Nepal, a historic practice known as Chhaupadi, which banishes girls and women to a shed outside their homes during menstruation, was only banned as of 2018. In many primarily Muslim areas of Asia, such as Indonesia, certain feminine hygiene products like tampons are deemed shameful. There, a quarter of girls don't talk to anyone about menstruation before their first cycle, according to UNICEF.
Because of these taboos, some 1.2 billion women all across the globe lack access to basic sanitation and hygiene. And, unfortunately, not much has changed since 1931 when the tampon was invented — or 1969, since women have used adhesive menstrual pads.
That's why some forward-thinking, conscious brands are introducing moisture-wicking, stain-resistant, antimicrobial period panties that are comfortable and reusable to combat period poverty.
What are period-proof undies?
Period-proof underwear refers to undergarments that actually collect menstrual blood without smelling or staining. They're a far more sustainable alternative to single-use disposable products like tampons, pads and liners — though they can also be worn with tampons and menstrual cups for extra protection.
What are the best period panties on the market?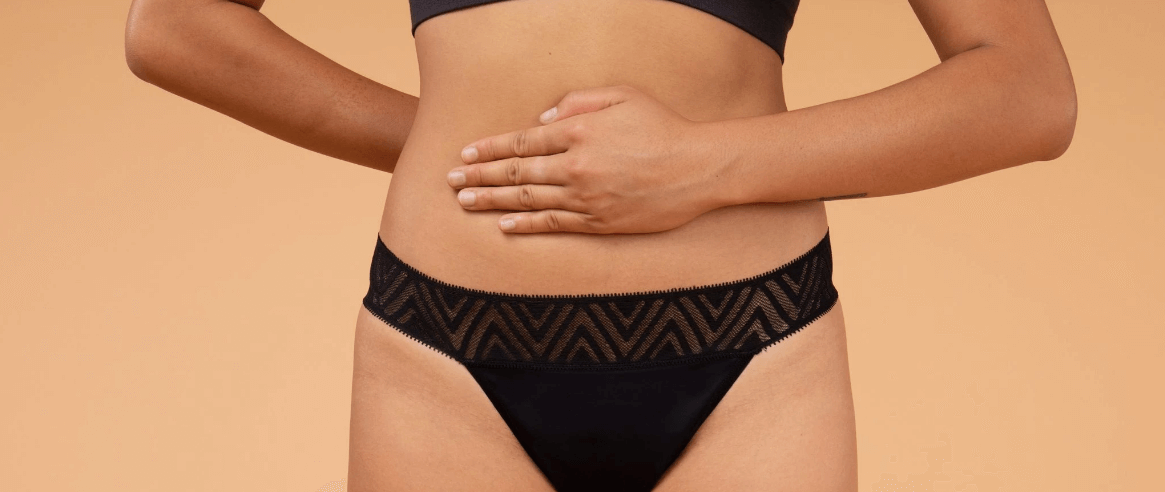 Photo via THINX
THINX Thong is for your lightest period days — when it's not quite over, but you can't risk not wearing any protection just yet. That's because it holds 1/2 of a regular tampon. This thong is made of nylon, elastane and cotton, so it's designed to be breathable and comfortable. And it even boasts a sexy sheer pattern so you can still feel good, even when you're menstruating.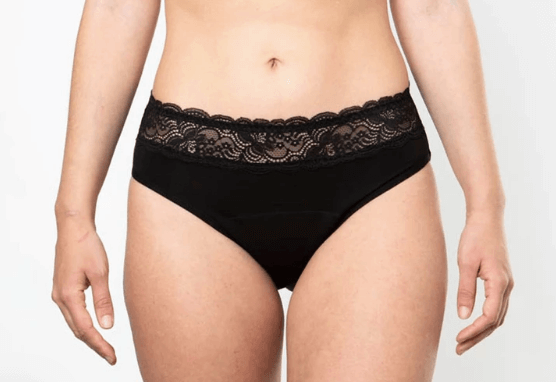 Photo via Modibodi
These comfy hi-waisted bikini-style undies are ideal for a heavy flow, especially while sleeping overnight. They'll soak up three to four tampons worth of period blood, so you definitely don't need to worry about staining the sheets. And they're lacy, so you can feel beautiful in bed, too.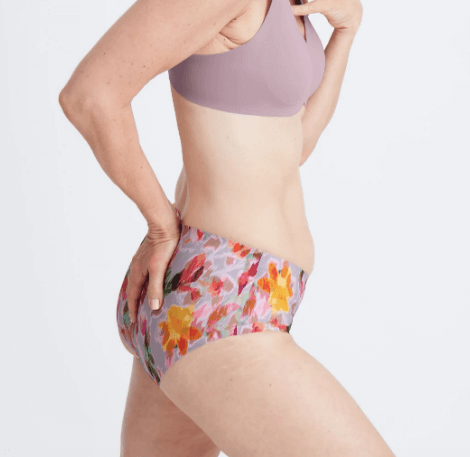 Photo via Knix
These patterned boyshorts will absorb up to three teaspoons of liquid to protect you against leaks. They offer extra coverage through the hips, and the ultra-thin liner is barely noticeable. They're made of nylon, cotton and spandex to keep you comfortable and clean.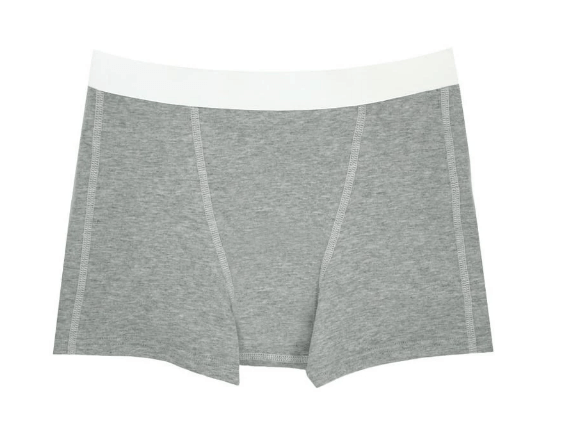 Photo via Lunapads
Lunapads period panties, like these awesome boxer briefs, are actually regular underwear with an inner lining to keep you dry and comfortable. The boxer briefs are touted as "the most generously lined" ones in the collection, with leak-proof absorbency that extends all the way to the back waistband, so you don't have to worry.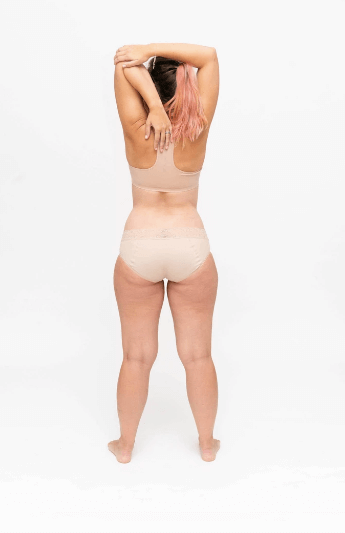 Photo via Dear Kate
The Ada Hipster Full underwear from Dear Kate is a feminine, bikini-style cut with a modest leg line. It's made of three layers of breathable fabrics, like nylon, elastane, polyester and LYCRA, so you won't feel like you're wearing a diaper, even though this underwear soaks up two regular tampons worth of blood (three teaspoons).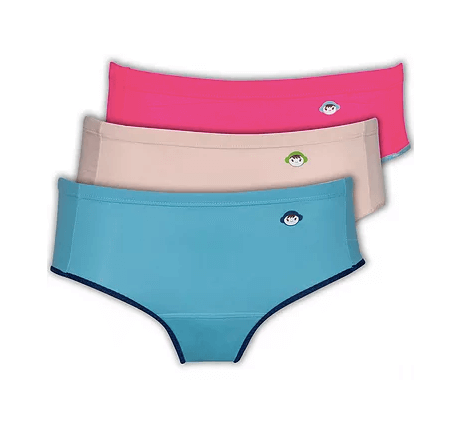 Photo via HAPPYZ
These are 100% cotton with no chemical dyes, and they're antimicrobial and antibacterial thanks to FDA-approved silver, so you can rest assured that they're safe to wear and odor-free. They also come in pink, blue and beige, so you can have some fun with bright colors.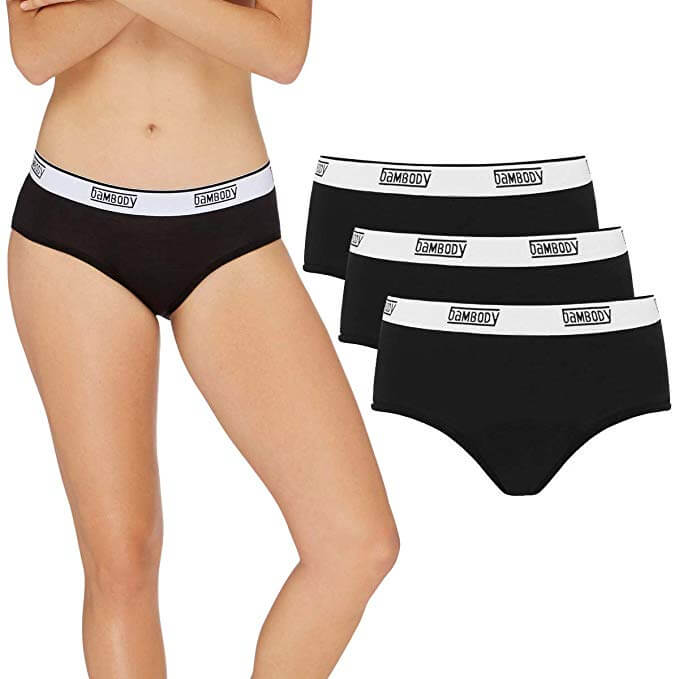 Photo via Bambody
These panties are for women on their periods and women in postpartum — whatever kind of coverage you need, these panties will protect you. They'll absorb almost an ounce of liquid. And it's important to note that the bamboo fabric is even cooler than cotton and wicks away sweat 400% faster.
8. EvaWear ($40 for a 2-pack via Amazon)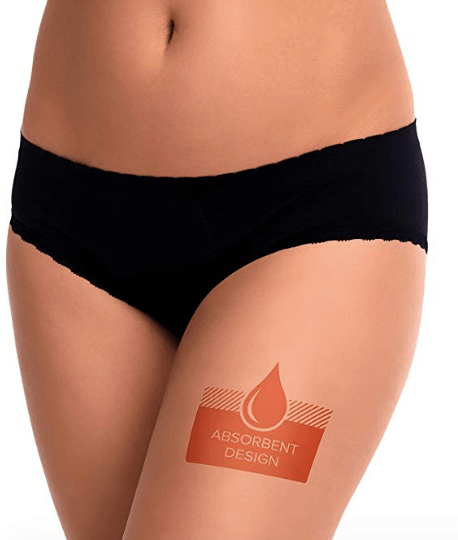 Photo via EvaWear
Wear EvaWear's period panties with or without extra protection. This underwear is made from nylon, cotton and spandex, plus it's tagless, so it's soft and comfortable to wear while still protecting you from leakage.
9. Hesta ($45 for a 3-pack)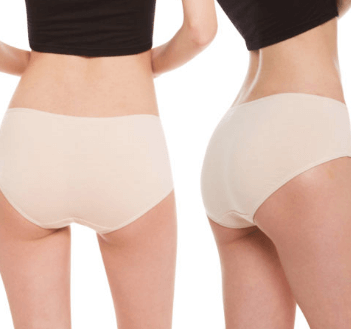 Photo via Hesta
These Hesta panties are designed to be worn with a pad or tampon as an added layer of protection thanks to the polyester film that will protect your clothes and bedsheets from leaks. If you're having a light day, they can also be worn without a pad or tampon, however. They're made from 100% global organic textile standard certified cotton, so they're safe and breathable to wear.
--
AnnaMarie Houlis is a feminist, a freelance journalist and an adventure aficionado with an affinity for impulsive solo travel. She spends her days writing about women's empowerment from around the world. You can follow her work on her blog, HerReport.org, and follow her journeys on Instagram @her_report, Twitter @herreport and Facebook.