Granted, your hair certainly isn't what makes you professional or unprofessional (your performance and behavior at the workplace are!). Hair is hair. You mostly just want to make sure that you look presentable. But, nevertheless, there are some unspoken rules to hairdos in the workplace.
In need of some inspiration? Take a look through some of the most professional and stunning styles below.
Rules for Professional Hairstyles
Generally speaking, you can wear your hair however you please, so long as you keep it — along with the rest of you — clean and put together. In other words: Don't be rocking your bedhead or wet hair to the office, but feel free to experiment with whatever looks make you feel the most confident. Because, at the end of the day, confidence is what's going to get you places in your career—not your hair!
1. Keep it clean.
Whatever hairstyle you choose to go with, make sure that your hair is clean. No one wants to sit next to a smelly coworker. So wash your hair. Even if you don't believe in shampooing religiously (to be fair, it is supposedly pretty damaging for your hair), just do your best to make sure that your hair isn't reeking of last night's Chinese takeout or cigarettes or any other smells that could irritate the people around you.
2. Keep it in order.
Whether you wear your hair up, down, or half-up/half-down, just make sure that it doesn't look like a mess. For your own sake, you may want to keep it out of your face so that you can better see and focus on your work.
3. Keep it reasonable.
I'm not talking about abiding by anyone else's preconceived and, frankly, unfounded notions of reasonable hairstyles. By "keep it reasonable," I mean make sure that it's reasonable for your kind of work. If you're working outside in the hot sun all day, you probably want to go with an updo. If you're inside in a chilly office all day, you probably want to keep your hair down for added warmth. The point is never to let your hair stop you from performing your best.
The 30 Best Professional Hairstyles for Women
Check out these 30 professional hairstyles for women in the workplace in 2021.
1. Top Bun
The top bun is a simple look at you can rock at the workplace. It's clean and professional, and pulls your hair out of your face.
2. Low Bun
The low bun is another simple look that's clean and professional and, like the top bun, keeps your hair out of your eyes.
3. Classic Ponytail
You can never go wrong with a classic ponytail. Just make sure that it's smooth and put together. You don't want it to look like you just rolled out of bed and tossed your hair in a ponytail because you didn't have time to properly do it. Brush it out and pull it into a smooth pony.
4. Down and Wavy
If you have wavy hair, let it down! Waves are very much in style, and you can use tons of de-frizzing and curling products to make sure that your waves are nice and uniform.
5. Down and Straight
If you have straight hair, it can look beautiful down. Use some products to give it a little lift and shine. But don't fuss so much about it — just make sure it's clean, and let it fall however it wants.
6. Down and Curly
Curls are stunning. Let them bounce! Use some de-frizzing sprays and curling creams to add definition to your curls and help make sure that they're all equally curly.
7. Half-Up/Half-Down Wavy or Braids
One way to add some flare to wavy or braided hair is by tying half of it up. Pull back the front and top pieces into a bun or a clip. And let the braids and waves flow from there.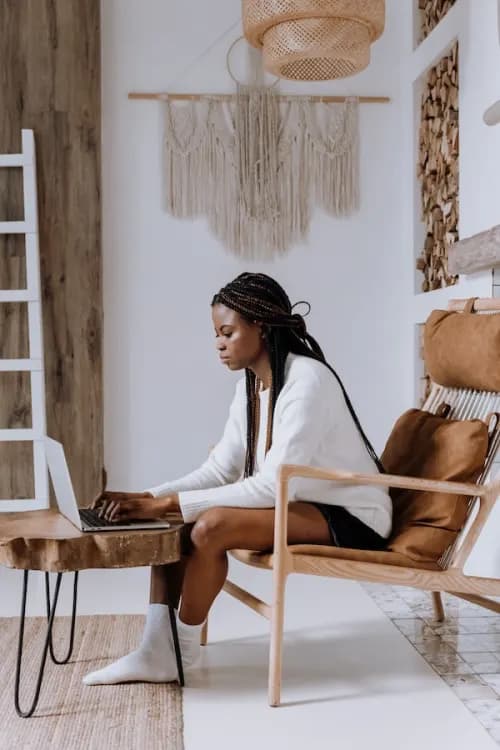 8. Half-Up/Half-Down and Straight
If you're hair is super straight and you want to add some style to it, pull half of it back. Let some pieces loose in the front to frame your face, if you want. But the key is to give your straight hair some volume by tying half of it up.
9. Half-Up/Half-Down and Curly
Curly hair can get out of control at times. Pull it out of your face, while letting your curls still be free, by tying half of it up. Use a clip so that your hair doesn't get knotted.
10. French Braid
While a French braid may make you think of grade school, this look is a staple for a reason. It can be very clean and put-together. You can wear it tight or loose, depending on the look you're going for. Just stick to one braid for the office — no Britney Spears-style pigtails circa the early 2000s.
11. Fishtailed Braid
A fishtailed braid is a gorgeous alternative to the French braid. It's a simpler look, too, but it looks just as styled. You can also wear it tight or loose, depending on the look that you're going for.
12. Linear Plait
A linear plait is one surefire way to obtain a simple yet professional look. If you don't know how to do a more complicated braid (or you just don't have the time!), just pull it back and braid the ends.
13. Bob
The bob is a classic look that's been around for quite some time now.
"Women want more versatility and can easily achieve a sleek and sophisticated bob with the right length for their face," Nicole Casamassima, stylist at the Nexxus Salon in New York, told
Who What Wear "
Or, if they cut it to hit collarbone length, they can add tousled texture for a more youthful and casual look."
14. Lob
The lob is nothing more than a longer version of the bob.
"The lob looks good with varying lengths, which makes it perfect for all face shapes and hair types," Stacie Bowie, owner of Seattle's Bowie Salon and Spa, told
Glamour
. "When it's a little more grown out— i.e., past your collarbone and around your shoulders — it's even easier to style and manage than the original."
15. Curtain Bangs
Curtain bangs can be extra cute. Just make sure that you get them cut and styled by a professional.
"I think hair texture plays a part in how short you can go with bangs," hairstylist Ted Gibson told Allure. "Keep in mind that curly textures tend to shrink as they dry, so when your stylist is cutting, be sure your hair is dry."
16. Accessorized
Accessories are an easy way to jazz up any hairstyle, whether you style it up or down. Just make sure not to go overboard for the office.
"Hair ribbons aren't just for kids," wrote
Good Housekeeping
. "Tons of celebs have been embracing the resurgence of hair ribbons, including Kate Middleton! A velvet bow tied around her ponytail adds a fun and playful twist to her otherwise formal outfit."
17. Pixie
Pixie cuts are super short and super simple. You don't have to do a whole lot to it in the morning before work, either.
18. Undercut
While the undercut certainly won't work for all offices, it is a great look that can keep the hair off your neck and keep people with thicker hair cooler.
19. Modern Shag
The shag is a look that's been changing over the years. The modern version of it is a great style to wear at the office because it involved very little styling. It's mostly in the cut and texture.
Hairstylist Tina Jimenez, co-founder of Northern Lights the Salon, told
Who What Wear
that "2020 will be about texture and 'easy hair' — more of a natural look."
20. Side-Swept Bangs
Side-swept bangs made headway in the early 2000s, and they're back to stay. They can give any haircut a little something. In fact, Nine Zero One co-founder, Nikki Lee told
Allure
that the '70s-style curtain bang that "sweeps to both sides" is a major trend.
21. The Queen's Gambit Look
The hairstyle from
The Queen's Gambit
is one for the books this year, and you can totally rock it at the office. It's apparently trending since the show came on. Daniel Parker, the hair and makeup designer for
The Queen's Gambit
, told
POPSUGAR
that he took a lot of pride in Beth's character "You're dealing with [the time] from the '40s all the way till the mid-late '60s, so it really is a period piece that spans several decades in its look," Parker told POPSUGAR. "There was a lot of research and a lot of hunting around to get the look."
22. Face-Framing Layers
Face-framing layers can flatter any face shape, depending on how they're cut. Just make sure that you go to a stylist the cut them professionally. You can then wear your hair down or up, and let some of the layers loose.
23. Blunt Cuts
Blunt cuts are razor sharp and clean cuts that look extra professional. Whether your hair is long or short, a blunt cut will also give it some more volume and look healthier.
24. Wrapped Ponytail
Why go for a plain ponytail when you can simply wrap a chunk of hair around it to make it a little more fun?
25. Braided Bun
The same goes for the bun. Why wear a regular plain bun when you can twist a braid into it? This gives it a little more fun flavor to spruce up your office look.
26. Braided Crown
Make any hairstyle look more elegant with a braided crown. There are tons of YouTube tutorials to check out for help braiding a chunk of your hair and wrapping it around your head.
27. Bouffant
The bouffant was a thing of the '60s, but its still a look today, and for good reason. A little bump gives any style hair some more volume to achieve a more polished look.
28. Scarf Ponytail
You can have a lot of fun with scarves in your hair. Whether your tie one around your head like a headband or rock one around your ponytail, you can't go wrong.
29. Double Low Bun
Why wear one low bun if you can wear two? This look is a little more fun for more creative offices. Picture modern-day Princess Leia, if Princess Leia had an office job.
30. Natural
Go all natural! In today's world of working from home, you can wear your hair however you please. Even if you do go to an office, you can still wear your hair naturally, however you so choose. Just make sure that it's clean and doesn't look like you just rolled out of bed.
--
AnnaMarie Houlis
is a multimedia journalist and an adventure aficionado with a keen cultural curiosity and an affinity for solo travel. She's an editor by day and a travel blogger at
HerReport.org
by night.