Part of being a professional is projecting a professional image, and some people enjoy doing so with their nails. What are the best ways to pull off a put-together look? We've got everything you need to know—including 30 stunning nail ideas for your next work-friendly manicure.
What makes for a professional nail look?
Before we jump into professional nail ideas for work, let's quickly cover some of the key elements that make a nail look professional.
Cleanliness
The very first element of a professional nail look has to do with cleanliness—how well you maintain your nails, hands, and manicure.
"In a professional setting, nails should be regularly cleaned and groomed," says Anna Parvatova, a brand manager at SNS Nails. "Nail polish, if used, should be regularly retouched in case of chips and replaced when it starts to fade."
Length
Another element of a professional nail look is length. Generally speaking, short or medium nails are considered the most professional.
"Short to medium length nails are preferred in a professional setting, largely due to practicality and custom," Parvatova says. "Nail extensions are generally frowned upon, as well as long nails, especially those with pointed tips."
That being said, there are certain work environments where longer nails are acceptable—particularly within more creative industries.
"Longer nails and extensions may be appropriate for some creative roles and types of companies," says Tina Wang, owner of Lunula Salon, a nontoxic nail salon in Brooklyn, NY.
Shape
Shape also plays a role. If you want your nails to look professional, you'll generally want to lean towards shapes that look like a natural nail—and avoid more extreme or unnatural shapes, like pointed or coffin-shaped nails.
"Traditional nail shapes are round, square, squoval, and oval—and are more widely considered professional because they more closely mimic the shape of the natural nail," Wang says.
Balance
Now, it's important to note that just because you're going for a professional nail look doesn't mean your manicure has to be boring. There are ways to have fun with your nails and still keep your look professional; you just need to make sure your elements are balanced.
Generally, if you're going bold with one element of your nail look, you'll want to balance it out by pairing it with safer, more neutral elements.
"When you're experimenting with different nail shapes and lengths, it's good to consider a balance if you're not sure what is in the range of acceptability in your workplace," Wang says. "For example, if you have long nails with both a bold color and bold design, it may read too loud in some professional settings. But if you have the same long nail length in a neutral shade, the length may be more subtle and less noticeable"—and therefore more professional.
31 professional nail ideas to inspire your next manicure
Now that you understand the elements of a professional manicure, let's jump into ideas you can incorporate into your next nail look,
French manicures
If you want a professional nail look, you can't go wrong with a French manicure—a timeless option that will never go out of style.
"French nails are the perfect marriage of sophistication and subtlety, especially if you're going for the classic nude-white pairing," Parvatova says. "It allows you to look stylish without being distracting."
1. Squoval French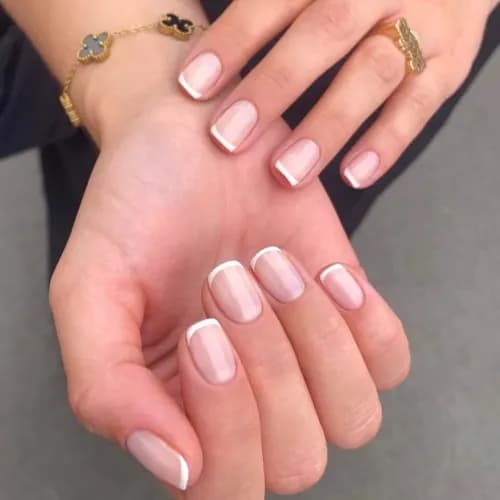 This classic French manicure with a squoval shape by @fayelouisedennis is as timeless and professional as you can get.
2. Round French
Or go for a more rounded shape, as shown by @saskiafenwick.
3. Crimson Tips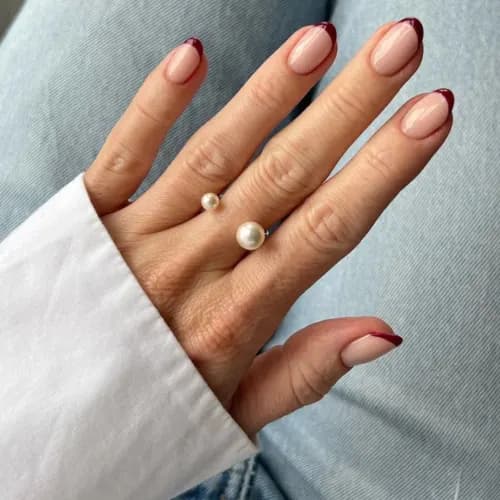 Keep your French manicure interesting by opting for an unexpected tip color—like this deep burgundy via @baraandbeauty.
4. Melted French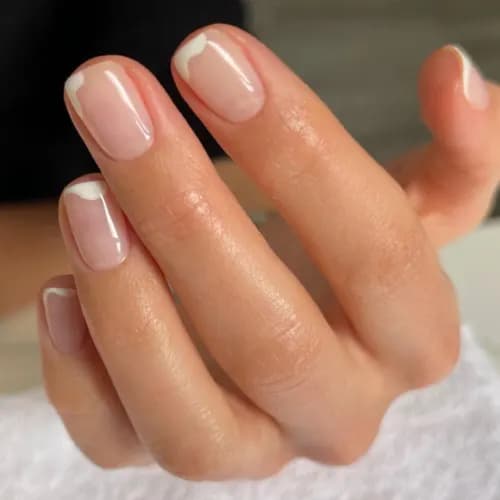 You can also add visual interest (but still keep things professional!) by playing with the shape of the French manicure's tips like @saskiafenwick.
5. Gold Base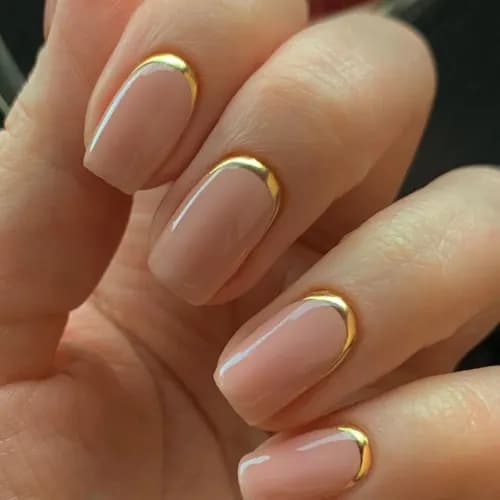 Want a more unique twist on a classic French manicure? Try a reverse French like @thedailynailofficial, which adds visual interest while still being professional enough for work.
Neutrals
Another fail-proof choice for a professional nail look? Going with a neutral polish.
"Neutral colors are the best in a professional setting," Parvatova says.
Keep in mind that neutral doesn't mean you have to go with a nude color every time you paint your nails. "There are a lot of shades that can be considered neutral—yet still add a bit of interest to your nails," says Parvatova, who cites soft pink, taupe, mauve, beige, light gray, and peach as additional neutrals.
6. Muted Pink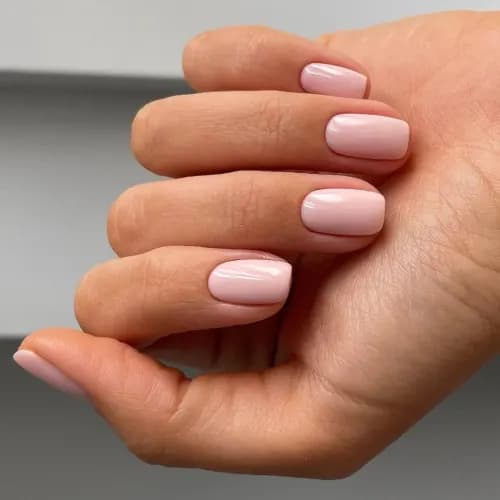 Nude is a neutral that will never go out of style in the workplace—or anywhere else, for that matter, proves @samantharudge.beauty.
7. Oh So Nude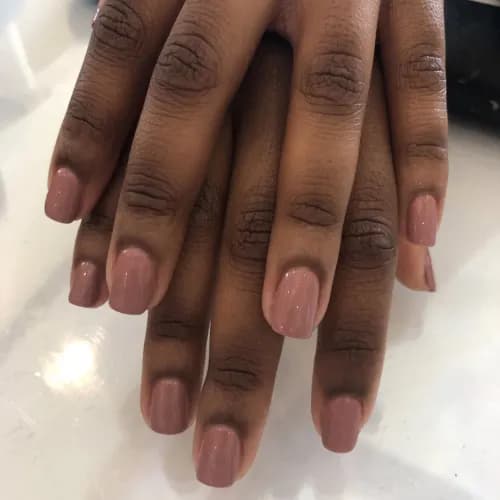 For darker skin tones, opt for a deeper nude or brown shade courtesy of Cindy's Nail Page on Pinterest.
8. Pearly Pink
Want to embrace the neutral look, but with a slight pop of color? Paint your nails in a pale pink shade like @samantharudge.beauty.
9. Muted Mauve
If you want a deeper color for your neutral professional nail look, consider mauve via @chezdaye.
10. Sleek Gray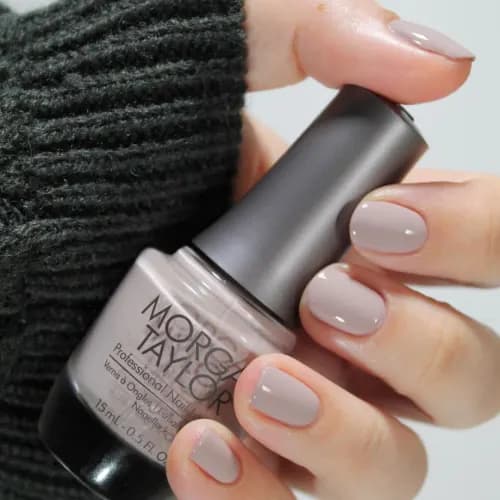 A taupe or greige nail is also a great neutral option for a professional nail look, proves @nailfiles.and.novels.
11. Earthy White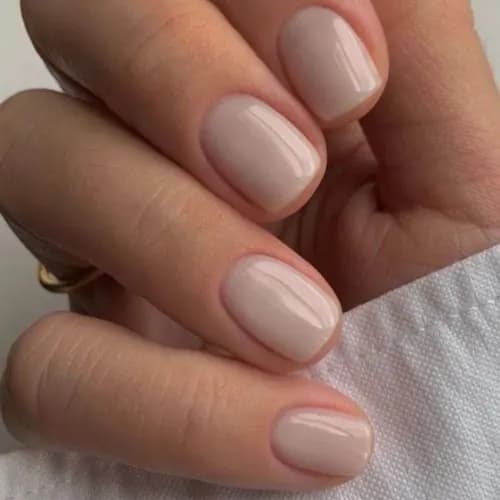 For a professional-looking manicure, this pearly white via Pinterest also works well as a neutral.
Matte nails
If you want to incorporate more color into your nail look—but don't want to sacrifice professionalism—consider going with a matte polish.
"Matte nails are…great because they allow you to wear colors that would otherwise be distracting if applied with a glossy finish," Parvatova says. "Bright red, for example, calls too much attention to itself if in glossy finish. But if it's applied in matte, the results are stunningly different. It's much more muted without losing any of the color's intensity."
12. Charcoal
Black is often considered too harsh to be professional—but in a matte shade, proves @mylaqueredlife, it's soft enough to work.
13. Deep Plum
If you like deep colors, this matte deep plum from Pinterest is a great option for a professional nail look that still packs a punch.
14. Slate Blue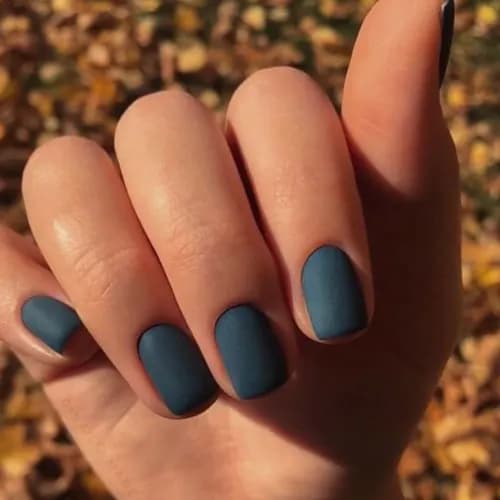 Slate blue via Pinterest is another ideal option for a matte manicure that's both bold and professional.
15. Bold Red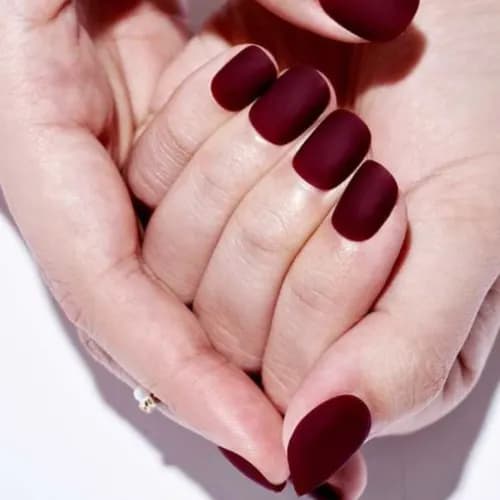 If you want your manicure to read sophisticated and classic, consider a matte burgundy via Pinterest.
16. Ombre Cream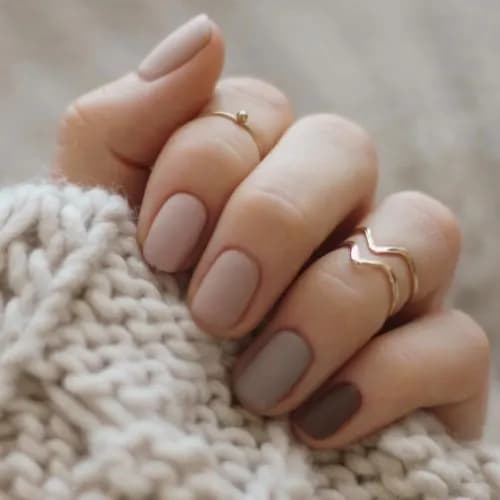 A matte ombre of neutral colors offers an unexpected twist on a professional nail look, as shown by @minimalniee.
17. Milky Chocolate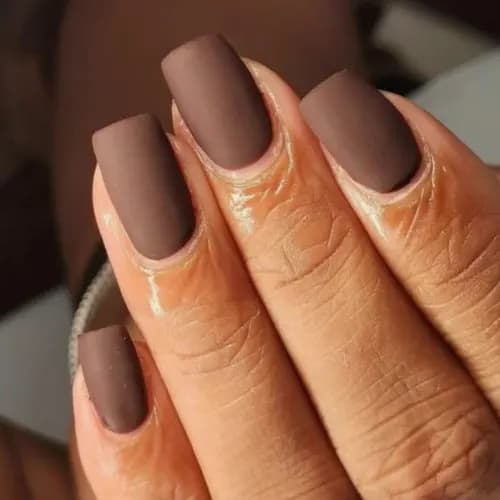 A matte brown also looks good with all shapes of nails—including the square featured here by Tattooed Martha.
Seasonal colors
Another option for a nail look that's both colorful and professional is to consider the time of the year.
"Other professional colors are seasonal color shades that align with the season," Wang says.
For example, in fall you might opt for a deep burgundy, brown, or forest green—while in spring you might opt for pastels.
18. Happy Coral
A bright coral like @chezdaye's idea is the perfect shade for a manicure that works for the summer season and the office.
19. Soft Yellow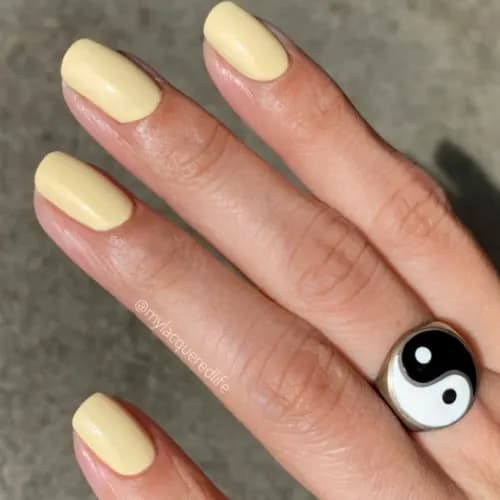 Want a professional nail look to match the spring season? Opt for a pale yellow shade, like this option from @mylaqueredlife.
20. Forest Green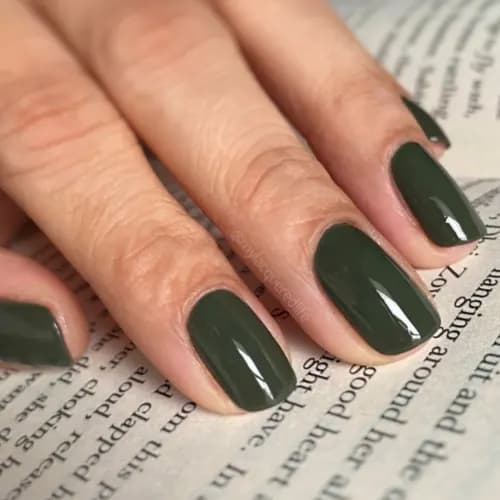 This forest green from @mylaqueredlife screams fall—but is toned down enough to work for a professional nail look.
21. Georgia Peach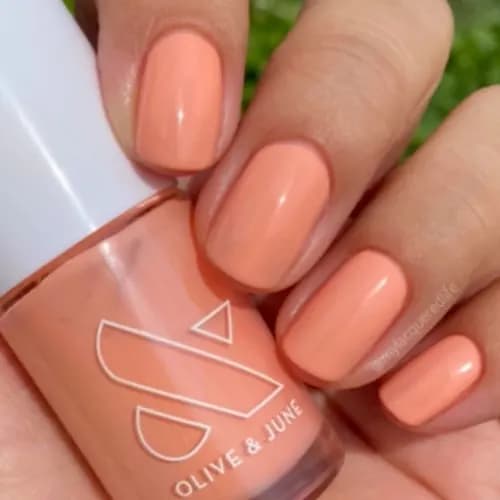 A versatile peach like the one here by @mylaqueredlife would make a great addition to a professional nail look for spring or summer.
22. Burnt Orange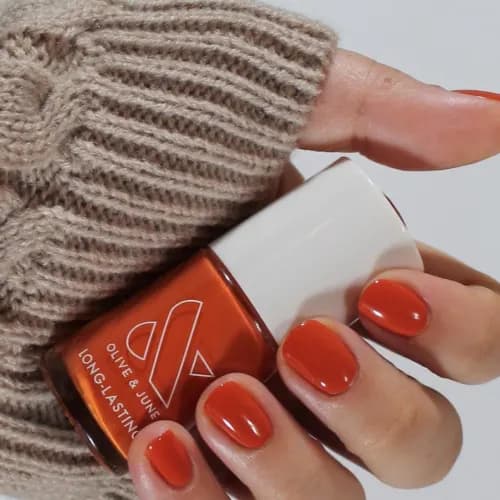 Give a (subtle and professional) nod to Halloween with a deep burnt orange manicure like @nailfiles.and.novels.
23. Winter Greige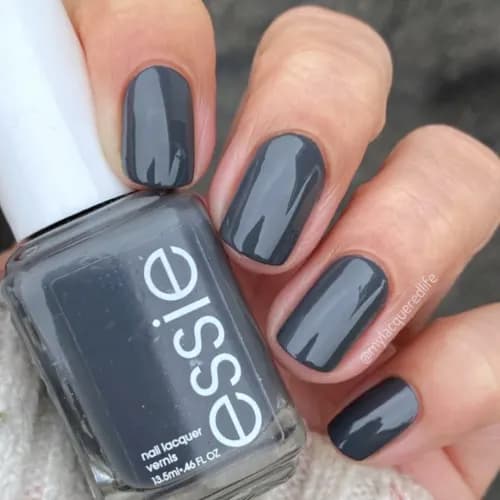 This dark gray shade by @mylaqueredlife is neutral enough to be worn at work, but also feels distinctly seasonal for winter (think snow storms).
24. Snow White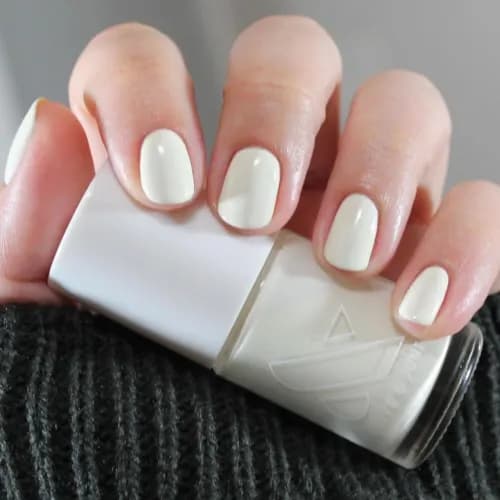 A snowy white polish is another professional choice for a winter manicure, proves @nailfiles.and.novels.
Simple and subtle designs
Many designs are too loud and over the top for a professional setting,but that doesn't mean you can't incorporate a design into a professional nail look. It just means you need to make sure the design leans more toward "subtle and understated" than "loud and distracting."
"If you are bold enough to try nail art, opt for simpler designs, preferably monochromatic, metallic, or geometric," Parvatova says.
25. Layered Denim
This matte look from Pinterest pairs plain blue nails with geometric accent nails—which is bold enough to add visual interest, but professional enough to work in a more creative workplace.
26. Subtle Sparkle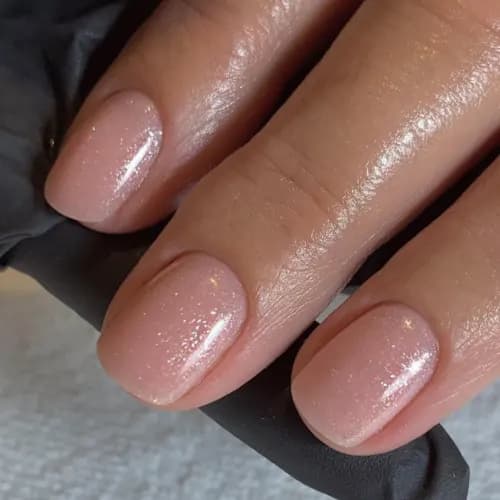 A hint of metallic sparkle is bold, but also subtle, making it an ideal option for a work setting, proves @thedailynailofficial.
27. Blue Divide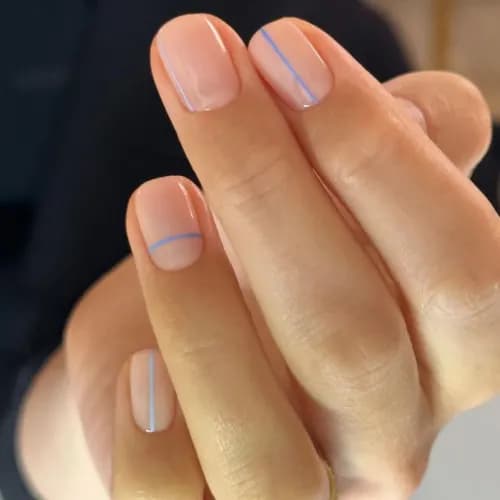 The simple lines of this geometric design by @saskiafenwick make for a unique—but still professional—nail look.
28. Neon Curves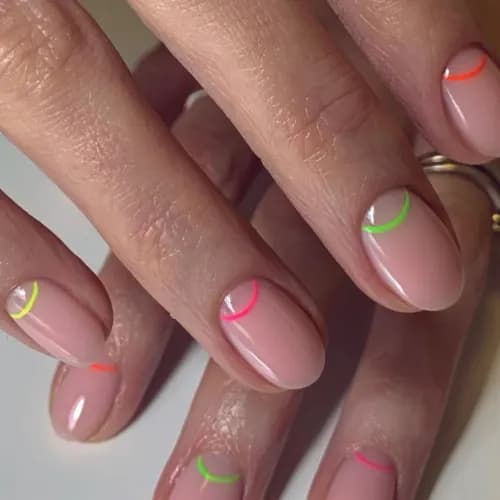 Inspired by a reverse French manicure, the bold colors and half-moon geometric design of this manicure by @thedailynailofficial is both creative and polished.
29. Solo Sparkles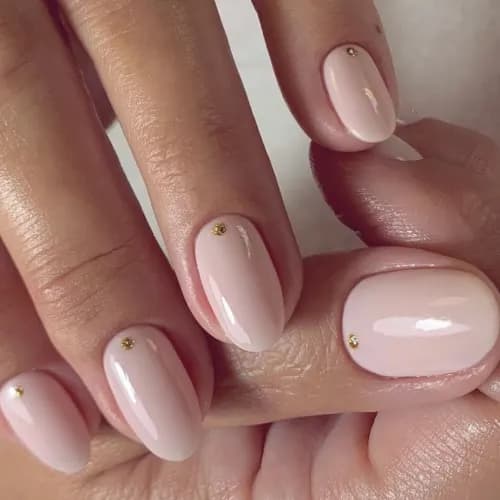 The single rhinestone on each finger by @thedailynailofficial elevates this otherwise plain manicure from "typical" to "special."
30. Artsy Neutrals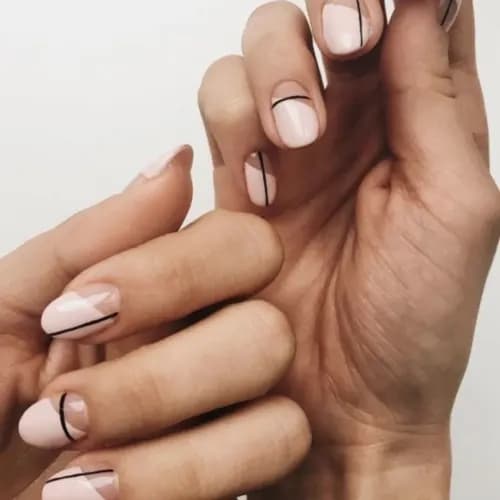 This manicure from Lemon Stripes perfectly mixes neutrals, lines, and geometric shapes for a look that ticks all the boxes: interesting, unique, and professional.