A woman wears waders catching fish, but she captures her fishtail braid for Instagram instead. Women in color-coordinated athleisure stand at the summit of a mountain they'd just climbed — they lock their perfectly polished fingers for a victory photo before the sweeping valley below. Another woman rides the lift with designer sunnies and a beanie in lieu of snowboard goggles and a helmet; she'll pose for her picture before gearing up to make her descent.
If women were to take Instagram at face value, it'd be easy to assume we're not enough — not groomed enough, not coordinated enough, not manicured enough, not beautiful enough. The hyper-curated app saturates our screens with glorified photos that suggest that women should look a certain way even after hiking tens of miles or skiing black diamonds.
But these Instagrammable glamour shots of flawlessly coifed women in the outdoors aren't only unrealistic; they abase women's credibility and dexterity.
"It's the effort behind the adventure that's incredible; we don't need to dress it up," Begin, the founder of Outdoor Women's Alliance (OWA), told Travel + Leisure. "Doing so removes the focus from the strides we're making as women outdoors and puts it back on that age-old media fallback: our looks."
The truth is that our braids and nail art don't keep us alive in the outdoors; skill does. So we caught up with real women who work in the outdoors to share what their lives really look like.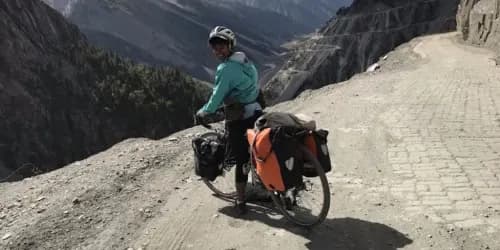 Photo Credit: Daniel Baylis
Mary Ann Thomas — Cycler Trekking Across India
"A few years ago, on my solo bike tour across the US and Canada, I camped most of the way. I didn't often have access to mirrors. As a result, I didn't think about the way I looked much. Instead of caring about my appearance, I cared about biking up mountain passes, dipping my legs in cold rivers and making campfires nightly. I reprioritized. It truly did not matter what I looked like because I was biking across a continent. That was badass enough.
"Now, I follow all these accounts on social media with gorgeous women posing half naked in front of waterfalls. They're beautiful. Their lifestyles are beautiful. They've worked hard for that lifestyle, and I respect them because creating that kind of platform is hard work. Looking gorgeous in every shot is hard work. That's not the kind of work I'm willing to do. I have four brothers and bought my first make up at the age of 25, so that specific kind of femininity is, for me, the kind of work I just don't want to do when I'm climbing mountains or swimming under waterfalls or backpacking...
"Watching beautiful people outdoors fill my feed has made me think about how I curate my own feed. On this bike tour across India, I've asked myself: Do I want things to look shiny, easy, beautiful all the time? My answer is always no. If I want to share this journey with others, I want to share the pain, sweat, dirt and struggle alongside the moments that make it worth it. If someone is to use my journey as an inspiration for their own, I want them to know that this isn't easy. It's not pretty. It's impossible to stay clean. I'm always sweating. I want them to know the truth, and go for it anyway. Because we learn the most when things get messy."
Katrina Belle — Construction Lead for Habitat for Humanity
"Women in carpentry? Practically don't exist. Labor Statistics (2013) cite 1.4 percent as the number of women in the field. Personally, I've met two. Two. Instagram isn't even relevant to my daily work life. I think the recent discussion of women on Instagram in the outdoors has mainly been focused on pursuits like skiing, hiking, running, camping, etc. Everyone knows the spandex-dressed chick with wavy blond hair down to her ass. Honestly, I haven't seen any fake-looking pictures of women in carpentry because there are so few pictures of women in the trades.
"Personally, I try to hide my sexuality as much as possible at work. I wear Carhartt-like pants and large tee-shirts in the summer, and heavy layers in the winter. I never wear makeup. In the summer, when some of my male coworkers switch to shorts, I don't because women's shorts show a lot of leg and, to be honest, I have enough trouble trying to be viewed equally as it is. I try to blend in as much as I can, so the men I work with see my skills over my gender.
"As far as looks — I'm usually covered from head to toe in sawdust or dirt. On Fridays, I spend 15 minutes pulling splinters out of my hands and scraping the dirt out from underneath my fingernails… I don't think women in my category of 'outside work' even exist on Instagram. Those women that do truly work in the carpentry field are most certainly not taking pictures of themselves during work."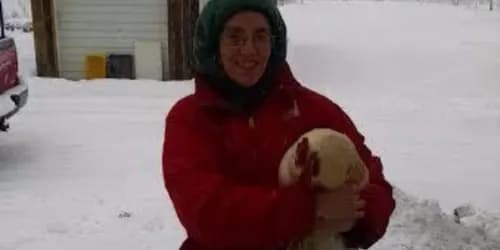 Sarah May — Farmer
"On my feet are one of my favorite farming footwear options — they're my Muck boots! They're waterproof, warm and comfy. My other favorite farming footwear option is nothing at all. I love feeling the Earth being barefoot. My jacket is a North Face I got for free. I wear it in the snow because it's lightweight and keeps me dry. Otherwise, I'm wearing an old-school Montgomery Ward denim 'stable jacket.' Also free. On not snow days, I'm wearing jeans, which sucks because they get dirty, ripped, covered in poop or any combo of that. Then I have no jeans to wear out. I've asked for women's double-front Carhartt work pants for Christmas, which I'm pretty sure I'll be getting. Yay!"
Photo Credit: David Herasimtschuk | @davidherasimtschuk
Jennah Stillman — Adventure Guide at Cascadia Expeditions
"I've definitely found myself shamelessly scrolling through Instagram feeds, looking at beautifully curated shots of women in the most perfect of places, and unintentionally compare myself, or my trips, and my Instagram to theirs.
"Yet, the tables have turned as well when friends tell me that they look at the photos I post and they wish they could do those things, too, or that they saw how amazing my life looks. I then feel self conscious, because I realize that I am guilty of posting the 'good times' and perhaps choosing to leave out the numerous times my car has broken down in the middle of nowhere. The time when I forgot my hiking boots and had to cram my size-9 feet into a friend's size-7 running sneakers. When I forgot my backpack rain cover and had to swaddle my tent fly around my pack to keep my gear dry in the downpouring rain. These moments are the real ones, and the stories behind the adventures, but that's not what people necessarily get to know, when scrolling through social media. I've been trying to be more honest and transparent about my life and adventures, and encouraging more female friends to pursue a life outdoors. Everyone's capacity and breaking point is different, and it's important to know where yours is; then push it. That's how we grow."
Cindy Jones — Founder of Colorado Aromatics
"I work outdoors as a farmer. I grow herbs for my skin care line called Colorado Aromatics… When on the farm, I tend to cover up. I wear a hat and a long-sleeved men's white shirt to protect my skin from sun damage.
"I do think it is important for women to get outdoors because of the benefits it provides in mental, physical and spiritual health. But I think an important thing to remember is that just going out for a walk is ok. It is not necessary to get involved in an extreme sport. Instagram photos may make women feel that unless they are super athlete and go out for long, long hikes that it is not enough. Anything you do outside is great — gardening, walking around the park, biking around the block, etc. Just get out, clear your head, get some exercise and some vitamin D."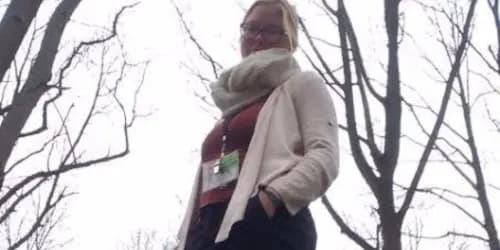 Kim Purtle — Teacher at Schuylkill Center for Environmental Education
"We bring science materials to underserved schools in the area. [My job] consists of outdoor excursions and educational emersion in every weather, all for the sake of procuring and stoking curiosity in the natural world.
"I'm wearing Uniqlo fleece-lined snow pants — I found they're the most versatile for work here, my bike commute, and if I get called in to work my waitressing job downtown. Other products are too thin, don't work, and aren't worth my money. My leather jacket, and most of my jackets, are from a thrift store. Leather has proven to me to be the most durable against the raspberry, multi-floral rose and other prickled bushes I ramble through throughout my day. The suggested industry puff jackets and lightweight down end up getting too many tears to repair. So this is the best chance of keeping my wallet and consumer ability down.
"My footwear and socks are always bought at retail price, and it takes me hours to choose them because they will last me hundreds of miles, hours of mud and stream, and as many years as they will let me. [My] leather boots are from REI, bought 10 years ago in 2007 for my first backpacking trip. [My] gray Merrel waterproof boots… I used for nearly three years. They saw their early death at the end of my cross-country bike tour this summer, where I wore them for nearly two and a half months as my only shoe… I recently switched to only Darntough socks as they are made of durable, moisture-regulated and stench-controlled merino wool."
Samantha Lewis — Ski Instructor at Beaver Creek Resort and Program Instructor at Berkshire Outdoor Center
"The outdoor education center I spend much of my time at is one of the few places where we have more women then men working, so the Instagram vs. real life conversation has a tendency to come up. Although much of the time we are all in awe of some of the amazing outdoorsy Instagrammers, when we post we are usually so proud of what we have accomplished or excited about who we are with to care about how we look. We haven't showered for days — covered in dirt and rings under our eyes, but we do not care.
"Me and my friends wear a lot of Eddie Bauer… L.L. Bean, Arc'teryx, Black Diamond, Patagonia, North Face and Macpac. Of course, we don't just resign ourselves to a certain lists of brands, but each person knows what works for them and has a list of preferences. Trying to understand the trends of the outdoor industry isn't really something I have really thought about before. The time I think about it the most is when I have to work. My boss always insists we look 'outdoor professional.' This means no leggings for women, sturdy shoes you can spend the day hiking around the lake in, a uniform shirt and a clean-cut appearance.
"When I am on my own time I dress in those same shoes, whatever pants smell clean and whatever shirt goes with the pants. The shoes are a brand called Forsake. Forsake is a brand that advertises themselves as 'summit to street,' and they have an amazing Instagram… Not all the photos are focused on the shoe and that makes it even more impressive. They are the kind of shots I strive for but will never achieve. For one, I am not that good of a photographer and, when I do get to a view like that, I am usually pointing the camera away from me and towards the view."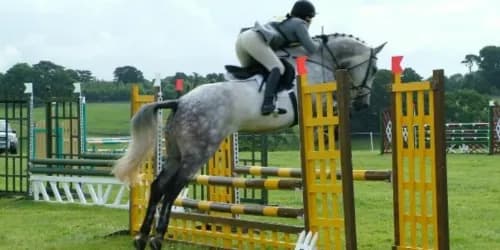 Kiri Brookes — UK-Based Equine Expert, Teacher and Livery Yard Owner
"I think the 'glamour shots' on Instagram of women outdoors are totally unrealistic. They don't depict everyday life working outdoors. For me working with horses is often cold and wet in the winter and hot and exhausting in the summer. It is physically demanding and strenuous on the body. But in my case I come second to the horse's needs. I don't work outside because it's glamorous. (I certainly don't put make up on every day or 'do' my hair, and my hands and nails show the wear and tear I put them through.) I work outside with horses because I love it — I love the outdoors, seeing the countryside every day through each changing season. I like the physicality and strength I gain from it, and I love horse riding and caring for the horses.
"As with any social media, it can give a glossy appearance to something, which isn't always true. It would be nice to see more reality in pictures of the outdoors, through all types of weather and showing the real skills of people working outside — not staged photos."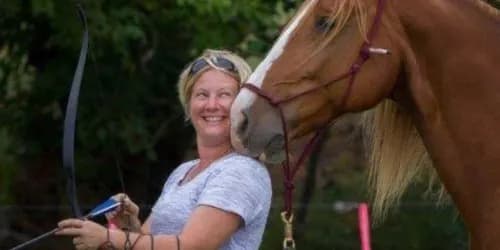 Becky Howell — Equine Myofascial Therapist and Saddle Fitter
"This idea of only posting staged, made-up, filtered shots as representations of outdoor work is ludicrous. I am a strong individual and am comfortable in my own skin. Seeing the staged shots does not lessen my self worth; I own my sweat and I am happy with my body.
"But for the women I coach, it is taken as a reprimand for not 'looking perfect.' That is why I do both. The pretty shot for aesthetics and the real shot for truth. I'd like to see anyone bust a gut and work through 10 horses a day in July and look pristine. That isn't reality. Women have always been judged on looks and decorative value. It is past time to let that outdated view go and boldly share our amazing selves."
--
AnnaMarie Houlis is a multimedia journalist and an adventure aficionado with a keen cultural curiosity and an affinity for solo travel. She's an editor by day and a travel blogger at HerReport.org by night.