We're making a difference. We're lifting others as we climb. We are Black in Tech.
Black in Tech is a business resource group that cultivates, elevates, and celebrates the Black in Tech experience at Facebook. Their goal is to grow and engage our Black in Tech population by providing professional programming that supports specific career development needs in Facebook's Black community.
Below, hear from a few members of Black in Tech as they discuss their careers, what energizes them, and why Facebook is the right place for them to make personal and professional impact.
Serign J., Solutions Engineering Manager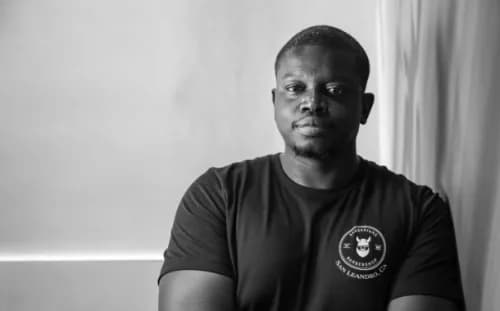 Serign leads a global team of over a dozen engineers. Over the past three years, Serign has grown his team as they support major business groups to deliver solutions to millions of businesses and hundreds of sales and support people.
How do you give back?
When I think about giving back, I try to do it in a way that leverages my unique skills and position.
For example, my team creates software that ultimately helps businesses, so during a recent Black History Month, I worked with the [email protected] group to invite minority-owned businesses and teach them about the different Facebook and Instagram tools they can use to grow their businesses.
About a dozen small business owners attended, and most of them were Black women. We subsequently replicated this at a larger event, the Black Power Summit in Seattle, with over 40 Black business owners in attendance.
Why Facebook?
The number of people and businesses we serve on the Facebook family of apps is mind-blowing. I feel extremely lucky to get the opportunity to work on something that is meaningful to literally billions of people. This shows up in everything we do, from the code and infrastructure, to call center operations and recruiting.
How do you lift others as you climb?
I try to be visible as a Black engineer and leader, even though my default disposition is to stay super low key. I network, make referrals, talk about Facebook's interview process, go to HBCU recruiting trips, and make myself available for advice and mentorship. As a manager, I am intentional about building an inclusive team culture and work to scale some of my learnings by influencing other managers.
Jasmine L., Technical Program Manager
Jasmine is a TPM on the Blood Donations Team. She manages the Partner Programs like Onboarding, Engagement, and Expansion to help connect Blood Banks with potential blood donors on Facebook with the goal of creating a safe and sustainable supply of blood for the world.
What sets your soul on fire when it comes to technology?
The passion in my heart is ignited by the endless possibilities of using technology to serve underprivileged communities. Technology can be that super power that creates safe interactions in the world.
I'm extremely blessed to be able to work in the tech industry, and am intentional about seeking opportunities to impact the lives of underrepresented groups.
How do you give back?
Outside of work I attend networking events, hack-a-thons, mentor, and guest speak or judge at entrepreneurship competitions. These give me opportunities to influence others in considering how their products or services impact underprivileged communities.
Ibrahima B., Manager, Network Investments
Ibrahima has been at Facebook for three years. On the Emerging Markets team, he helps support high speed network deployments to underserved populations around the world.
What's your biggest passion when it comes to technology?
My passion is to bring the highest quality internet to the most remote regions in Africa and other emerging markets. I am lucky to work on challenges like fiber and transport networks almost everyday. Fiber technology is not new, but it remains the foundation for high speed internet.
At Facebook, my team–along with telecom operators, governments, and other like-minded parties–invests in internet infrastructure to make coverage and capacity expansion possible for 3.8 billion unconnected people across the world.
Describe one of the projects you're most excited about:
We've deployed thousands of kilometers of fiber networks in remote areas of Uganda and Nigeria. In Uganda, we deployed 770km of fiber in a region with limited fiber connectivity, and virtually no broadband services. This also enabled our partners to upgrade their networks.
In Nigeria, we deployed 750km of fiber in two states to mark one of the first major fiber projects outside of Lagos in recent years. These initiatives have made great impact on people's lives by providing 3G and 4G mobile networks to enable broadband connectivity.
Black in Tech is one of many resource groups available at Facebook where employees can learn, network, and build community. To find out more about Facebook's commitment to diversity, visit https://diversity.fb.com/.
Stay Connected!
--
This article originally appeared on Facebook's blog. Fairygodboss is proud to partner with Facebook. Find a job there today!