When you teach, you shape the future. And in 3rd grade teacher Liz Kleinrock's future, there are no Brett Kavanaughs.
The teacher channeled her frustration from the last few weeks into an awesome consent curriculum that moms and teachers across the internet are requesting to teach their own children.
Kleinrock's class at Citizens of the World Charter School in Los Angeles was first introduced to consent with a very clear chart.
So clear, in fact, I'm sure college-educated senators (or anyone that can read) could understand it. Maybe we should toss it in front of them.
Source: @teachandtransform
Then, they drew comics depicting different situations where consent is necessary.
They drew people saying "yes" and "no" to hugs or borrowing things. "We're just talking about physical interactions that the average 8- and 9-year-old might have," Kleinrock told Buzzfeed News.
Source: @teachandtransform
And wrote about why consent is important.
Something people across the country still seem to not understand.
People on Twitter are obsessed with her lessons.
And she's inspiring future educators.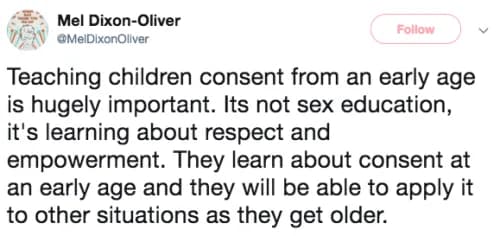 Kleinrock told Buzzfeed News she hopes the curriculum will help her students "learn how to be empathetic and show compassion toward one another." Isn't that something we could all use? Props to her.