"Brand ambassador marketing." You've been hearing the term for quite some time now, and by now you're wondering — what's all the fuss about?
Before we get any further, let's clarify one thing:
Yes, you do need ambassadors for your brand
. This type of word-of-mouth marketing helps you make an effortless connection with your audience. The audience gets the impression that your brand is attractive, trustworthy, and trendy when they see recommendations from people they admire and trust.
Whether you're an artist, a businesswoman, or a website owner, brand ambassador marketing is a powerful way to engage your target audience. Let's learn a little more about it.
So, what exactly is brand ambassador marketing anyway?
A brand ambassador is someone who presents your company brand to a larger audience. You've surely seen this trend on Instagram and other social media platforms.
Alo Yoga
, for example, has established a strong community of brand ambassadors. These people have many followers who promote the brand on photos and through hashtags. Naturally, this kind of brand advocacy helps attract more followers on the company's own profile, and they then convert those people to customers. It's strong marketing without
looking
aggressive, which is partly why it's so successful.
Is there more than one type of brand ambassador?
Indeed; there are two types of brand advocates we can talk about.
• Influencers
The first kind involves
influencers
. These are people who have a large following on social media. They attract shares, comments, follows, and likes. A brand can gain tons of visibility when engaging these people. In this case, you more or less hire these people to increase brand awareness, and you provide them something (read: money) in return.
• Unpaid brand ambassadors
You don't hire the second type of brand ambassadors. These people are also influential on social media, but they promote your brand because they are happy with it. You don't pay them, but you still provide them something in return — your products or services. Treat them with a free package, for example, and leave the rest to them. In this case, they will brag about your brand
only
if they are happy with what they get; their good opinion can't be out-right bought like it often can with influencers.
Examples of brand ambassadors
Now that we've touched on the basic definitions of brand ambassadorship, let's look at some high-profile examples to see what this word-of-mouth marketing can look like. Traditionally, this kind of brand advocacy has been the sole province of hyper-recognizable celebrities like George Clooney, who has been the global ambassador for the coffee company Nespresso for more than a decade. But with the rise of social media, brand ambassadorship is more and more becoming the domain of "normal" people who've managed to attract huge social media followings of their own accord. A few examples:
Kristina Bazan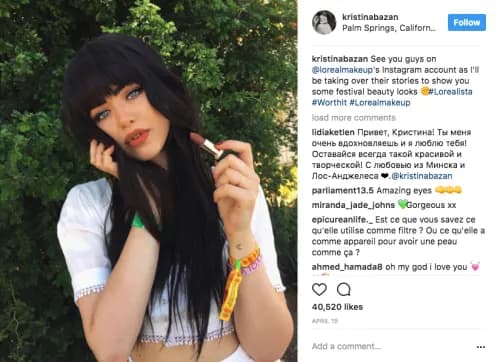 (Source: Instagram)
This Swiss beauty rose to fame as a teen style blogger, and she's been racking up the influencer marketing partnerships with luxury brands like Cartier ever since. Her Instagram currently has over 2 million followers, and she was recently made one of the global faces for L'Oreal.
Kayla Itsines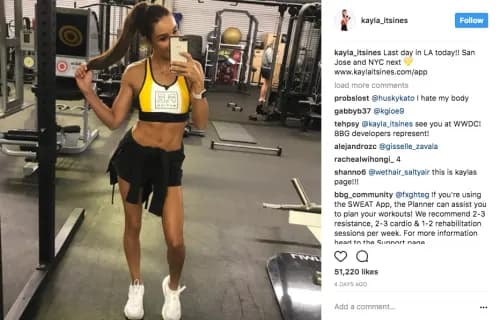 (Source: Instagram)
Itsines is a great example of someone who uses their strong personal brand to boost another company product. Her brand is built around personal fitness, which you would know, of course, if you use her ridiculously popular "Sweat With Kayla" app or if you're one of the 6 million + people to follow her Instagram. Logically, Itsines often serves as a brand ambassador for athletic brands; as an example, when Adidas releases a new model of running shoe, they'll turn to Itsines as a brand advocate to promote it.
Corianna and Brianna Dotson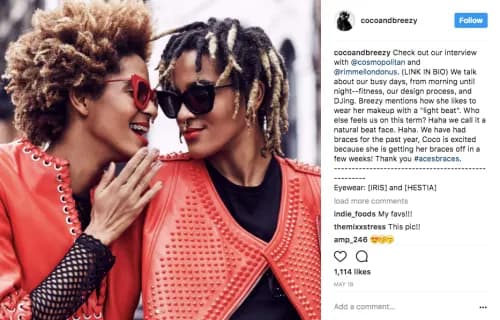 (Source: Instagram)
Better known by their brand name Coco & Breezy, these New York-based twins developed a line of sunglasses that were quickly gobbled up the likes of Beyonce, Rihanna, Prince, and more, and they also DJ around the city. Beloved on social media for the cutting-edge, cool-girl lifestyle they project, major brands like Adidas, Hershey's, and Jolly Ranchers have sought out their representation in the hopes of tapping into their edgy market base. The Dotson twins, like Itsines, are examples of social media influencers who use their prominence to promote other brands
in addition
to their own product.
What are the qualities of a brand ambassador?
It's important to target the right people when you want to promote your brand through this kind of marketing. These are the main characteristics you should look for in brand ambassadors or influencer marketing employees:
1. They are loved on social media.
You need people who are extremely active on different platforms.
Your brand should naturally fit into their lifestyle. If, for example, you're selling toys for babies, you'll contact only moms who often post photos of their babies or content related to their daily parenting adventures.
2. They can write.
You don't need just a photo with your product posted by an influencer. You want them to say something about it. Even better, if you're engaging a YouTube influencer, they should engage the audience with an interesting review of your products. A brand ambassador should know their way around words. They should know how to present your brand in the best light and show how it improved their lifestyle.
3. They communicate with their followers.
You'll notice that influencers often respond to comments, especially on Instagram. That's the kind of connection you want. When your brand ambassador promotes your products or services and people ask questions about them, they should give feedback.
4. They are open to collaboration.
If you notice popular social media users who often promote products and services, your offer is more likely to stand a chance.
What is a brand ambassador salary?
How much money does a brand ambassador make? Corinne Donovan, a marketing expert from
BestEssays
, gives us insights into the financial aspects of brand ambassador marketing:
"Many business owners want to know, 'How much does this cost? The answer is: 'It depends.' The ambassadors usually set the price. Some may ask $100 per promotion, and others will just be happy with a free product package. You'll have to negotiate and form a lasting collaboration."
That pretty much sums up the money issue; some brand ambassadors are expensive. If you want a crazy popular celebrity to promote your brand, the luxury may cost you thousands of dollars. For smaller, niche brands, that kind of influencer marketing just isn't realistic. If you settle for a "humbler" influencer, however, the collaboration won't cost you nearly as much — and you'll still get tons of attention in return.
Celebrity vs. non-celebrity brand ambassadors
Non-celebrity partnerships are often just as effective and can even get your company message out to just as wide of audience, partly because you'll be able to afford more ambassadors, and partly because consumers may actually find these people more trustworthy.
Think about it: If a member of the Kardashian family posts a photo with a particular company product, like a protein shake, your first reaction is to wonder just how much moula the brand had to fork over to get a coveted spot on one of the K-clan's social media platforms. If your favorite fitness blogger posts a photo with the same shake, on the other hand, you
may
be more inclined to perceive the product as genuinely worthwhile.
Provided you have the right characteristics — like possessing a strong personal brand and hefty social media following already — becoming a brand ambassador or paid social media influencer can be a pretty sweet side gig. As noted above, compensation does run the gamut, but the
average
yearly income for brand ambassadors in the U.S. is nearly $50,000. Not bad, especially considering how minimal the start-up costs are. Interested in becoming one? Look up companies that already have a brand ambassador program in place. Some examples of brands that regularly fill ambassador jobs include: Banana Republic; Red Bull; Monster Energy; Uber; Groupon;
Abercrombie & Fitch;
and Gap.
How do you find an ambassador for your brand?
You can start attracting brand ambassadors through ads via sites like Craigslist, but you can also directly message the specific ones you're interested in. Depending a little on the size of your brand and the prominence of the influencer, this shouldn't be terribly hard to do; after all, by trade, influencers are supposed to be responsive!
Once you attract a brand ambassador, you'll need a contract. This cooperation is often strictly planned, scheduled, and forecasted. If you're paying this person, they will need to promote your brand according to the terms you agree on.
If you're providing free packages and leaving the promotion to the influencer's choice, you'll need to see keep tabs on how exactly they choose to promote it. You can use a tool like
Brand24
to follow your brand's mentions on social media. It's important to keep track of the results of your campaign.
In conclusion: Every brand needs ambassadors.
People trust influencers. They engage with them on a daily basis via YouTube, Instagram, Facebook, Twitter, and all other social media. You can rest assured that if they mention your brand in a positive context, they will direct tons of traffic your way.
Joan Selby is a former ESL teacher and a content marketer. She also runs her own blog about social media and writing tips. Joan is a Creative Writing graduate, fancy shoe lover, writer by day and a reader by night, giving a creative touch to everything.