WorkHappy, WorkHealthy, WorkSmart, WorkAnywhere.
These are the values that define Motus and their company culture. Motus empowers employers and their workforce with innovative solutions to make work life more convenient, productive and successful. They provide a unified experience, operational peace of mind and a flexible and scalable infrastructure. Work life is easier for both employees in the field and administrators behind the screen with Motus solutions.
In addition to equipping employers with innovative solutions to achieve work-life balance and productivity, Motus brings the same spirit to their "anywhere workforce".
For Motus, nothing is more important than the people they work with. The Motus culture is a result of their people. It centers them as a brand and a business, while allowing them to always be true to themselves. It's consistent with their core values: we are curious, we are brave and we are exceptional. The Motus culture is what keeps them working together every day, and that's why they win.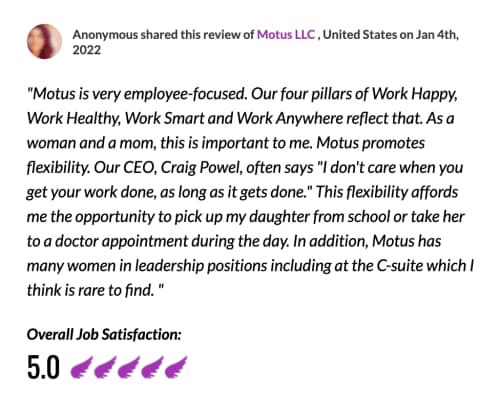 An anonymous review of Motus.
To learn more about how Motus supports their employees by giving them the flexibility to succeed and to hear from a few employees about why they love the company, read on…
Exploring a company culture that employees rave about.
"Motus is the most collaborative and supportive team I've ever worked with," says Colleen Manning, Director of Regional Sales. "It doesn't matter what team you're on — there is always someone with their hand up and ready to help you in any part of your sales process!" This spirit of collaboration and helpfulness is true throughout all levels of the organization.
An anonymous review of Motus.
Another key aspect of the Motus culture is their true flexibility to Work Anywhere. As Jingwei Pan, Director of Software Development U.S., puts it, "Motus has always prioritized people above rules when it comes to work hours and work locations. Work-life balance has always been an easily achievable goal for me at Motus, and I believe this has made me both a happier person and a more productive employee."
And Pan is far from the only employee who thinks this way. Heidi Skatrud, SVP of Product Management, says that the "WorkAnywhere" culture is her favorite company perk. "Kids are going to be sick, have appointments [and] school events," she says. "We all have an occasion where a personal appointment can only be made during the workday, and it doesn't need to be a big deal."
"The culture here is amazing when it comes to a work-life balance," notes Samantha Rose, a Business Development Representative. "Everyone is so supportive and so helpful with anything you need. I couldn't have asked for a better company to work for. Motus really cares about their employees, and they live by their motto: WorkAnywhere."
Benefits and opportunities at Motus that we think you'll love.
In addition to a top-of-the-line workplace culture and flexible work anywhere style, Motus also boasts a variety of great benefits, including:
16 weeks of paid maternity leave, unlimited PTO and a company-matching 401(k), all of which help employees thrive without the fear of work coming between them and their personal lives.

$1000 home office reimbursement.

A comprehensive quarterly goal setting and review process to reward employees for their success and provide coaching on areas that need work. This process also encourages employees to grow and learn within the company, including applying to new positions at Motus. At Motus, their biggest asset is their team, so retention is always top of mind.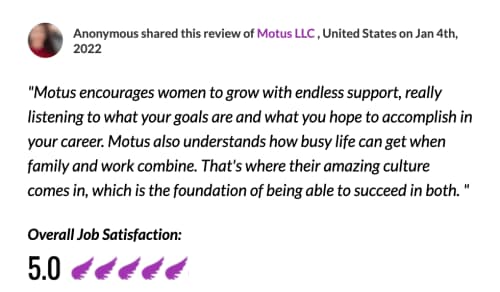 An anonymous review of Motus.
With all of these great benefits and a powerful culture, employees love working at Motus. As Lisa Koltun, Training Manager for Inside Sales, remarks, "Working at Motus is unlike anything I've ever seen before."
--
Fairygodboss is proud to partner with Motus. Find a job there today!