Dataminr is known for their AI platform, which detects the earliest signals of high-impact events and emerging risks from hundreds of thousands of publicly available data sources, enabling more effective risk mitigation strategies, faster responses and stronger crisis management for organizations across the globe. As Helen Wann, Enterprise Account Manager says, "it's fantastic to be selling such an advanced and sophisticated AI platform, and I also love how our product is so intuitive and easily adopted by users…. The fact that Dataminr can really make a difference and help companies mitigate risk is gratifying."
In addition to the company's powerful product, Dataminir sets themselves apart from others with a strong culture. "The people-first culture at Dataminr is distinct," says Dominique Whitehouse, a Senior Associate, Domain Expert and Regional Melbourne Lead of the [email protected] ERG. "In line with our values, Dataminr intentionally encourages our workforce to be transparent and share honest feedback about their Dataminr experience via biannual employee engagement surveys."
Additionally, there are plenty of ongoing feedback channels, helping to maintain a healthy, equitable culture and illuminating areas of organizational strengths and weaknesses. "Employees have the opportunity to give direct feedback so that the company can tend to evolving employee preferences," Whitehouse elaborates. This enables Dataminr to make better-informed decisions and plans.
For example, some of the feedback Dataminr received has encouraged the company to invest in comprehensive DE&I initiatives to serve their global workforce. As a result, the company has consciously woven diversity, equity and inclusion into their business strategy, "so that candidates and employees feel valued at every point in their Dataminr lifecycle," explains Whitehouse. And, as a lead of their Women's ERG, Whitehouse is helping to drive this culture of belonging herself.
And, this culture of collaboration and feedback align with Dataminir's four core values:
Own It: Individuals take initiative, ownership and are accountable. The company thrives on employees' freedom to succeed, fail and have a meaningful impact.

Find a Better Way: People work urgently and thoughtfully and are driven to constantly improve. They create value for markets that never sit still, delivering cutting-edge solutions that have an impact.

Bring Others Along: Dataminr fosters an inclusive environment where people share knowledge, consider varied perspectives and assume positive intent. Teams are supportive, communicative and connected to the bigger picture.

Drive Results: The company is commercially minded and delivers measurable results. Teams are reliable, efficient and effective in moving the business forward
To learn more about Dataminr, we reached out to Whitehouse. Here's what she had to say!
What are some benefits at Dataminr that employees love?
Dataminir is constantly working to improve their benefits to better support their employees. Dataminir "enhanced our employee benefits with more inclusive offerings, such as the recent addition of a comprehensive fertility program that provides equal access to fertility care regardless of gender, sexual orientation, fertility diagnosis, or geographic location," shares Whitehouse. In essence, the People team at Dataminir "invests in our workforce in the ways that [employees] want and have identified because it's the right thing to do," Whitehouse adds. "This will always be a priority at Dataminr."
A few of these highly requested benefits include:
Carrot Fertility: A global benefit that provides support for fertility and family-forming care.

Ginger online platform: A service that provides access to a life coach, therapist or psychiatrist and is available 24/7. It's one of the ways Dataminr prioritizes employee well-being.

Generous parental leave policy: Leave is for both birthing and non-birthing parents. For example, in the U.S., birth parents have four months of paid parental leave, and non-birthing parents have three months.

Flexible sick time: This can be used as mental health days or to take care of family members.
The company also offers nine employee resource groups (ERGs), such as [email protected]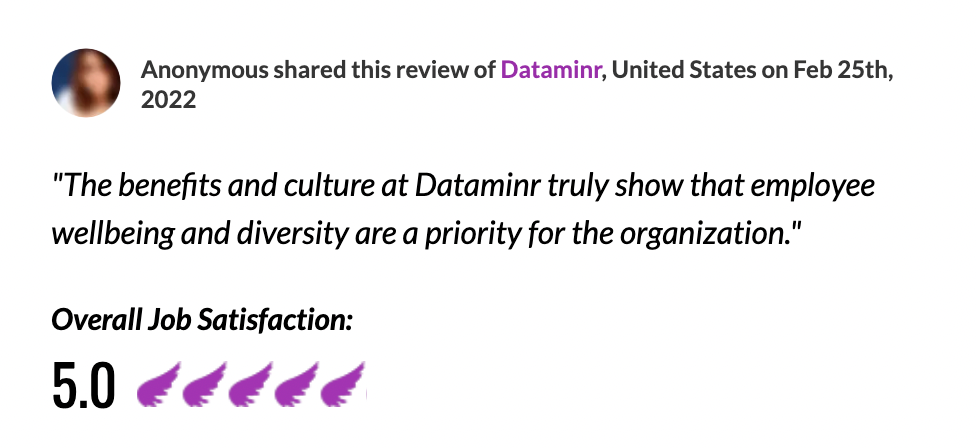 An anonymous employee review of Dataminr.
How Dataminr helps you grow your career.
At Dataminr, a variety of training programs — from providing effective feedback to hybrid work best practices — are delivered via instructor-led training, panels and workshops.
The Emerging Leaders Program, for example, fosters Dataminr's leadership philosophy and exposes rising talent at all levels to leadership skills, meaningful connections and specialized development experiences. Of the 50 leaders selected for the program this year, more than half were female.
The Manager Development Program, meanwhile, provides training for all Dataminr people managers to ensure they have the skills and resources to manage and lead their employees.
Other programming intended to help employees grow their careers includes a company-wide mentorship program and a professional development fund, through which employees are given a yearly stipend to spend toward their career development.
And these initiatives haven't gone unnoticed.
"At Dataminr, I'm frequently reminded of why my work matters and how it feeds into broader organizational goals," shares Karolina DiStasi, Data Engineer II.
"From my first day at Dataminr, I have been encouraged to grow as an engineer," remarks Charisse Haruta, Software Engineer II. "I love that I was given the responsibility to lead the implementation of new features on the mobile app, which directly improved the customer experience. And I always have the support of my team and manager!"
---
Interested in joining the Dataminr team? They're hiring! Fairygodboss is proud to partner with Dataminr. Find a job there today!