At Squarespace, women are well represented and well taken care of. Occupying more than 50% of executive roles, there's no shortage of women in leadership at the tech company. Working mothers can also take advantage of the company's benefits and policies, providing them with the support they need them to balance meaningful careers and healthy families.
In fact, women from all walks of life are valued and supported at Squarespace (and you could be, too — did we mention they're hiring?). Below, here are six reasons women at Squarespace say their experience is a cut above other companies.
1. You can be your authentic self at work without fear of judgement.
Authenticity and self-expression are valued at Squarespace. Leadership here is committed to building diverse teams of multifaceted members who listen to and understand each other's ideas and identities — and employees attest to that commitment frequently.
Take this woman who reviewed Squarespace on Fairygodboss, for example: "I love that Squarespace not only allows every individual to be their true self at work, but supports and encourages it. When employees are able to bring their true selves to work, they are more engaged and productive. Employees are welcomed to speak up and give feedback to senior leadership to help evolve our business and stay innovative and competitive."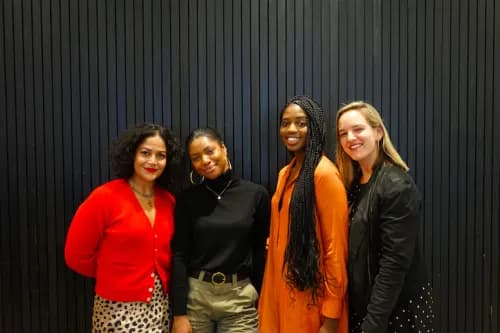 2. Women in leadership positions is the norm.
50% of Squarespace's executive team is female. This includes the Chief Marketing Officer, the Chief People Officer, and VP of Product. For many women, this representation is a noticeable difference from other, traditionally male-dominated workplaces.
One woman said: "We have so many women here who are powerhouses, both professionally and personally. They juggle managing a team, motherhood, being involved with various initiatives and aren't afraid to share or support others who are attempting to follow in those footsteps. The women you will meet are intelligent and offer so much. I feel like the community here does a great job of providing encouragement, actionable support and helpful advice when asked."
3. There are many employee resource groups (ERGs) and interest groups.
ERGs are instrumental in cultivating a culture of listening and learning at Squarespace — and anyone is welcome to join them.
"I'd love women considering Squarespace to know that the people and the environment here are very inclusive," wrote one woman. "In fact, 'inclusive' was the top word to describe Squarespace's culture in our most recent employee engagement survey!"
The high engagement and positive reviews of Squarespace's ERG for women, Women @ Squarespace, is also a testament to women's value at the company. The group provides networking opportunities for career advancement, programming for Women's History Month and a career ladder that offers transparency around their trajectories at the company. One FGB'er spoke for many women at Squarespace when she said she's "found strong female leadership and mentorship here, including my boss and our ERG Women @ Squarespace."
Another employee added: "Through all of these resources, I've been able to connect with people with similar interests, which makes work feel more positive and enjoyable. I appreciate that the other aspects of my life are included in part of my identity at Squarespace."
4. The company covers 100% of benefits.
Squarespace takes care of employees in more ways than one. Their competitive benefits package includes full coverage of premium medical, dental and vision insurance for employees.
And the benefits don't stop there. All team members also receive an equity package in the company as part of their total compensation, and Squarespace matches up to 4% of a team member's annual salary in 401(K) (US) or Pension (Ireland) contributions.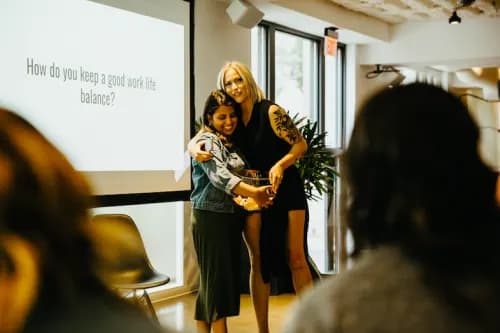 5. Employees have flexible PTO to balance their work and lives.
Squarespace acknowledges and supports work-life balance with its flexible hour policy, creating the space women need to show up for themselves and their teams. One employee's experience with this policy is a perfect example: "Squarespace gives you the tools to get your work done — management support, training and technology. It also gives you the flexibility to do your work in a way that suits your life — whether it's working from home, leaving the office early to pick up your child from school, or taking a break in the middle of the day for an appointment. They trust that you will do the work well even if it's not within your standard work schedule."
This flexibility gives employees the freedom to take hours or days off at a time, and support from leadership isn't sacrificed because of it. In fact, one employee says that "the leads I report into always ask how my creative projects are going and help me find the time to balance everything."
6. Squarespace offers paid family leave.
With up to 20 weeks of paid family leave for mothers and fathers — in addition to the flexible PTO policy — Squarespace aims to give employees the time and tools they need to care for their families. Their paid family leave policy includes taking care of loved ones as well. They also offer a $10,000 annual benefit for fertility and adoption assistance. "It's amazing to see all these women who are able to balance family and career with such grace," said a working mother at the company.
Squarespace also offers fully-stocked "mother rooms" that provide women with the resources and privacy they need to nurse. An employee who's benefited from the rooms said: "The mothers rooms at Squarespace are the most well equipped of any offices I've heard of, and I've compared notes with my mom friends!"
In sum, one employee put it simply: "Parents are first-class employees here. I don't have to choose between my family and my career."
--
Fairygodboss is proud to partner with Squarespace. Find a job there today!