Most of us have that chair. Except maybe yours is a nightstand or a side table. It's a piece of furniture we haul along during every move, shove into a corner in a guest bedroom or pile high with laundry we're totally going to fold before we go to bed. The point is, we keep it even though we never, ever use it. Because it's expensive, because it was a gift or because it belonged to Nana's great aunt Ethel. Do we love it? No. But we're obligated to keep it.
Except we're not. If you have a piece of unwanted furniture floating around the house, get rid of it! Turn it into cold hard cash. Here's how.
10 places to sell your used furniture.
The easiest places to start selling are online, of course, and also local. Online lets you blast your "Check out this chair!" message to the whole world, while advertising on a local level means the actual hand-off of the chair for cash and doesn't require long-haul shipping. Doing either works fine. Doing both? Even better.
It's quick, it's easy, it's super popular and it's free. Using the Facebook marketplace is perhaps the very best way to sell furniture online. Or, you know, dang near anything. Why? Because Facebook has tons of users, and awareness (and use) of the marketplace side of the platform has exploded in the last few years. Suddenly everyone from your mom to that guy three offices over is unloading unwanted stuff for a bit of money. Why not join them?
Selling here is easy: a couple of pics, a nice description of the piece and its condition, a price and a pickup point, and you're off. Keep in mind, a thorough description and good pics will save you endless chats back and forth with the looky-loo sort. And don't forget the importance of noting the pickup option. If you don't have a vehicle large enough to transport that couch, your buyer will have to be able to come and get it.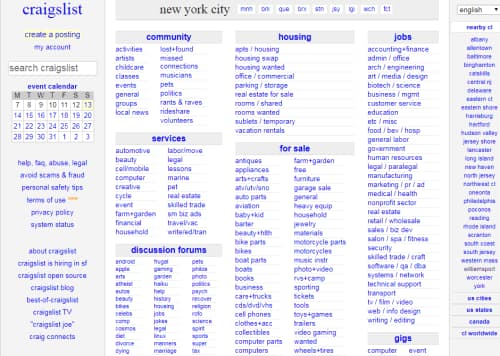 Another very user-friendly way to sell furniture online, Craigslist has been around for quite a while, too. Most people looking for a rocking chair know to at least give it a glance. And because it's popular with sellers, too, potential buyers know to check back in often. This gives your (free!) ad a fair chance at being seen.
Craigslist comes in under Facebook mostly for the fact that it relies on email (or your personal cell) and not messenger for communications, which is arguably a little slower (or creepier). Where it does have a leg up on the social media platform is anonymity. Maybe you don't want your entire social network to know you're selling that family dining table, you know? Still, that anonymity can make a "must pick up" option a little riskier. If you don't feel comfortable handing out your address to an internet stranger, arrange for a meet in a public place. Busy store parking lots are a fairly standard go-to.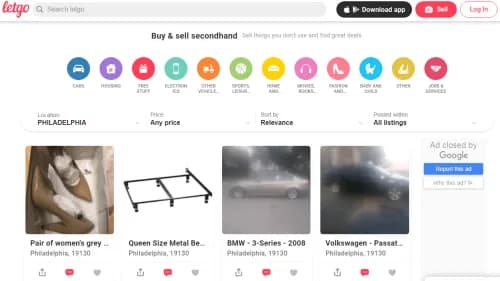 Letgo is another free-to-list site that's becoming one of the more well-known ways to sell furniture. You can post up to 10 pics, which for a simple piece of furniture will let you work in closeups of some nice details or maybe that bit of foxing on the edges. Remember, don't be afraid to show the dents, dings and scratches. People appreciate honesty. After all, you wouldn't want to show up somewhere expecting a mint condition piece just to find one that's, um, seen a few things, right?
When it comes to price listing, Letgo lets you select a "negotiable" option. This can save you having to firm up the price on a piece before you get a sense of what the local demand for it is. Knowing the value of what you're selling before you list it is always recommended, of course, but letting folks negotiate allows you to juggle a few bids against each other, perhaps. Just because you're selling used doesn't mean you can't try to get the best price possible.
4. Trove Market and local consignment shops.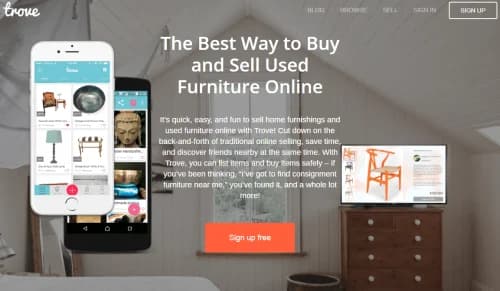 One step above your local thrift store, consignment shops feature gently-used items of a higher quality. Because of their standards, not everyone's furniture will find a home here, but if you have some nicer pieces (and even artwork), stop by a few local stores with some pix of what you have to sell. You already need high-quality pictures for your online ads, so the most you have to lose here is a little time and effort.
Trove Market is essentially the online equivalent of your local shops. It leans toward antique-type furniture, artwork and other lightly-used pieces of higher value. It's also a bit of a niche website and market, so you know the folks on there are looking for exactly what you have to sell. By all means, list elsewhere as well, but if you have nice pieces with a bit of age on them, don't forget to throw this market and local stores into the mix as well.

This one has its pros and cons. It's super popular, which is a definite pro. And you can either list your pieces to sell immediately or under a bidding option, which has the potential to yield a bit more money for your furniture than you might otherwise make. And the "must pick up" option means you don't have to worry about shipping a heavy piece cross country if you don't want to.
However, eBay does take a cut of your final sales, in the form of a percentage, so take that into account when deciding to list there and when deciding on your listing price. If you're selling off items in bulk from an estate, this might not be a very large con for you to consider. After all, employing an auction house or another listing service for that many items will incur its own fees, making eBay more cost-effective. But if you're just out to sell a couch? Maybe not so much.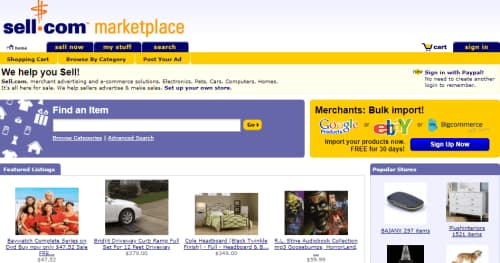 Sell.com has been around for about 20 years, which in internet time is ages. Think of it as the Ziprecruiter of sales sites. You create a listing for a buck, and the site lets you post to other sites (like eBay and Google Products) at one go. This is a fair amount of bang for your (literal) buck. When you're looking for places to sell your furniture, it can't hurt to list somewhere as popular and long-lasting as this market clearly is.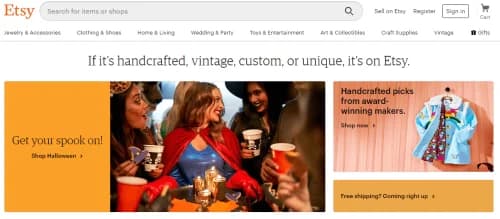 This site isn't just for the artist and artisan communities. Yes, it has a hip and creative ethos among both buyers and sellers, but if your pieces fit into that aesthetic, then listing with Etsy just makes good sense. Anything that can be labeled vintage or even antique has a chance of finding a new forever home through this site. Add in its popularity, ease of use and low cost of entry (it costs well under a dollar to list and about 5% of the final sales price), and Etsy is easily one of the best ways to sell furniture.
Got a bit of a hankering to try this as a side source of long term income? Etsy is the place to set up a little shop and get your feet wet. If you have the room to store at least a few pieces at a time, by all means, hit the flea market and online stores as a buyer, not a seller. Do a little rehab and then start listing away. If you make anything by hand, you can add that handmade element to your sales package. Who knows? This could lead to quite a bit of income for you.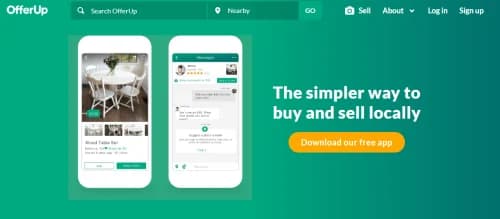 OfferUp is a classifieds app, which means you can list, add pics, communicate with sellers and handle all the details of a sale straight from your phone. When it comes to convenience, you really can't ask for more than that. Another fun feature is that your potential buyers are able to counter-offer on your pieces as well, so you can do all that fun bartering (and even trading??) that comes with making private sales.
9. Local trade publications and newspapers.
Think print is dead? Think again. Trade rags and newspapers are still kicking. There is a variety of listing options available with either, and newspaper classifieds are also often online as well as in print, increasing your ad's exposure right out of the gate. And listing with a local publication puts you in front of a hyper-local audience, effectively eliminating any question of having to deal with shipping. This route works in both rural and urban communities. So when it comes to finding the best way to sell furniture, don't dismiss these more old-fashioned options out of hand.
10. Yard sale.
When it comes to easy selling, it doesn't get much more simple than a good old yard/sidewalk/garage sale. Keep this in mind if you're looking to sell in the summer or can wait until summer rolls around again before you start listing. Yard salers are dedicated deal hunters, and some folks will follow a handmade series of signs for a few miles. This option is even better if your community is known for having an annual town-wide yard sale event. Then you can definitely save that date as maybe the very best way to sell furniture you don't want. Bonus? Yard sales are also great ways to unload old clothes and household goods as well.
5 tips for selling your furniture.
• Clean it up!
Show your piece in its best light by dusting, polishing, vacuuming and otherwise sprucing it up. Just because you're listing this on your local Craigslist doesn't mean you don't want to add a bit of shine to your posting.
• Take good-quality pictures.
If your phone has a nice camera, perfect. But "quality" isn't just about your camera. It's also about composition. Think of this as a chance to flex your staging skills. Pull that piece of furniture out into some nice natural light, clear out any distracting clutter around it and start your photoshoot. You might just discover you have a knack for this kind of thing (um, side hustle, anyone?)
• Nail your descriptions.
Don't label a piece as "pristine" if you know in your heart it's "fair" at best. A potential buyer is going to take one look at that thing in person and give it a good hard pass. Why waste their time and yours? Know the condition and its worth by doing a little research, and spend a few minutes writing up a solid description. Doing this could make all the difference when it comes to actually closing a sale.
• List in more than one place.
Hedge your bets by listing with more than one site, app or publication. After all, not everyone uses Letgo, right? So only listing in that one place will lower your odds of making a sale, while depriving your ideal buyer of that perfect-for-me piece of furniture they're hunting for. So, go ahead and make a broad pass at listing on as many sites as make sense for you and your piece. Just remember to keep track of where you're advertising, so you can take all those ads down once you sell. You don't want the headache of having to tell a dozen people, "Already sold."
• Be willing to negotiate on price (at least a little).
You're selling to make a little cash, sure. But buyers are looking for used pieces in order to save a little cash. This is why they're in the bargain bin section of the internet, after all. But there's a happy medium for both of you in this situation. You might just have to do a little dickering to find it — which can actually be the fun part of selling privately. A successful negotiation can leave both parties feeling pretty charged about how well they made out. And when it comes to finding ways to sell furniture, actually having fun while unloading your old dresser or love seat is a heck of a perk.