These days, it seems you can turn to the Internet for almost anything. And women are using sites to connect each other with professional advice, job opportunities, horror stores, and more. After years of only having male-dominated career advice to turn to, women are changing the game with their own career blogs. There are dozens of career sites dedicated solely to women and our career goals, and we've outlined 15 of the best ones to inspire you today.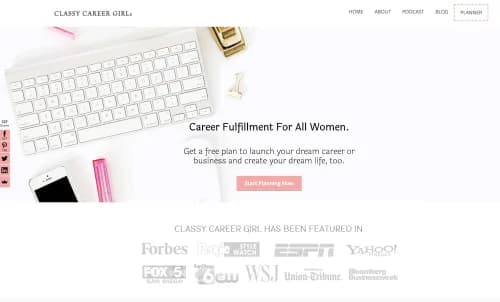 Founded by Anna Runyan in 2010, the career site reaches millions of women every week. The career site for women offers advice on work, goal-setting, relationships, family life and more. In 2014, Classy Career Girl was featured on Forbes' list of the 35 Most Influential Career Sites. Not only do they provide articles and blog posts for women to reference, they also provide online trainings for women transitioning career paths. According to their site, they've worked with over 2,000 women to help them launch their careers.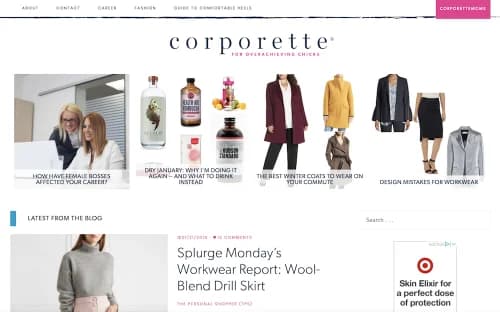 Kat Griffin created Corporette in May of 2008 while working as a litigator at a Wall Street firm. Kat wanted to create a place where professional women could discuss lifestyle, fashion, career and more without feeling like they are feeding into the world's stereotypes for professional women. Corporette will teach you how to update your professional wardrobe and your resume.
Women on the Fence was listed as one of Forbes Top 100 Websites for Women. The site, created by Erica Diamond, focuses on a variety of topics relating to women, such as lifestyle, career, parenting, wellness, sexuality and more. Diamond is a 43-year-old wife and mother of two boys, a life coach and a yoga teacher. She created her blog for all women who are "on the fence," or looking to make a change in their life and their career.
Women 2.0 is a blog focused on women in technology and gender equality in a male-dominated industry. Since 2006, the website has worked to inspire women in technology, as well as connect them with resources to help promote their careers, like listicles, advice columns, job sites and more.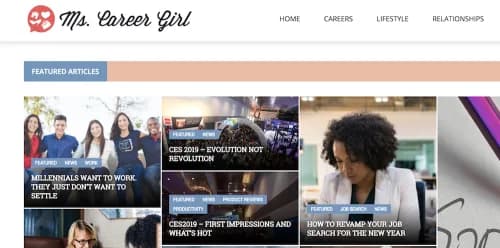 Linda Allen started Ms. Career Girl over 10 years ago with the vision of being a mentor to young women who want to "have it all." The site allows women to share their own stories, struggles, tips, tricks and more with each other. And it provides its own advice on searching for a new job, maintaining your finances, balancing work with a relationship and more.
Career Contessa is a site that not only provides interviews, career advice from experts, one-on-one mentoring and a job board for women — it also works with companies to connect its visitors with jobs and other career opportunities. Career Contessa states one of its goals as "helping women and the companies that support them."
I Am Back at Work was started by Miki Feldman Simon, a career woman who has her B.A. in Psychology and an M.Sc. in Organizational Behavior. Miki took several breaks in her career to care for her children, her parents and to relocate her life. She wanted to create a blog offering advice for women returning to work after pressing pause on their career. The site provides articles on this topic, and Miki does one-on-one career counseling for those interested.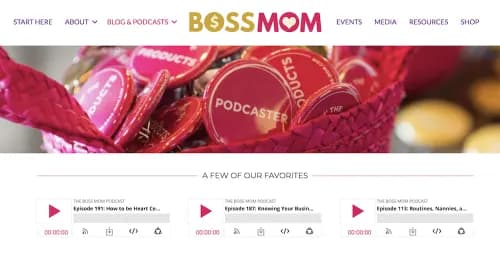 For women balancing their career and their family, Boss Mom is a blog and podcast site for you. Started by Dana Malstaff, the site focuses on how to combine your career dreams with your children, rather than working to separate the two lives. Malstaff is also the author of the book, Boss Mom: The Ultimate Guide to Raising a Business & Nurturing Your Family Like a Pro. The website, best for mothers, is also great for those who prefer podcasts over blog posts, as it has both!
Natalie MacNeil started She Takes on the World while she was lost, in her 20s, and had no idea exactly what she wanted to do with her life, other than knowing she wanted to be an entrepreneur. Now, she's been featured in Inc. Magazine, Elle, LinkedIn Pulse, TIME, Entrepreneur and more. Her site provides inspiration for women in the workforce. It features her own personal tips as well as those from experts on certain topics like finding motivation, morning routines and more.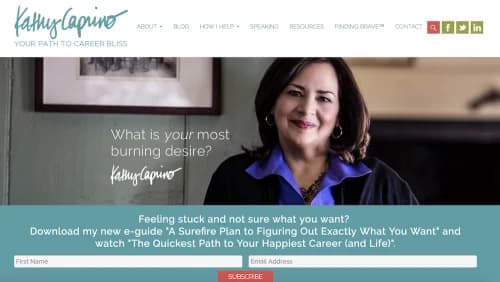 Caprino is a career coach and author of the book, Breakdown, Breakthrough. Her blog helps readers find their purpose in life, set their goals for the new year, to stop apologizing unnecessarily and more. She focuses on helping women discover their passions and finding those passions in their work. Caprino has been featured in Forbes, Huffington Post and more.
Girlboss is the unofficial career site for millennial women. The site, which was started by Sophia Amoruso, has blog tabs for work, money, wellness, beauty, identity and more. It offers advice on growing your business's social media following, sticking to your budget, balancing a side hustle and more. They also have an email newsletter and a podcast!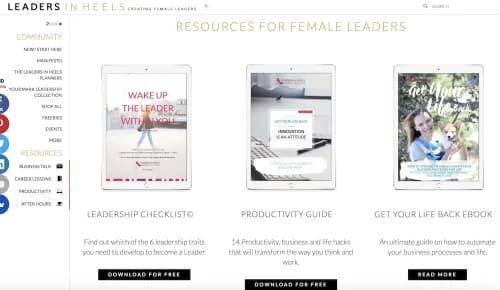 The tagline for female career site Leaders in Heels is "creating female leaders." The blog was started by Kasia Gospos to inspire women to embrace all of their qualities and find their personal leadership skills. The site now offers articles on dealing with difficult colleagues, leading with confidence, overcoming perfectionism and more. And they sell Leaders in Heels stationary, yearly planners and more.
Watch Her Work was started by Denise Hamilton, a speaker and executive coach who wanted to help women launch their professional careers and close the gender achievement gap in America. The site crowdsources questions from readers and gets expert advice to answer them. It provides advice on reaching goals, career mentorships, side jobs, paying off debt and more. The site also offers resources for guests, like online courses, consulting and career coaching.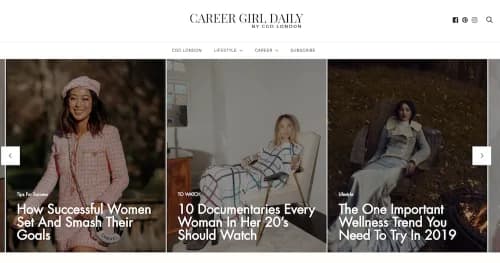 Career Girl Daily is another career site for female millennials in the workforce. The site focuses on both lifestyle and career articles. Lifestyle ranges from wellness tips to career planning and organization. And career articles contain tips for a successful career, personal professional stories of real-life women, planner hacks and more.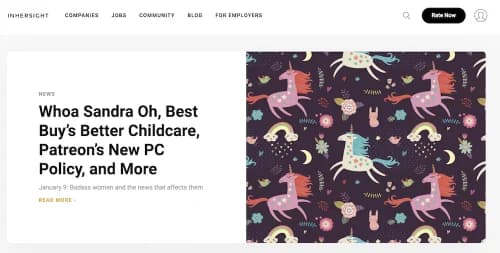 In Her Sight not only allows women to fill out a scorecard for their previous or current employers, it also has an informational blog section with categories like How To, Interview, Working Women, Female-Friendly Companies and more. The site has blog posts addressing "mean girls" in the office, women to follow on Twitter, ways to get a job without experience, must-read books written by female authors and more.