The US Center for Disease Control maintains the ongoing National Intimate Partner and Sexual Violence Survey to collect data on domestic violence at a national level. In 2015, the survey found that, nationwide, one in four women and one in nine men experience severe physical violence perpetrated by an intimate partner.
The heartbreaking reality reflected in these statistics is that anyone could be a victim of domestic violence. Chances are you know someone who is or has been affected by domestic violence at some point. But fortunately, there is help. A
domestic violence
app installed on a victim's phone might make a difference when it comes to finding help when they need it the most.
Four domestic violence apps worth considering
Domestic violence doesn't discriminate. People of all backgrounds are affected daily, and many developers have created apps targeting not only specific communities but also identifiable stages of the abuse cycle. These apps are available both for Android and iOS.
myPlan.


The Center for Disease Control reports that, before they are even 18 years old, 8.5 million women and 1.5 million men experience rape. And about 3.5 million women and 1 million men deal with stalking.
Teenagers, a segment of the population that is especially vulnerable, are at high risk of experiencing date abuse, and alarmingly, only about 33% of teenagers who have experienced date abuse report the issue, according to Loveisrespect.org.
The developers of the myPlan app designed it so that it offers personalized service to different demographics. According to the website, the app can help the users identify, navigate and find resources for situations like:
Intimate partner relationships
Friend and family relationships
College student relationships
LGBTQ relationships
Relationship impact on pregnancy and children
Users have the option of either downloading the app to their devices or using the web interface. The web interface option is safer for people whose cellphones are being monitored because it doesn't leave any trace other than in the browsing history. In most cases, a user can easily remove the browsing history, whereas she might not be able to remove the purchase history, leaving a trace of the app in the user's account.
The user can also access a decision aid tool within the app to help her better understand her risks of danger. The app offers personalized safety information, too, and the user can integrate it into their plan of action.
VictimsVoice.
A high number of domestic violence cases go unreported because victims are often afraid that law enforcement agents won't believe them.
Lieutenant Heather Glogolich was married to a fellow police officer and suffered
domestic abuse
at the hands of her husband. She was able to escape that situation and become a consultant for the VictimsVoice app after she divorced her abusive, alcoholic husband.
VictimsVoice allows a person to discretely collect the kind of evidence that law enforcement needs to charge an abuser. A person doesn't need to download the VictimsVoice app to their phone, and this makes it undetectable. To access the app, the user must go to the app's web interface. Accessing the app through the web is also convenient because the user can do so with any device with a live internet connection.
The app allows the upload of text and images. According to the website, attorneys have vetted VictimsVoice's evidence-gathering system. The app asks guided questions that ensure the user is capturing information that is viable in court.
Aspire News.
Aspire News disguises itself as a news app. The user can access information about domestic violence services, resources and education available to victims from the help menu within the app. There's also an option to add emergency contacts who don't necessarily have to be from your phone contact book. In an emergency, the user can configure and send a text message with her location to these contacts or emergency services.
The most important feature of the Aspire app is a panic button that the user can press to hide all domestic violence resources behind a news story.
SafeNight.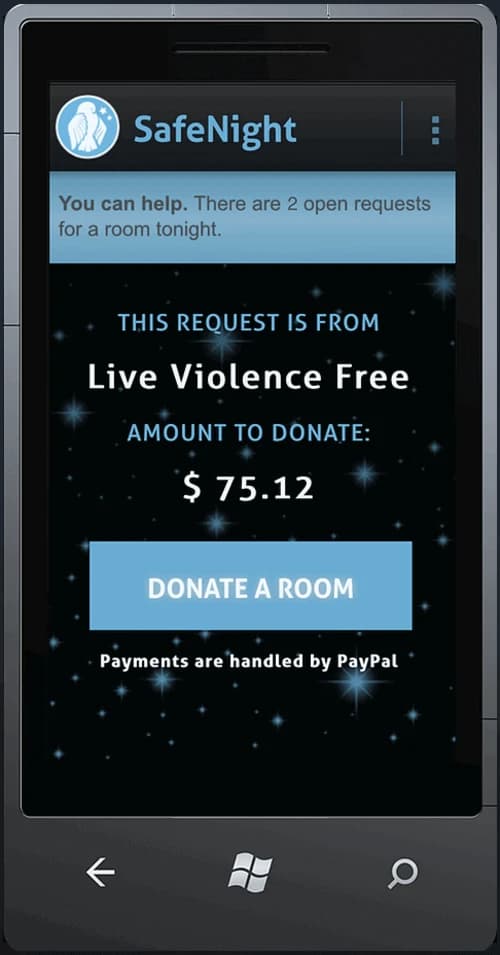 Source: https://www.safenightapp.org


There are several programs victims of domestic violence can turn to for help, but because
nonprofit
organizations usually run them, resources are scarce. Often, these programs depend on the generosity of donors and government support. Developers designed the SafeNight app as a way to allow those who want to help victims of domestic violence more directly by donating a night's stay at a hotel when emergency shelters are full.
The user chooses which verified organizations the app connects to after installing the app. When someone is in need, the organization sends an alert through the app to the user with a donation request for a specific amount to cover the cost of a hotel room. The donor can choose the number of alerts she receives in a given time frame.
The app keeps the victims' information anonymous to donors. The trained staff from domestic-violence service organizations handles everything from the victims' side. Donors can also choose a specific shelter they would like to support.
Additional resources
Call 1-800-799-7233 and TTY 1-800-787-3224.
Call 1-866-331-9474 or TTY 1-866-331-8453 to connect with this hotline for youth.
Call 800-656-HOPE (4673) to be connected with a trained staff member from a sexual assault service provider in your area.
Maybe that person suffering from domestic violence is you, or perhaps it's someone you know. You could be someone looking for a way to protect loved ones, or you may be looking to offer support to those in need.
In any case, prevention, education and support for the victims of violence by intimate partners make a difference in the lives of those suffering and living in fear. These four domestic violence apps are available for both Apple and Android devices and are free of charge (even in the cases where you have to pay for the app, there is a "no pay" option for those in need).