When you're trying to get pregnant, it can be difficult, confusing, and overwhelming to grapple with all the information you need to use to predict your most fertile days. Fortunately, there's an app for that. Below, we've rounded up some of the best fertility apps on the market. The best part? They're all free or available at a low cost, and they're easy to use!
The Seven Best Fertility Apps
iTunes rating: 4.8
Google Play rating: 4.8
Price: Free / Clue Plus: $9.99/year
Clue was created by the Obstetrics & Gynecology Journal and helps you track your periods and ovulation to learn about your cycles and patterns. Using an algorithm, it calculates and predicts your next cycle.
The app also allows you to records details like your mood and sexual activity and offers a visual overview of your data.
Users appreciate the easy-to-use interface and customer service, with one user commenting, "I have used this app for a long time and has never disappointed me. The platform is clean, simple, and easy to use. They have extra info for everything and have noted down the source. They hear any problem you're having with the app and solve it."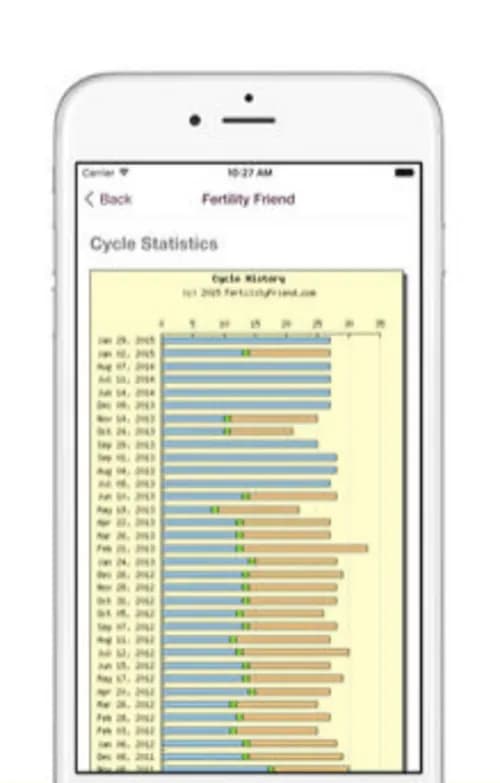 iTunes rating: 4.7
Google Play rating: 4.5
Price: Free / VIP membership: $45.00
Users rave about the accuracy of Fertility Friend. One user noted, "Fertility Friend has been the most consistently accurate when it comes to detecting my ovulation." Another wrote, "This app has truly thought of it all. The features are all-encompassing. You can literally track anything and everything with a daily cycle."
Fertility Friend enables you to record details of your health and behaviors to educate you about signs that you may be ovulating and offers plenty of resources, as well as period and ovulation tracking.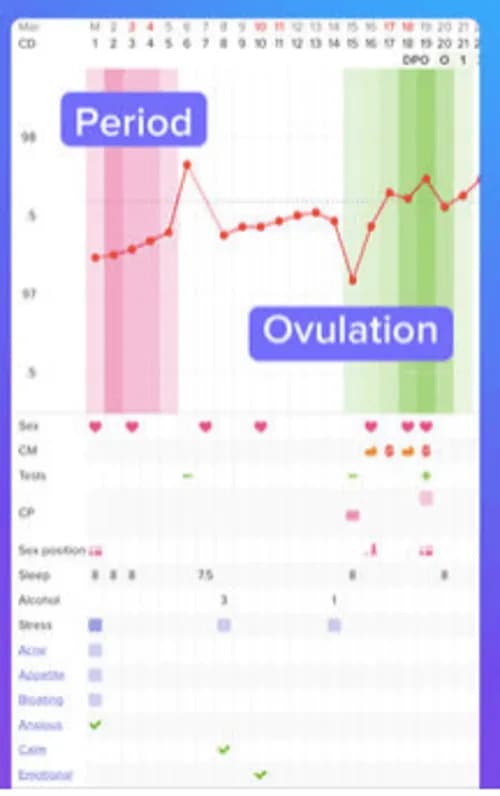 iTunes rating: 4.7
Google Play rating: 4.6
Price: Free / Premium: $48.00/year
Through Glow's menstrual and ovulation calculator and basal body temperature chart, you'll be able to predict when your likelihood of getting pregnant is highest. Women can also track their moods, health symptoms, and other details.
You'll also receive health insights from the app and have access to a community of other Glow users as well as IVF and IUI support. Glow offers tracking for male fertility as well.
In one review, a user wrote, "This is the most accurate and in-depth app I've found." Another user added, "Super easy and so far the predictions have been spot on!"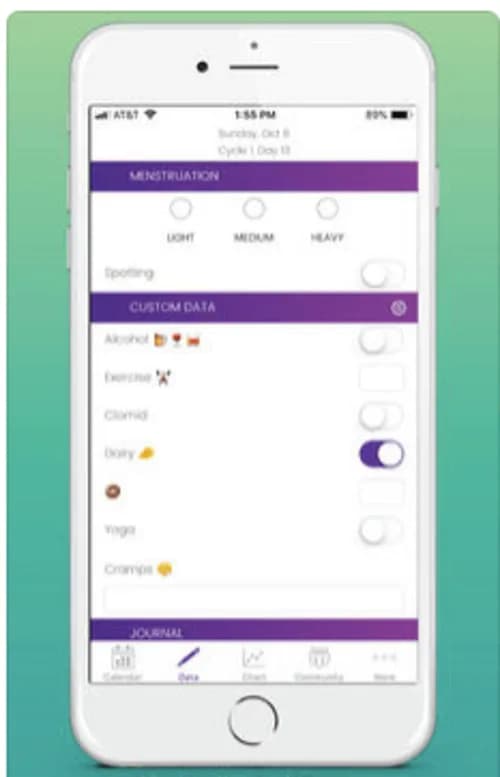 iTunes rating: 4.6
Google Play rating: 4.0
Price: Free / Premium: $49.99/year
"This app is ideal for fertility and menses tracking," a user wrote of Kindara. "I think its the best on the market. I appreciate how uncluttered it is and easy to use, especially first thing in the morning when I'm still waking up. It also adjusts its predictions for ovulation/menstruation based on individual data."
Kindara includes an ovulation calculator, basal body temperature and cervical fluid charts, and a calendar to track your menstrual cycle. You can also track important dates and pregnancy test results as well as record other important details. The fertility thermometer Wink syncs with the app.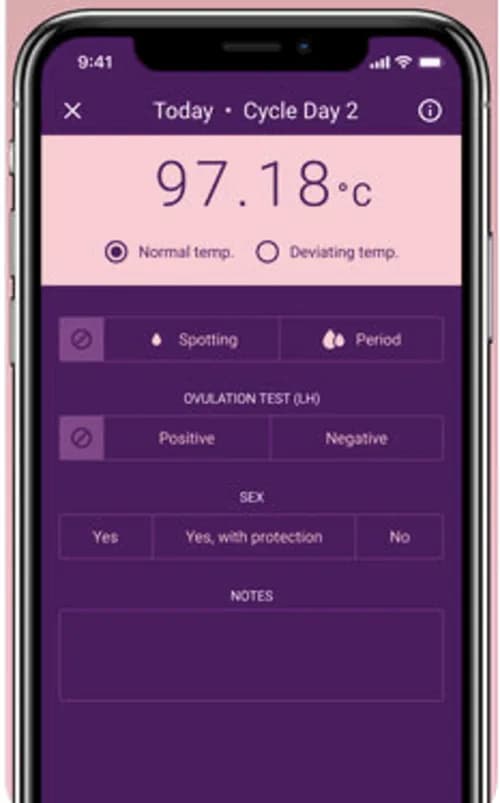 iTunes rating: 4.8
Google Play rating: 4.6
Price: Free for one month, then $79.99 annually or $9.99 monthly
Boasting over 99.5% accuracy, Natural Cycles analyzes users' temperatures to predict ovulation. Natural Cycles is actually certified as digital contraception, so women can use it to predict when they will and won't be fertile.
Many users praise the app's use as a birth control device. "Easy to use and follow," one user wrote. "I feel much better knowing I am not filling my body with hormones." Another wrote, "This app has totally changed my life. Not being on hormones is simply amazing, I feel so much better and I am learning about my cycle and my body."
Others use the app for fertility tracking, with one noting, "Being able to track the things you are supposed to has been helpful."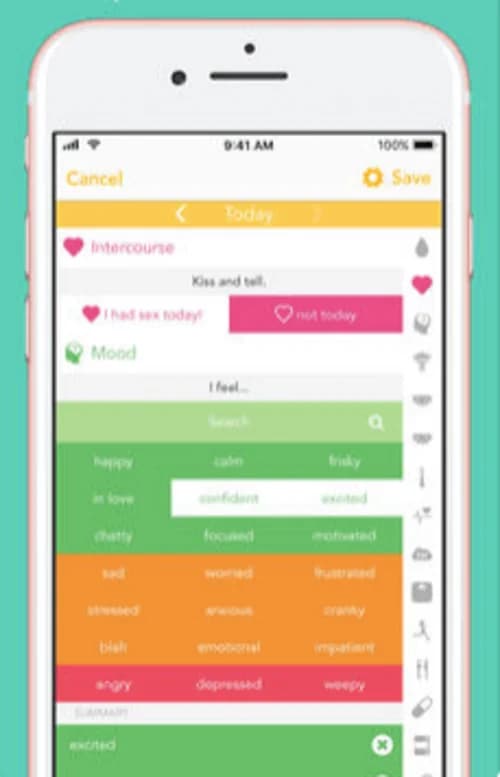 iTunes rating: 4.8
Google Play rating: 4.8
Price: Free
Ovia's claim to fame is its precision. The app was developed by leading fertility experts and offers ovulation predictions through tools like a period tracker, ovulation calculator, and BBT chart. Users will also find articles about fertility and support for women with irregular periods. The app syncs with Fitbit and the Health app.
"I have always had irregular periods, so it was difficult to pinpoint when I was fertile," one user wrote. "But after entering daily information into the app, I was able to see patterns in my body." Another praised the app overall: "It is a very useful app and the information is amazing and helpful."
iTunes rating: 4.8
Google Play rating: 4.5
Price: Free
"What I love about this app is how customizable it is," one user wrote. "It has a variety of little icons and pictures, and you can track anything you want from chocolate cravings to headaches." Another user wrote, "I've been using Period Tracker for over four years and I'm so glad that I have a place where I can record my menstrual cycles, symptoms, weight etc. I know my information won't get lost because it syncs daily with my email. It's an app I trust and recommend."
Period Tracker enables you to predict when you're most fertile and when your period is due through charting and data entry. In addition to fertility tracking, users can plan activities based on when their periods are due.
Next Steps
Tracking your fertility is the first step. To learn more about tools for getting pregnant and monitoring your pregnancy, check out Every Question You Have About Fertility, Answered and The Best Pregnancy Apps (That Are Actually Easy To Use) For Expectant Mamas.
Pregnant? Check out Pregnancy Week by Week to learn what you can expect at every stage, as well as find resources for managing your job, responsibilities, and life during your pregnancy.