Hard and soft skills can mean the difference between passing an
application tracking system
or joining a steep pile of rejected job applications. Which skills you list on your resume matter just as much.
But before you can show off your dexterity, you need to know the difference between the two, how to use each and when to best showcase them. Read on for a comprehensive list of hard and soft skills, plus how to plug them into your resume, cover letter and job interview.
What are hard skills?
Hard skills are quantifiable skills that can be learned through training, certification or previous work experience. Often technical or industry-specific, these skills are easily recognizable by employers and demonstrate your competence in a particular field or role.
What are some examples of hard skills?
Hard skills vary across technical fields but some of the highest in demand include:
Content strategy
Proficiency in a foreign language
User interface design
SEO/SEM marketing
Adobe software suite
Computer programming
Campaign management
Storage systems and management
Statistical analysis
Machine operation
Typing speed
Network security
Database management
Mobile development
Network security
Data mining
Microsoft Office
JavaScript
What are soft skills?
Soft skills are
people skills
that shape your work ethic and how well you work with others. Unlike hard skills, soft skills are not as easy to measure so your interpersonal relationships, work performance and personal anecdotes best paint a picture of them.
What are some examples of soft skills?
Some of the most employable soft skills — many of which you may recognize from
job descriptions
— include:
Team-oriented
Adaptability
Self-motivated
Creativity
Flexibility
Willingness to learn
Detail-oriented
Empathy
Persuasion
Dependability
Organization
Strong work ethic
Why are hard and soft skills important?
Hard and soft skills are necessary for employees to perform well and advance in their roles. They're also highly sought out by hiring managers because they list out everything you know how to do exceptionally well.
The best candidates have a mix of both hard and soft skills, communicating their expertise in a subject or field as well as their interpersonal skills. Whether a hard skill is more important than a soft skill, however, depends heavily on the particular role and hiring manager.
If a candidate is skilled at Microsoft Office but lacks detail-orientation, then that can cost their candidacy for an administrative role. But if a candidate is a skilled content strategist but lacks the ability to work collaboratively, that can jeopardize their performance as an Editorial Director.
Because of these differences, hybrid skills are particularly desirable to most hiring managers. Hybrid skills are a combination of technical and soft skills that also vary from job to job.
A product developer, for instance, would have many hybrid skills that enable them to fulfill the technical and cross-functional responsibilities of their role including the ability to create a roadmap for product implementation and releases and consistently streamlining processes for developers and engineers in the front and backends.
How to list hard and soft skills on a resume
To highlight your hard and soft skills, you can create a "Skills" section on your resume and tailor this section to each job application. Start with the hard skills that most closely match the job description then trickle down to your interpersonal soft skills.
For example, if you're applying for a teaching position, you could start with hard skills like "TESOL certified, lesson planning, data analysis, targeted teaching, integrated co-teaching" and so forth. As the list continues, you can end with "creativity, patience, conflict resolution, organization," etc.
Below is an example of what a thorough skills section on a resume can look like for a candidate applying to a sales position: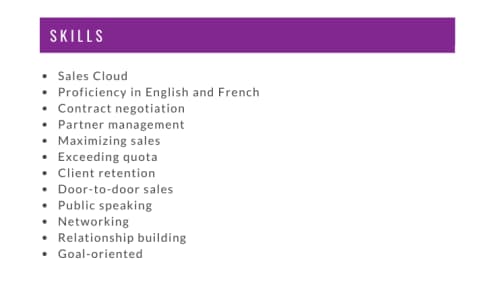 Your hard and soft skills tell a story of who you are and how you'll perform in the role you're applying to. Notice in the example how the hard skills are listed at the top, showcasing the candidate's familiarity with sales software, bilingualism and over-achieving work ethic.
Soft skills matter, too, as the ability to publicly speak can translate to
hiring managers
as the capability to lead a sales pitch, host a panel for partners or train new sales reps down the line.
How to share hard and soft skills in a cover letter
Soft skills are best highlighted when they are shown — not told. That means a cover letter is your chance to create a narrative around them demonstrating how your skillset will translate to the open role.
As an example, in a cover letter for a teaching position, your willingness to learn can be written as such:
"Prior to teaching the special education class, to which I hadn't been certified yet, I observed the instruction of other special education teachers to learn best practices I could use in my own classroom. I also planned several core lessons with my lead teacher, in addition to my associative duties, in order to get familiar with the material which I began teaching independently the following year."
In the example above, the candidate not only portrays their willingness to learn, but also demonstrates their ability to
successfully
apply learned information (hence their promotion to lead teacher). The assumption that can be made here is that their willingness to learn, among other skills and qualifications, put them in a position to excel.
How to showcase hard and soft skills during an interview
Regardless of where you list your hard skills, you either have them or you don't, allowing hiring managers to check off specific qualifications with ease. Your soft skills, however, need to be proven in order to work in your favor. They're also key drivers of your interview performance — especially for your responses to tricky
STAR questions
.
The STAR method of interviewing involves behavioral questions that chronicle situations, tasks, actions and results. These questions gauge your response to challenging or collaborative situations at work. Your responses are a perfect time to plug in your flexibility, adaptability and conflict resolution skills.
Skills to avoid adding to your resume
The "Skills" section of your resume should only take up as much space as you need it to and should only include skills that will boost your job candidacy. Depending on the format of your resume, five to 15 skills is a sweet spot.
If you're switching careers from social media management to a traditional editorial position, for example, you can keep hard skills like content optimization,
strategic planning
and visual storytelling as those will lend themselves well to the new career.
But hard skills like digital marketing,
advertising
and social media campaigns can be left off the list as those don't translate as directly to a traditional editorial role. In its place, you can add more soft skills or use the extra space on your resume to elaborate on a past work experience.
--