Your educational experience is a vital part of any job application. Most folks acknowledge that the degree alone is an important feature of any resume, but what's the best way to highlight a high GPA or graduating with honors? Some employers will be enthusiastic about your academic work. Others won't care quite so much. Regardless, we have you covered when it comes to figuring out how to make your hard-won honors stand out and help you rise to the top of the class and the top of the list of hires.
What do the different honors mean?
Those fancy Latin words are different ways to celebrate a high grade point average. Generally, graduates who have higher than average GPAs are separated into three categories: cum laude (with honor), magna cum laude (with great honor) and summa cum laude (with highest honor).
The GPA requirements vary from institution to institution, but the general criteria are:
Cum laude: top 25-35% of your class and about a 3.5-3.7 GPA.
Magna cum laude: top 10-15% of your class and about a 3.8-3.9 GPA.
summa cum laude: top 1-5% of the class and between a 3.9-4.0+ GPA.
These are only guidelines, so double-check with your school to make sure you list your achievements accurately. The GPA requirements can vary from program to program within the same institution, so be sure to do your research if you're aiming for a particular goal.
If you graduate from an honors program at your college or university, you might also earn the honor of cum honore which is a separate distinction from the others. That reflects the additional coursework you did as part of the honors college or program. You should list this in addition to honors related to your GPA. Don't hesitate to include other academic achievements, too!
How to format Latin honors.
As a rule, Latin phrases should be listed using lower case letters unless they're at the start of a sentence. The Chicago Manual of Style and The Modern Language Association Style Manual both suggest italicizing non-English words in a resume. There's no need to offer additional explanations of what the honors mean since employers who are interested in knowing about them will understand the academic language. If you want to be specific, you can include your GPA if you've graduated recently, but this isn't required unless your potential employer requests that. Once you're more experienced in your career, you should probably leave your GPA off as it can date your resume.
Where to put honors on your resume.
Include your honors alongside your education. That might look something like this:
If you have additional academic activities, list those as part of that section, too. For example:

As you move along in your career, feel free to continue to include your honors as part of your educational information. You might, however, reconsider listing the years you went to college since age discrimination is a very real challenge in some industries.
Examples.
Not quite sure where to put the section with your honors and education? It's really up to you and your industry. Some recent graduates like to put their education at the top of their resumes. Other seasoned pros put education at the bottom. The truth is, you should choose what works best for you. Find a way to toot your own horn and know that the resume format will likely change as your career evolves. Choose a format that showcases who you are and will help an employer get to know you. Here are a couple of examples to get you started.
1) If you're a recent college grad.
If you're a fairly recent graduate, you might prefer to list your education and honors toward the top of your resume since they're a major feature of your experience thus far. Companies who hire people at the beginning of their careers understand that you've been in school for the past few years, and they'll expect to see your education listed prominently. Bump it up to the top of your resume as you start looking for your first job out of school.
2) If you have more than one degree.
Whether you earned a double major while you were in undergraduate school or you have a post-graduate degree, you should definitely include the honors you received for each of your achievements. Graduating with honors from multiple programs says a lot about you and your work ethic, and many potential employers will be interested in your hard work. Here's an example of how you can make sure to highlight your achievements for each of your degrees.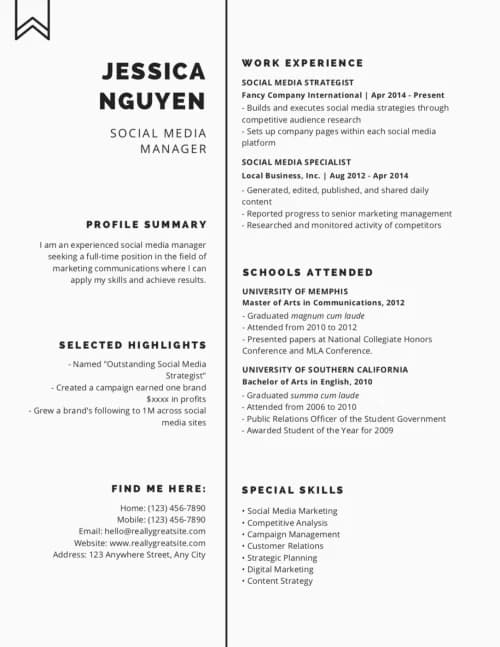 3) If it's been a while since you graduated.
As your career grows, you'll probably feature your education and honors a little bit less prominently. However, you should still list them on your resume unless you have a good reason to leave the info out. Folks who have been out of school for many years generally list their education at the bottom of their resume or curriculum vitae. If you are concerned about age discrimination, omit the years you were in school and your graduation year.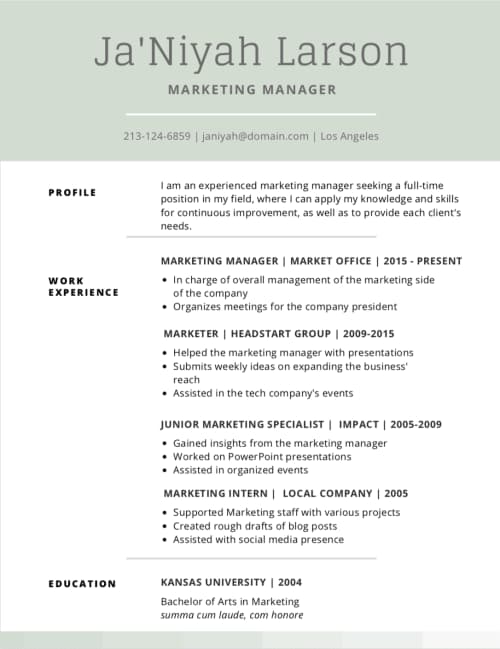 You worked hard to earn those honors. Whether you received them last month or a couple of decades ago, find a spot to showcase them on your resume. There's not exactly a right or wrong way to do it. Simply make sure your achievements are clearly stated and included as part of your education. Remember that some employers will do a bit of digging to make sure your resume is truthful, so resist the urge to embellish your honors. However, listing them on your job application will let your employer know that you're a hard worker in the classroom and that you're interested in taking that tenacity and curiosity into the workplace.
--
Leslie W. Price is a theatre artist, educator, and writer living in the San Francisco Bay Area. Find her on LinkedIn or visit her portfolio.