An effective college resume bridges the gap between an academic college career to a professional one outside the boundaries of an undergraduate university. It not only demonstrates success in the academic world but also shows preparation for the professional one. It highlights key experiences and skills to signify that a student is ready for the next step. A successful college resume will spotlight student's talents,
interests
and passions and showcase what they're made of.
Writing an effective resume is a
difficult task for many college students
because some believe they don't have relevant professional experience. They have often worked various jobs that don't align with their desired career path or have never worked full-time at all. However, a college resume doesn't need to have the perfect pre-professional job experience to be effective. Successful college resumes highlight the professional foundation students have made during their undergraduate experience, even if it's not in a serious, corporate office. They consider collegiate experiences like academic courses and extracurriculars and demonstrate how they translate to the professional world.
How do you write an effective college resume?
Like all resumes, an effective college resume contains relevant
work experience
and
leadership
skills. However, a college resume should prioritize your education. Start with your academics and any important awards or honors you've earned during your undergraduate career; an effective resume will build on this experience by then listing how you've applied this education at work, in leadership positions and through your extracurriculars.
What to include
Education.
Education gets the top slot
in your resume, which means including not simply the name of your university or college but also your expected graduation date, major and GPA (if it's above a 3.0). Any academic awards you've received from the school and outside scholarships can be named there as well, including Dean's List or
Summa Cum Laude
. If you studied abroad during your undergraduate career, you can list your school and/or program in this section, too.
Relevant working experience.
Listing work experience demonstrates your familiarity with the expectations of a work environment, even if the job was in a completely unrelated field to the career you're hoping to pursue. List the employer's name and location, as well as your
job title
and dates of your work. A short description of the job should be included underneath each experience, detailing a few relevant accomplishments and skills learned on the job.
Extracurricular activities.
Extracurricular activities are incredibly important in a college student's life. They show dedication outside of the classroom and strengthen social skills in their smaller communities. Listing these extracurriculars demonstrates a continued passion for a certain subject, area of the arts, sport or even a type of food; they also show your ability to balance school work with outside commitments. Make sure to note how long you've been involved with the organization and whether you've held a leadership position.
Work samples.
If you're hoping to be a writer, artist, graphic designer or any position related with content creation, it's important to include past samples of your work. While employers like to see that you have experience working in the field, the best way to get a sense of your ability is to see it in action — whether that be a published article or one of your promoted content campaigns. These samples are often formatted through external personal websites, with links simply copied onto the resume.
Community service.
If you've done community service throughout your undergraduate career (even as a requirement for your degree), including it can demonstrate your selflessness and ability to work for others. Be sure to add the name of the organization and a description of your responsibilities. If your work relates to the job you're hoping to apply for — i.e. you want a tech job and you used your computer skills to help bring awareness to an organization — then you can include this with work experience. If not, add it to an alternate section; volunteering shows valuable qualities regardless of relevance to your current
dream job
.
Source: Resume Companion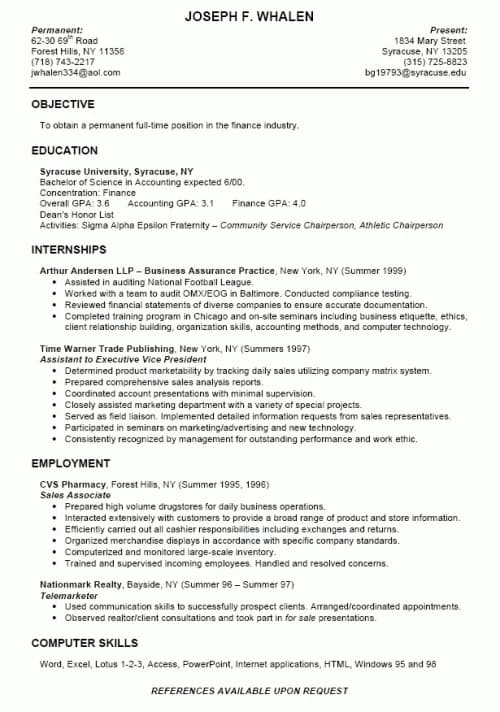 Source: The Truth Tea
Source: Gordon Career Center, Wesleyan University
Use declarative, action-oriented descriptions.
When detailing relevant work experience, it's important to write clear, comprehensive sentences that demonstrate what you accomplished. Using action verbs in your descriptions portrays your abilities in an exciting, driven way rather than a passive one. Think about your daily actions on the job as well as your overarching projects. How did you create, organize or develop during your work? Did you lead a project or research a special topic? Focusing on your actions presents you as a dynamic, determined worker.
Showcase hirable skills.
It's important to read relevant job qualifications for the type of work you're looking for before deciding on the skills you'd like to highlight. Once you've done your research, make a list of the keywords — words that kept appearing in your searches — so you can repeat them when describing your own skills. After buzzwords, consider what skills you have that someone who has your dream job also has. While you may not have all of the same hard skills, you can still demonstrate powerful
soft skills
like communication, leadership and professionalism
without extra degrees or training
.
Highlight your relevant experience.
While you may have a lot under your belt in work experience, not every job is as relevant to the job you're applying for. Effective resumes highlight the most relevant experience for the specific job they're applying for, tailoring the order of their experience based on the job description and qualifications. Instead of worrying about what order you've worked the jobs, list the most relevant experiences toward the top.
Show off your success.
If you've excelled at work with a specific project, make sure to include information about your accomplishment. By demonstrating how you contributed to other companies and organizations with successful projects, you set yourself apart from other applicants and show how you contribute positively to the workplace.
Prove you're a motivated learner.
College resumes are distinct because they prioritize education. If you've pursued special academic work — such as research with a professor, independent study or a senior thesis — be sure to include a short description in your resume. This type of work demonstrates dedication, focus and passion for a subject, as well as critical writing and communication skills.
Carefully proofread.
Reviewing a resume with common grammar mistakes, formatting issues or unclear sentence structure can mean an
automatic toss out from the applicant pool
. Read over your resume numerous times and try to have another set of eyes check it out before you send it out.
Even if your experience isn't completely aligned with your professional aspirations, collegiate experiences contain valuable skills that translate into professional success. Highlighting these experiences in the right way is a crucial step in moving into your dream professional world.
--
Zoë Kaplan is an English major at Wesleyan University in the class of 2020. She writes about women, theater, sports, and everything in between. Read more of Zoë's work at www.zoëkaplan.com.