The
resume
template you choose makes an important first impression.
The best resume templates and resume layouts look professional, and there are many free resume templates or low-cost, creative resume templates as well. So instead of starting from scratch and worrying about how to make your
resume
in Microsoft Word, take a look at these resume layouts and resume templates to
make your resume successful
.
Free Resume Templates You May Already Have
1. Microsoft Word Resume Templates
If you already own or use Microsoft 365, you already have access to a ton of free Microsoft Word resume templates that are available for you to access directly from the cloud. Microsoft has really stepped up it's game in recent years and has a selection that ranges from classic to over the top to support your needs.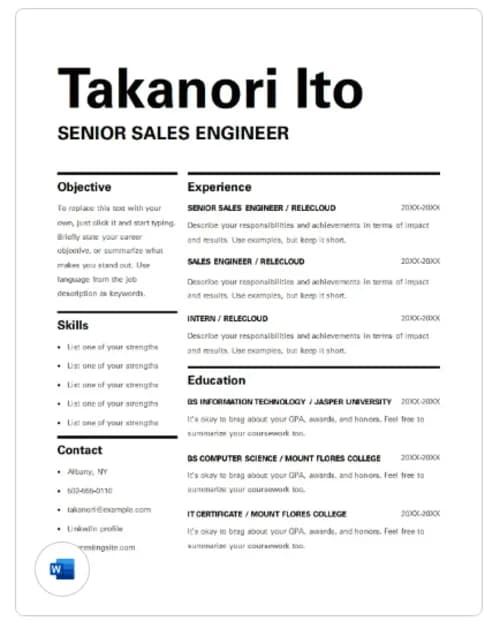 This is definitely is a fast option for any job-seeker looking that is looking for an out of the box solution they can quickly get up and running. Word's .doc file type is also compatible with most ATS systems making it easy to upload your resume once completed.
Get Microsoft's Resume Templates!
2. Pages Resume Templates
If you are an Apple aficionado who uses the built-in word processor Pages, there are 9 free resume templates that come with the software package. Here's an example of a good option for resume templates in Pages: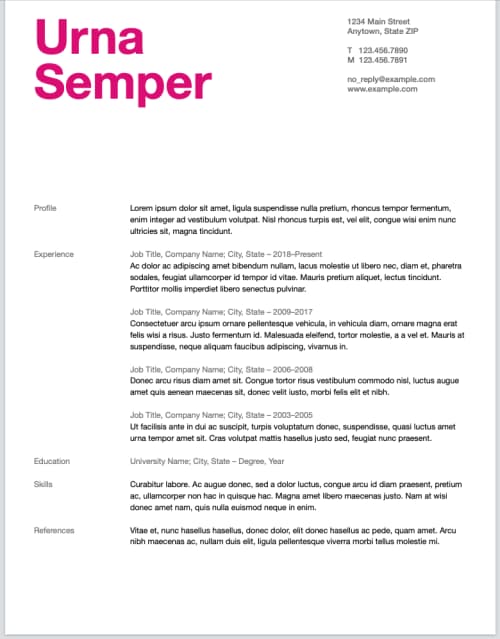 3. Google Docs Resume Templates
If you're partial to Google solutions,
Google Docs
(which is free for anyone who has a Google account), offers five free resume templates. By definition, since these resume templates live in the cloud, they will always be readily accessible to you in your Google Drive. And let's face it — don't we all want to know
what it's really like to work at Google
? The people who created these resume templates for Google Docs all got
their
resumes through the hiring process there.
While basic, starting your resume from scratch using one of Google's resume templates will definitely save you a lot of time — and there's the added benefit of working within a familiar and free environment.
4. NovoResume Templates
A new tool we think you'll like is called NovoResume. They have a modern interface and greet jobseekers with questions about their level of seniority. Based on your selection, NovoResume will recommend various templates to you.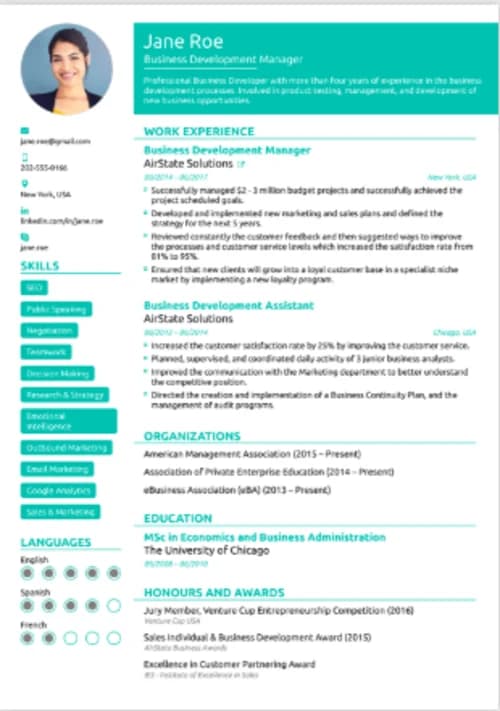 In fact, they offer a selection of free and premium resume templates for those in two separate categories. The "student/intermediate" category (which they describe as having 0-5 years of experience) and a "senior" category. To access these resume templates for download you need to create an email account. NovoResume gives you tips on how to optimize your resume while using their builder. They also have cover letter templates as part of their premium package.
5. Canva Resume Templates
Canva offers over 4,000 free resume templates that leverages their easy-to-use design editor that you may already be using for to build your favorite Insta posts or party invites. You can choose from 25 different categories specifying a style or job type that best fits your needs. You can also create a matching cover letter in the same template. Here's an example of what one of their free resume templates looks like: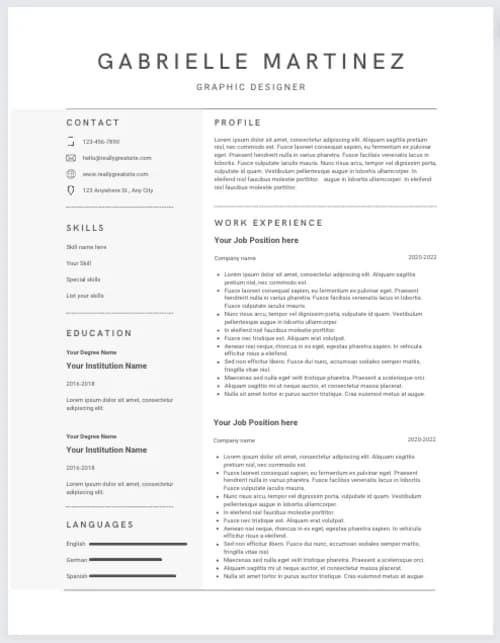 6. Hudson Resume Templates
While this Australian firm offers only 3 basic resume templates, they are worth paying attention to. Unlike other resume templates we feature here, theirs are functionally organized. They offer a resume template that is a straightforward reverse chronological resume. They also offer a "functional" resume template that emphasizes skills and domain areas. Finally, they offer a one-page career summary template for the experienced candidate. We think these templates are worth considering especially as they come from a recruiting firm — the kind of people that probably see more resumes than you can imagine.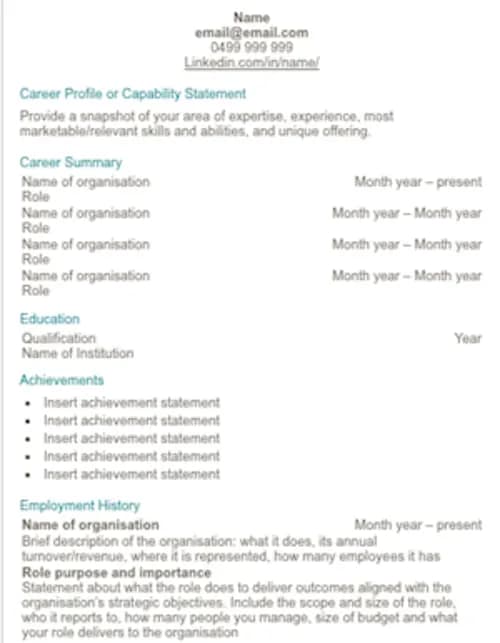 A word of general caution about free resume templates. In our experience, if you search online for "free resume templates", you'll likely encounter a lot of search results that ask you first to provide an email and to create an account and even begin filling out your basic information to be imported into one of their resume templates. Unfortunately, by the end of this process and spending several minutes filling out your profile, you will typically be prompted to pay (albeit a small amount) towards the end of that process. In other words, these "free" resume templates aren't really actually free, after all.
Basic, Low-Cost Resume Templates That Come With Resume Building Tools
7. MyPerfectResume Templates
MyPerfectResume's resume templates, resume and
cover letter
builder is available for $2.95 for two weeks or $5.95 a month. They have over 15 different templates to choose from, that all look like variations of this:
These resume templates may be a good option for anyone looking for an easy-to-use way to build a resume that allows you to even insert keywords and action verbs to help describe your
job skills
and
job experiences
. Their website also offers a variety of tips and tricks on how to get your resume noticed.
8. Super Resume Templates
Super Resume offers 12 different basic resume templates, mostly in traditional styles. You can start from scratch by entering your resume information in their system or by uploading a document of your own. The download options for your resume include Microsoft Word, Adobe PDF and HTML for those of you planning to put your resume online. Their service costs under $2 for 14-day access.

9. Resume Help Templates
Resume Help offers 23 different resume templates and a resume building tool that you can use to construct a resume in a structured fashion. You can download the final product in a variety of formats after creating an account and by paying under $2.90 for 14-day access to their tool.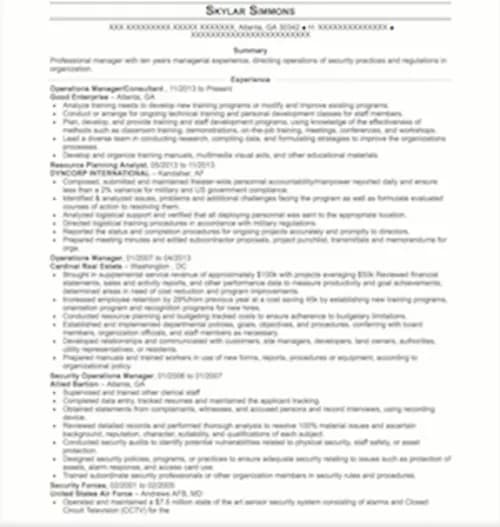 10. ResumeWay Templates
ResumeWay's resume templates are organized by color and they are available for a one-time download fee of anywhere around $14 which may appeal to people who don't want to sign up for a subscription service when all they need is a one-time Microsoft Word resume template they can style and edit. You can also pay for writing services for $114 if you need a little extra support. Everything from the color to the fonts is editable, once you download the resume template:

More Stylish Resume Templates and Resume Builder Tools
11. Zety Resume Templates
Zety's online resume builder, which includes 18+ different resume templates is available for a 2 week trial of $2.99 or $23.70 for a month. Many of their resume templates have an interesting variation that puts your name and contact information on the left rail of the page, as opposed to the top.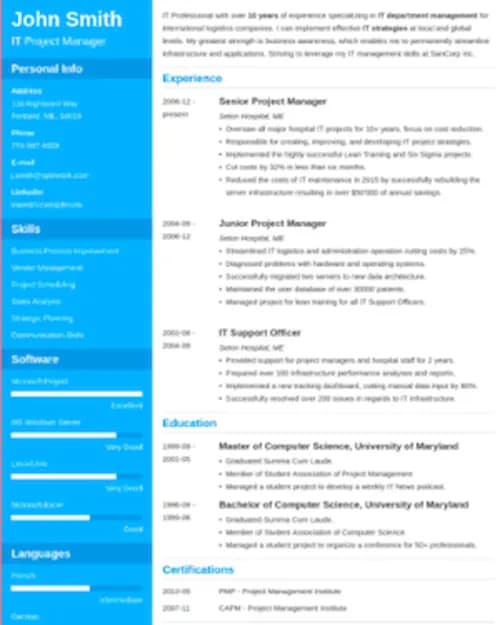 12. Resumonk Resume Templates
Another provider to consider is Resumonk. Resumonk's resume templates include free resume layouts as well as 17 premium templates available for an annual subscription of $49. These templates can be downloaded in Microsoft Word or PDF. You can also build your resume on their site starting with the data you already have in your LinkedIn profile. They also allow you to store your resume on a dedicated URL you can use to send around if you become a customer.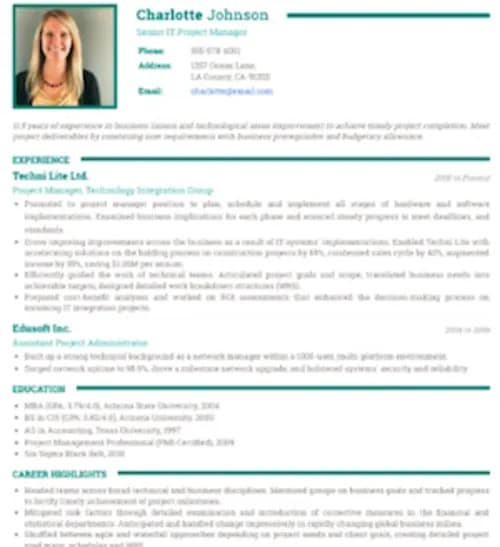 13. ResumeGenius Templates
ResumeGenius's resume templates have been designed by in-house staff, and their resume services (such as a resume wizard to help you build your resume and cover letters) start at $2.95 for 14 days or $95.40 for their annual plan.
However, what we love best about ResumeGenius is that they offer more than 500 resume templates you can download directly to your computer in Zip files for you to open and choose from. They categorize them by style, e.g. "classic" vs. "modern" and you can download just the resume templates that appeal to you.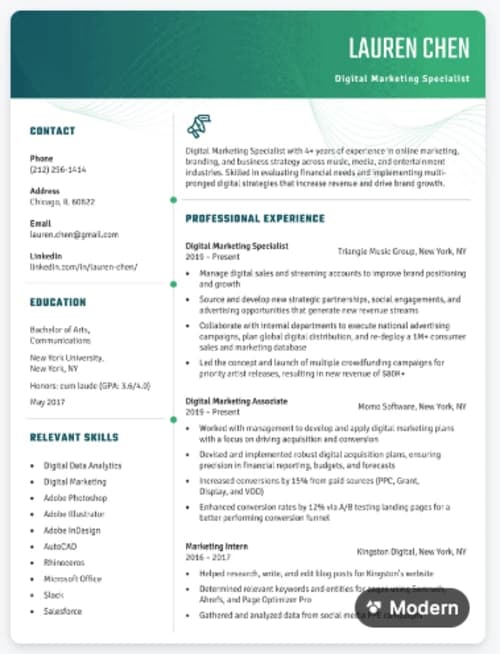 14. ResumeNow Templates
All of ResumeNow's resume templates are available for download when you sign up for a 14 day trial for $2.85. At the end of your trial, you are billed $23.85 every 4 weeks and come with an input and editing tool that allows you to even begin with the upload of your original resume.


15. HLoom Resume Templates
HLoom has a library of over 100+ resume templates, compatible with Microsoft Office, OpenOffice and Google Docs for easy accessibility. The library has been around for over a decade, proving that they're reliable for a professional, impressive look. Their pricing starts at $2.84 for a 14 day trial.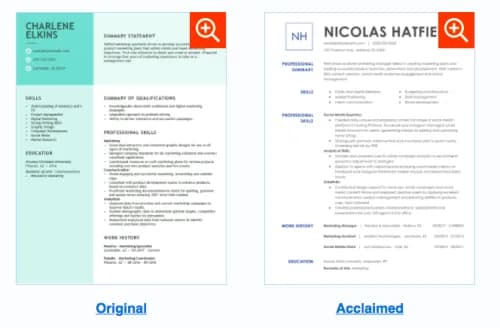 16. Cultivated Culture Resume Template and Creation Services
Cultivated Culture, a professional services brand by job search coach Austin Belcak, has a library of 100% free resume templates approved by Belcak himself. He says his tools have helped clients land jobs everywhere from Google to Uber, making these templates a safe bet for a well-received resume.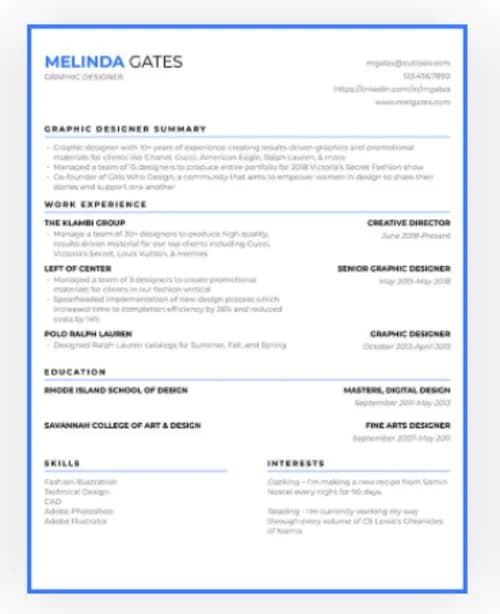 17. Venngage Resume Templates
Venngage has every type of resume available on their site, from creative and cute to buttoned up and serious. Use their library to create a resume that's perfectly you — or the you that's landed your dream role.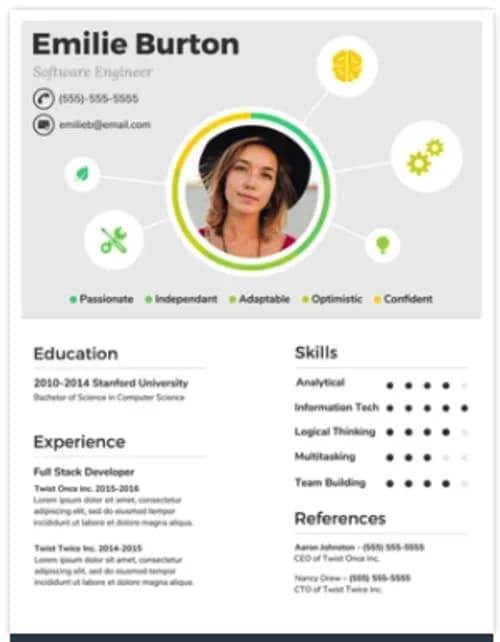 Creative Resume Templates
If you work in a creative field, or are simply trying to stand out with your resume based on its immediate visual appeal, you may want to consider a heavily stylized and creative resume template.
18. Adobe Express Resume Templates
This free service by graphic design giant Adobe offers a number of creative resumes for users to personalize.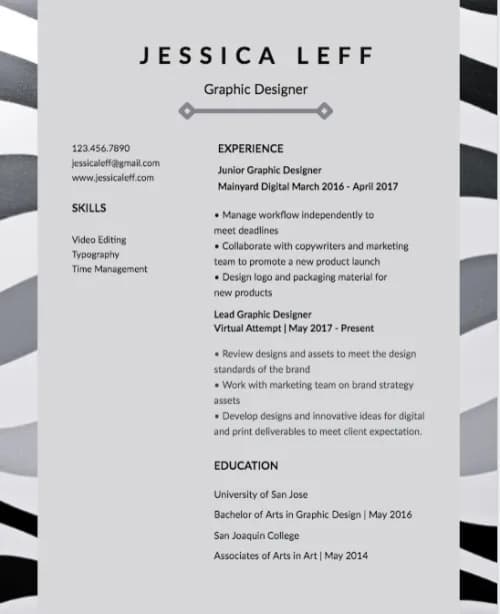 19. Etsy Resume Templates
Similarly, Etsy, the marketplace for custom-created products offers an overwhelming 120 pages of resume templates and more than 6,000 different creative resume templates. All of these generally cost less than $10 to purchase. Many of these have an artistic touch and design, such as the one below: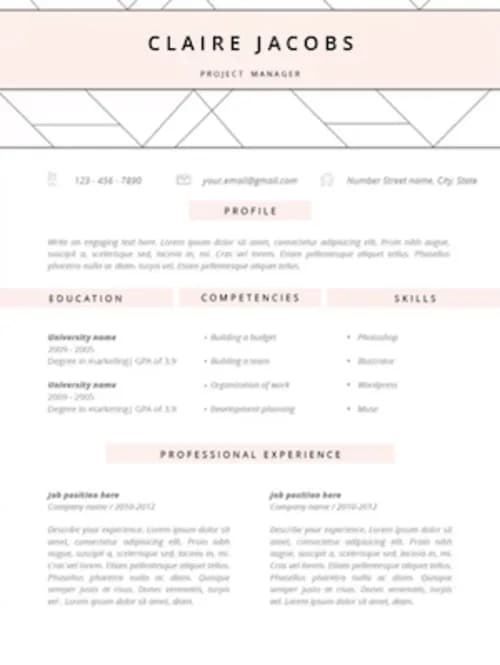 20. CreativeMarket Resume Templates
CreativeMarket, too, over 12,000 creative resume templates created by designers and artists that allow you to express your
personality
. (Fairygodboss tip!: Sign up for Creative Market's newsletter and they often include Resume Templates in their free download offers every Monday).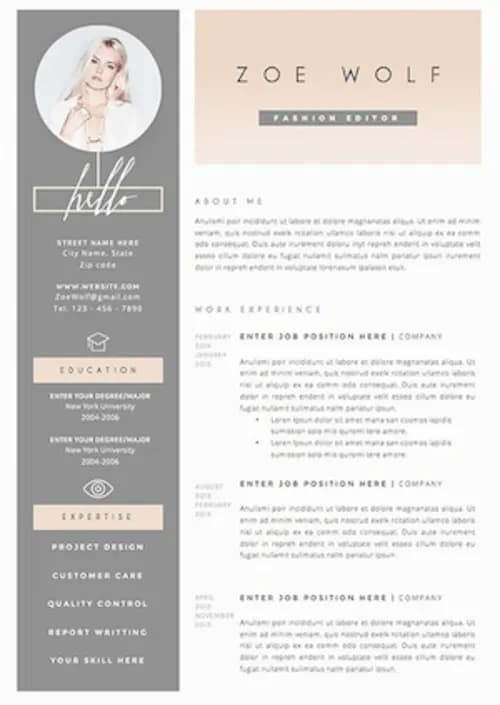 In some cases what you need is not a resume template at all. Depending on your industry or whether you are an academic, you may actually need to use a CV template.
CV Templates
If you're not sure whether you need a CV template, in all likelihood you probably do not. Usually, there are a limited number of professions and roles that require you to use a curriculum vitae. Job applicants in academia should look for academic cv templates that are appropriate for university or research experiences and highlight publishing and related academic achievements. For those using a CV template for private sector employment, this tends to vary a bit from industry to industry. Scientists tend to emphasis lab and research accomplishments and affiliations and these private sector CVs tend to be more condensed than academic ones, as a general (but far from universal) rule.
The most important clue that you need to send a curriculum vitae, of course, is that the job description asks for one! Don't be that person who emails a resume when a CV is clearly something requested of job applicants. CV templates typically have places for your basic contact information, followed by
your educational credentials
, academic and/or other related employment experience, publishing and research accomplishments and professional or academic references. Though not required, you may also want to include information such as grants, honors, awards, technical accomplishments and other research or professional areas of interest.
Aforementioned HLoom has been offering Microsoft Word templates for over a decade and provides 18 free downloadable CV templates such as the one below.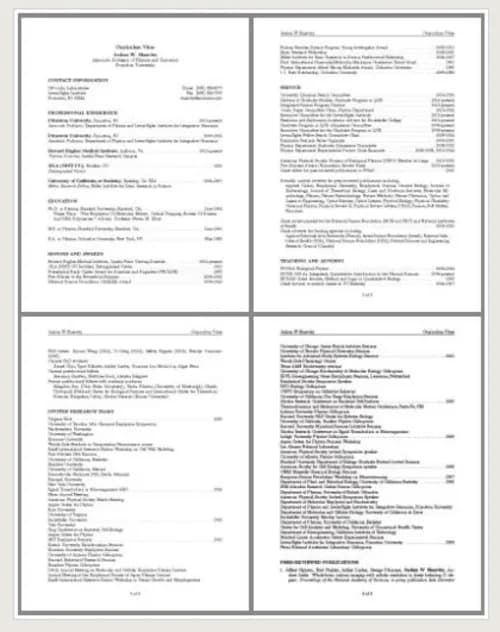 While all of these resume templates are good to consider and are reasonably affordable, don't forget that the most important thing is to think about what makes sense for you and your specific situation.
Some
resume templates
make more sense based on your level of seniority, the type of job you're looking for and the industry in which you want to work. For example, in certain industries, standing out for your creative resume template is a plus but in other circumstances, it might look strange for a seasoned executive to use a resume template that is more fitting of a graphic designer looking for freelance work.
Finally, it should probably go without saying that resume templates shouldn't dictate the content of your resume itself.
A good resume template will need to include certain things:
Your name
Contact information (usually a minimum of your email and phone number and in some cases, your physical mailing address)
You should list your educational credentials and the basic outline (including dates in the form of month and years) of our employment history. The fact of the matter is that no professional resume template can solve the problem of having a scattered history of short-lived job or a limited educational history.
Moreover, spelling and grammar are important items that can dissuade a prospective employer from considering your job candidacy more seriously no matter how beautiful and creative your resume template may be.

Place most of your focus and energy on highlighting your best accomplishments and strengths, not on the font and spacing on your resume.
While the latter are both important and the clarity of your presentation can make a great first impression, ultimately what matters when it comes to whether your resume gets a second glance are the qualities and qualifications of the job candidate that resume describes!