Project managers are vital to keeping organizations running smoothly. These professionals lead projects, managing the other employees and departments that are involved and keeping the roles and responsibilities organized and on track to ensure everything goes as planned. They also define the scope of the project, educate key players and measure the results.
Nearly every industry and organization needs a project manager, whether they label it as such or not. If you are a master organizer with strong attention to detail, as well as exemplary critical thinking, communication, problem-solving, analytical and leadership skills, it could be the path for you. So, how do you land a role in the field? It all starts with creating a standout project manager resume.
How to write a project manager resume
The specifics of what you should include on your resume will vary based on your individual experience, skills and education, as well as your level of expertise and many other factors. These are some of the basics many project managers will want to highlight on their resumes.
1. Resume summary
Your resume summary is a concise statement explaining your passion for project management, goals and reasons for seeking a new role.
2. Experience
Your experience is the meat of your resume. Detail your previous roles in project management, listing the titles you've held, the dates you worked, your responsibilities and your accomplishments within the role. You should also include the details of projects you've managed. If you haven't had any specific experience as a project manager or in a related position, try to connect the responsibilities you've had in other roles to project management. For instance, if you're a recent college graduate and served as the treasurer for an organization, you probably worked on budget management.
3. Skills
Your hard and soft skills are both important to your project manager resume. Some examples of skills you might include are:
Leadership
Planning
Communication
Critical thinking
Problem-solving
Scheduling
Time management
Risk management
Database management
Budgeting
Design
Project Management software and tools (such as Agile and Trello)
Coding
4. Education and certifications
Include your undergraduate degree and any advanced degrees if you have them, along with the school(s) you attended, dates of attendance and awards or designations you received if relevant (honors are more appropriate to include for recent graduate resumes). You may include certifications, such as Project Manager Professional (PMP), in the same section or a separately labeled one if you have them. (Check out our advice for how to list certifications on a resume.)
How to format a project manager resume
To format your resume properly, use this order to present your information. (Keep in mind that this is not set in stone; it's merely a guide and outline for structuring your resume.)
• Contact information
Include your name, address, email address, phone number and website or portfolio. To avoid taking up too much space, you can list these all on one line.
• Resume objective or summary
This should be 1-2 sentences near the top of your resume.
• Experience
Include the job title(s), companies, dates you held your positions and your responsibilities and accomplishments. The details about the jobs should appear in a bulleted list underneath the title, company and dates. List your jobs in reverse chronological order, starting with your current or most recent role.
• Skills
Your hard and soft skills can appear in a bulleted list.
• Education and certifications
Include the name of the degree or certifications, the institution that granted it and the date you earned it.
Project Manager resume sample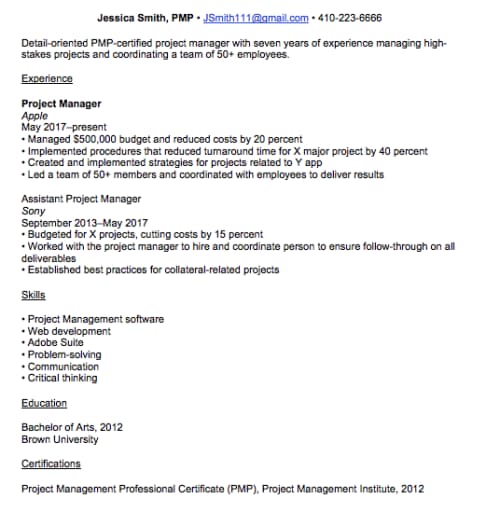 Jessica Smith, PMP • [email protected] • 410-223-6666
Detail-oriented PMP-certified project manager with seven years of experience managing high-stakes projects and coordinating a team of 50+ employees.
Experience
Project Manager
Apple
May 2017–present
• Managed $500,000 budget and reduced costs by 20 percent
• Implemented procedures that reduced turnaround time for X major project by 40 percent
• Created and implemented strategies for projects related to Y app
• Led a team of 50+ members and coordinated with employees to deliver results
Assistant Project Manager
Sony
September 2013–May 2017
• Budgeted for X projects, cutting costs by 15 percent
• Worked with the project manager to hire and coordinate person to ensure follow-through on all deliverables
• Established best practices for collateral-related projects
Skills
• Project Management software
• Web development
• Adobe Suite
• Problem-solving
• Communication
• Critical thinking
Education
Bachelor of Arts, 2012
Brown University
Certifications
Project Management Professional Certificate (PMP), Project Management Institute, 2012
What employers are looking for
When you're crafting your project manager resume, you should be first and foremost highlighting the projects you've managed. Hiring managers want to see that you've demonstrated significant leadership and handled responsibilities as a project manager. You should show that you're able to lead your team and organize the components of the project to facilitate and deliver the end result.
In order to effectively showcase this, you'll need to include the details of specific projects you have led. Explain what your specific role was and how you facilitated the project, coordinated with various employees and departments and executed the project.
You should also make an effort to tailor your resume to the job description. Notice what the employer emphasizes in the job listing and highlight these qualities on your resume, making sure to include any relevant keywords as well. For example, if the employer emphasizes strong presentation skills, you should include details about the presentations you've given and your knowledge of and expertise in tools like PowerPoint.
Another key pointer is to quantify your achievements. For example, rather than saying you established the budget, include a numerical figure to explain how much money you saved the company or by how much you cut spending.
Finally, if you have a specialty, such as construction or technology project management, be sure to include indicators of your expertise in the area. For example, for a technology-related role, you might want to describe your knowledge of programming languages.