In the world of talent acquisition, simple is paramount to getting your resume spotted in a pool of applications from many other qualified candidates. With technology changing the way applicants are noticed, you need to make sure the way you present yourself on paper is not holding you back. So, why is a simple resume the key to standing out as a job applicant?
Applicant tracking systems, which help recruiters and companies sift through resumes and profiles on social media platforms like LinkedIn to identify appropriate job candidates, are more likely to flag clear, keyword-optimized, well-organized resumes, rather than those that use intricate designs and complex language. Clean layouts are key. Even font matters for these systems: some have trouble reading serif fonts such as Times New Roman or Cambria.
Find out how free, simple resume templates can help you ensure that you are presenting your qualifications in the best way to land you your next great gig. Here are seven free, basic resume templates (personally tested by yours truly) and their best—and worst—feature.
The Best Free, Simple Resume Templates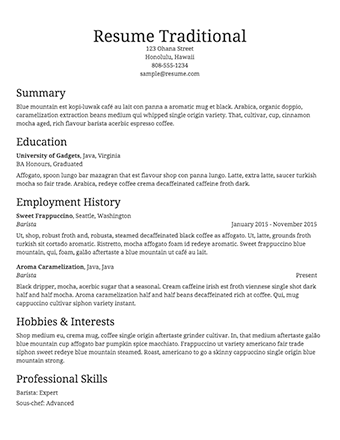 One of the most basic resume builders and template tools to use, the library includes 24 templates and walks you through the process of creating a professional-looking, basic resume.
Pros
• Allows you to download your resume in multiple formats: PDF, Word doc, RTF, and TXT
• Enables you to import information from LinkedIn or your resume; parsing tool is accurate enough that your resume requires little editing
• Allows you to edit and move around elements
• Gives you the opportunity to share your resume across social media and email and limit the features you share, such as your address
Cons
• Offers 24 resume templates, which is far fewer than some of the alternatives
• Layout is basic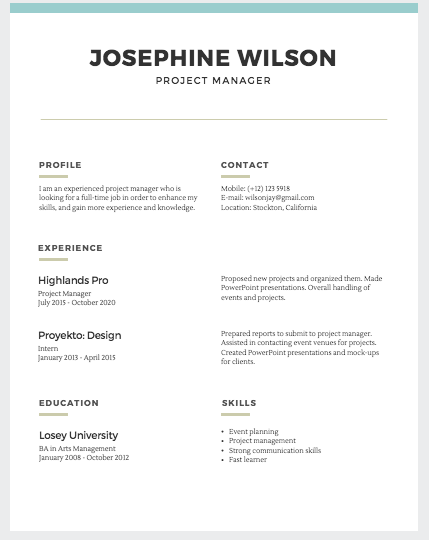 This easy-to-use graphic design platform allows you to create basic resumes for free. The library includes hundreds of designs (Blue Lines is one of the simplest designs I found), and you can create your own design as well.
Pros
• Offers tutorials and tools to guide you through designing your own resume
• Enables you to upload design elements to your resume to customize the layout
• You can choose from hundreds of designs
• Allows you to share your resume via email and social media or embed directly on your website or portfolio
• Through a free account, you can save your work and multiple resume layouts
Cons
• Download formats only include PDF, JPG, and PNG—not Word
• It can be tedious to manually fill out information within each element, since you can't simply upload your existing resume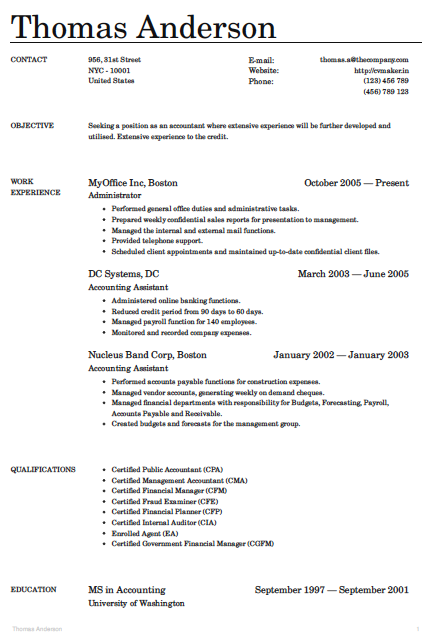 This simple curriculum vitae builder allows you to enter your information and create a basic resume that you can download or share with a custom URL.
Pros
• Offers a simple resume template with clean fonts
• Resume builder is easy to use
• Provides a URL to share your resume with others
Cons
• There is no way of importing your information, so you must enter it manually
• The layout is very basic, and with the free version, the only design element you can change is the font
• Download formats only include PDF, TXT, and HTML—not Word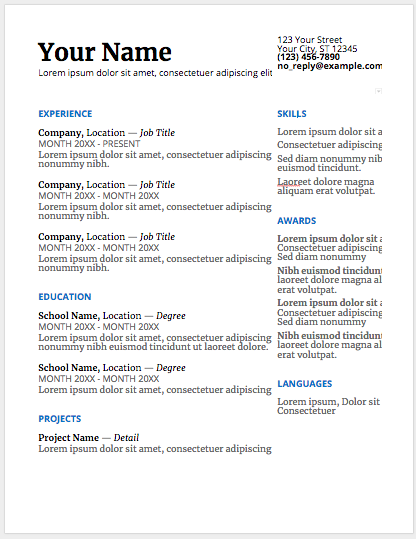 In addition to creating basic documents, you can access a host of templates, including five resume templates, in Google doc.
Pros
• As with any Google doc, there are multiple download options, include Word, PDF, RTF, and HTML
• The format is basic, clean, and simple, and easy to use
Cons
• There is no feature that allows you to import your information, so you must enter it manually
• Offers just five templates with similar, very basic layouts.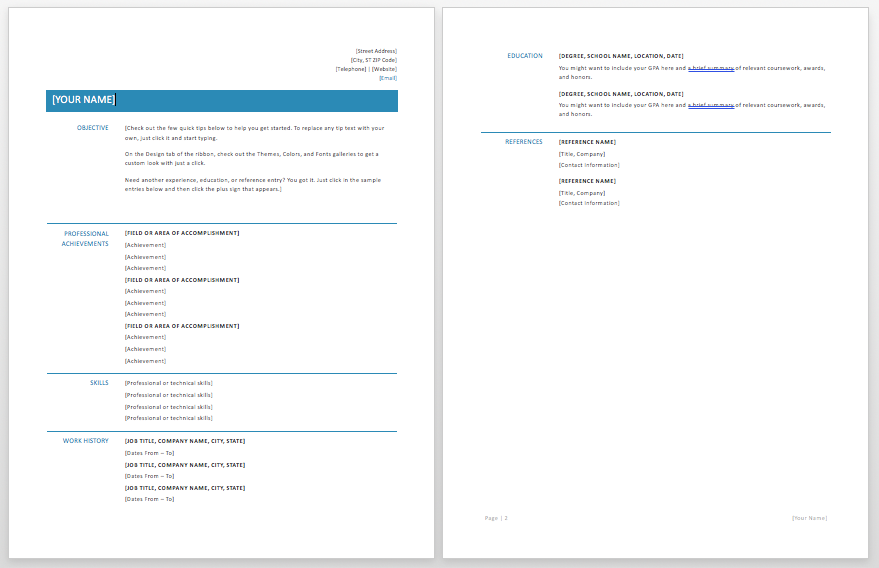 Office offers more than 40 free resume templates that you can access without even having an Office account. There are multiple design options, many of which pair with matching cover letter templates.
Pros
• Templates allow you to present your achievements in different ways—chronologically, functionally, creatively, and so on
• Special templates available for job seekers in different stages of their careers, such as students, recent graduates, and entry-level workers
Cons
• Must manually enter your information
• Widely used, so chances are other candidates have the same design
This job-search website, which also includes career advice, a resume-upload tool, and other resources for job seekers and professionals, offers a simple resume template that you can download and customize.
Pros
• Allows you to download the resume template in multiple formats: PDF, Word, or Google Doc
• The format is easy to use and modify and the layout is simple and clean
• Resume-specific language prompts you to create a data-backed resume
Cons
• Only offers one template
• No online sharing or embedding tools available
• Doesn't allow you to modify or personalize elements electronically, so you must customize your resume manually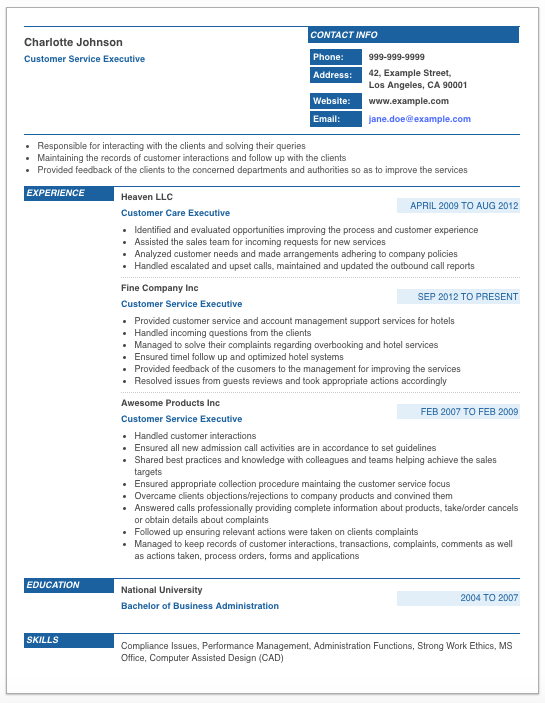 Resumonk guides you through the process of creating or importing data to your resume through a basic free plan. The service also offers a paid upgrade that allows you to upload a cover letter and view your resume analytics.
Pros
• Interface allows easy editing and is simple to use
• Five free templates have simple designs
• Allows you to import LinkedIn data
Cons
• There is no way to automatically import your LinkedIn data—you must undergo an intricate process of downloading your profile as a Zip file or PDF and then upload it to your resume builder
• You must upgrade to a paid premium account to avoid including Resumonk branding on the bottom of your resume PDF
• The only free download format available is PDF
Finding the Right Resume Template
Some of these basic resume templates offer similar features, while others have unique ways of presenting your information. You find plenty of options for creating a clean, simple resume.
Since these platforms are free to use as long as you stick with the basic resume template versions, you can create your own accounts and try out several—or find that the first resume you build fits your needs.