Whether you're looking for designer, cheap, or just plain cute maternity clothes, this list will help stock your closet with flattering pregnancy styles that accommodate a growing belly.
But first, a confession. When I was pregnant with my first child, I didn't buy too many maternity clothes — maybe two tops and a little black dress. For one, most of my non-pregnancy regular clothes were already quite loose fitting and flowy — let's just say I never say no to a well-priced kimono.
Secondly, and maybe more importantly, I felt that the terms
stylish maternity clothes
and maternity fashion were somewhat of an oxymoron. Just because I was pregnant did not mean I wanted to resort to only wearing oversized t-shirts, sneakers and leggings to hide my baby bump. Not that there is anything wrong with that. I'm literally wearing that outfit today. But I didn't want to feel like I was losing a bit of myself as my body changed on a weekly basis. Before pregnancy, I took pride in having a personalized look that made people say, "That's so you."
Looking back, I should have explored the world of pregnancy fashion more. If you're wondering, what stores carry maternity clothes or what stores sell maternity dresses, there are tons. Truthfully, there are some excellent places to find the best cute maternity clothes, especially online. After some Googling and ogling, here are a few standout sites that really seem to get pregnancy fashion.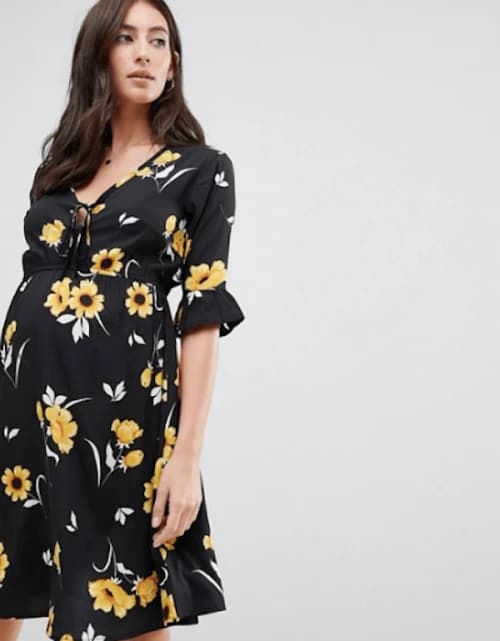 Photo via ASOS
This site really is a one-stop shop for your maternity wardrobe. They have everything a pregnant woman might want or need, from gorgeous going out dresses to comfy, fashionable maternity leggings, all for prices the fast fashion house is know for. The dress selection was particularly eye-catching, almost making me wish I were pregnant again so I could wear some of the spring season styles. Almost. They also offer great options for both petite and tall ladies.
I wish I had known about this site when I was pregnant. Pink Blush is a maternity-only retailer that has a great selection of specialty clothes like delivery robes, nursing tops and maternity plus. But what surprised me the most was their impressive selection of super cute shoes. I was very pregnant for the entirety of a hot Nashville summer, so comfortable flats that withstood my swollen feet were my saving grace. I would have worn some of these sandals out and with most of them costing under $35, I guarantee I would have been stocked up.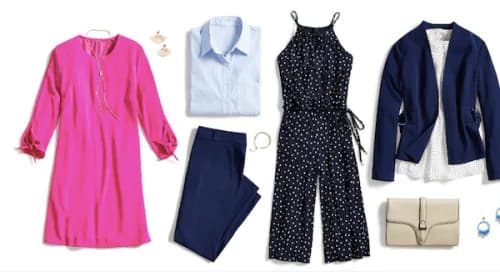 Photo via LE TOTE
This site is just like Stitch Fix, but for maternity wear. Starting at $49/month, you can get five new items in every tote, with the option to choose what you get before each one ships. You can keep your items as long as you'd like, but once you're ready to refresh your look, send it back and you'll get a new batch shortly. It's a great way to avoid getting to the point where you're wearing the same old maternity outfits to the office week after week.
If you really want to step up your fashion game, then join fellow shoppers Jessica Alba, Kate Middleton and Gwen Stefani and check out Seraphine. This trendy French brand offers a US-based online store and retail locations in NYC. While you might pay designer prices here, it offers great options for special occasion dresses and casual wear.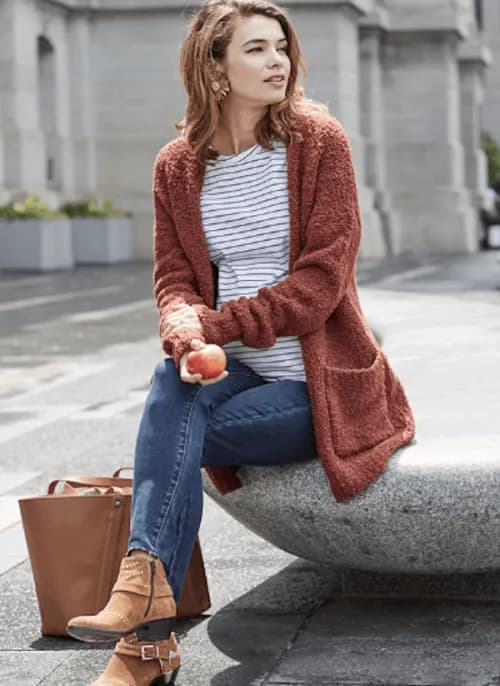 Photo via A Pea in the Pod
Carrying a wide range of designer brands, you won't have any trouble finding
work-appropriate maternity outfits
here. Having a summer or fall baby? They have a great range of maternity swimsuits too.
Now this is what I'm talking about. Being pregnant does not mean you have to give up your personal style. This site has all you need to satisfy your inner punk, pinup or goddess. There is nothing like a braided halter, empire waist gold maxi to make you feel glamorous and alive.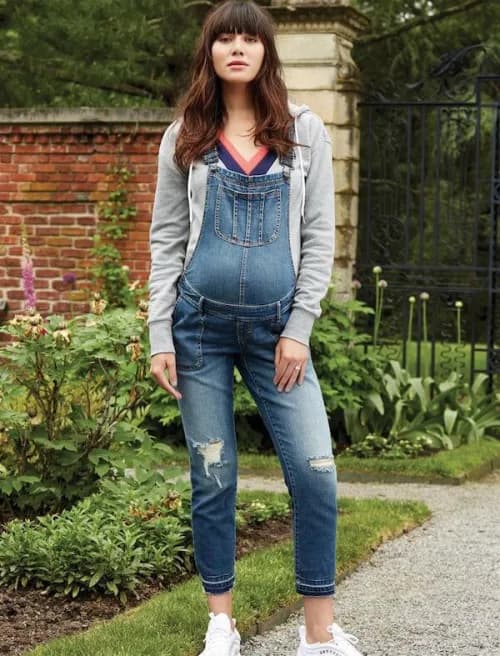 Photo via Motherhood Maternity
For more of department store feel with a variety of options, Motherhood is a good online option. You can grab a sweet dress for a special occasion or check out their sale section for good deals on everything from skirts to swimwear.
Does Kohls sell maternity clothes? The answer is yes, though the section is quite small compared to some of the others on this list. You can of course still shop tees, tanks, underwear and leggings at Kohl's though, and it won't disappoint.
If you're wondering, where can I find affordable maternity clothes? that promise better prices, don't forget about the basic standbys like Old Navy, H&M, Target and Gap. They all have maternity sections on their sites. You can never go wrong with a sturdy pair of leggings and a white button down.
Exploring the web for great maternity sites has shown me that pregnancy wear is definitely not a one-size-fits-all world. There are tons and tons of options out there for women to feel beautiful and more importantly, to feel like themselves during a time when that might be the last thing they feel.
--
About the Career Expert:
Kate Mason is a certified life coach, specializing in the beautiful mess that is motherhood. You can check out her specialized coaching program, MOTHERLOADED, and get more information about Kate at KateMasonCoaching.com.