Your wardrobe says a lot about you. Your clothes can reflect your personal style and your professionalism, especially when it comes to workplace attire.
Different offices have different dress codes (or lack thereof), and different employees have different tastes in work clothing. One FGB'er took to our Community to ask others about their least favorite fashion trends of the moment, and whether they are workplace-appropriate.
"What current female fashion trend makes you cringe?" she asked. "I can't handle the balloon sleeves people are wearing nowadays. There is just too much going on. Also, the attempt to wear a sweater when you're cold with ginormous sleeves is just a fail. Can we go back to the simpler days? Sometimes less is more... Right??"
A few other FGB'ers responded with their wardrobe pet peeves:
"I hate anything for work that looks like you are getting ready to work in the yard," one woman, who's obviously not a gardener, said.
Another woman confessed she's the one committing fashion faux-pauxs at work.
"Confession: I like maxi dresses but I'm totally aware that they're going out of style," she said.
"I have a love/hate relationship with jumpsuits," one woman wrote, lamenting the difficulty of wearing pants that are connected to your shirt all day. Another FGB'er agreed, saying, "I often love how they look on other women, but I can't bring myself to buy one for myself. I feel like I look 10 years older every time I try on a romper!"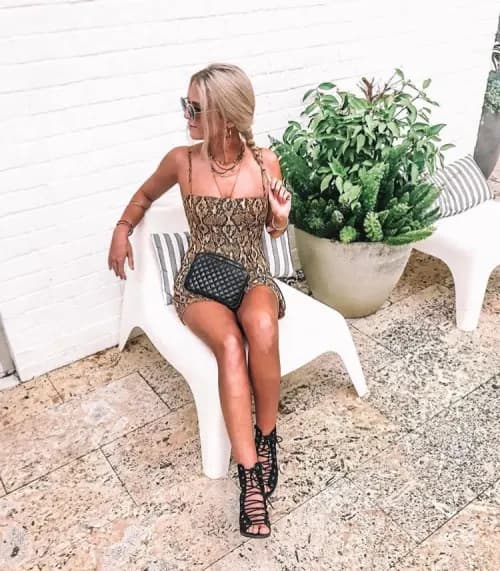 Source: Instagram
Another FGB'er disclosed that she hates off-the-shoulder tops because they're so uncomfortable, saying, "I see more people adjusting tops instead of comfortably wearing them." Another user agreed, adding, "It looks good though I have to keep adjusting them all the time. Thought I am the only one who felt this way."
Source: Instagram
Other trends that are definite nos for FGB'ers included: flip-flops ("There are some toes/toenails we just shouldn't have to see at work"), cold shoulder tops ("Cold shoulder tops are THE WORST"), towering high heels ("While they look great, I never see people properly walking in them"), and colorful nail polish ("I'm probably the only one to think this but I'm not a fan of bright & colorful nail polish. Neutral is just so much classier to me").
Fashion trends are constantly evolving and returning from the past, often completely unexpectedly. We're looking at you, fanny packs. But Who What Wear predicts animal prints, mini dresses, and jumpers will be "in" this fall, in case you're looking for new work attire.
Certain trends are not for everyone — and not for every office — but it's important to remember that each person is entitled to her own style. You know, unless their HR representative thinks differently.
And while you may not agree with every Vogue-approved trend of the moment, that's OK. Just remember, you can always report to Fairygodboss's Community if you need fashion validation or a venting session about those shoes you're questioning.