Working in a male-dominated field isn't always the easiest career path for women, so you may feel skeptical about pursuing a job in certain industries. But we've been working with a company that's illustrating how women can thrive in Silicon Valley.
Zynga -- yes, the one that feeds your Words With Friends obsession -- has shown us what it looks like when leaders in a traditionally male-dominated industry step up and prioritize attracting, hiring and retaining top female talent. We've spoken to women who work there, and they've shared with us not only what their jobs are like, but also how awesome their company culture is.
Stephanie Hess, Zynga's VP of Communications who also leads Women at Zynga, an employee-led organization, tells us, "At Zynga, we aspire to be a top destination for women in gaming and are dedicated to creating an environment where women of all backgrounds, disciplines and phases in their careers can bring their ingenuity, creativity, innovation and their whole selves to work to create entertaining experiences for our players and be drivers of Zynga's overall success."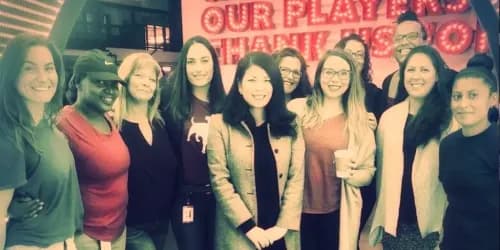 Gina Reams, a Principal Game Designer at Zynga, says that the Women at Zynga group is a huge draw for her. "Seeing the amount of investment that Zynga puts into Women at Zynga is what really motivates me about the company, she says. "Everyone knows there are diversity issues in tech. It's something we read about in the news and company reports, hear accounts of from people we know, or have even seen and experienced firsthand.
"Hiring is one issue, but even once you land a job in tech, for many women and minorities that's not the end of the challenges they're going to face," Reams continues. "Seeing Zynga put so much effort into the Women at Zynga organization really demonstrates to me that the company recognizes these issues and cares, at a leadership level, about making a positive impact on the quality of life for its employees. Instead of ignoring or worse, dismissing the topic, Zynga is standing up and saying, 'Let's make sure everyone feels welcome and supported here.'"
We love that employees are not only encouraged to do their jobs well -- but they're also encouraged to get on board with this overarching mission to support women in tech.
Hess filled us in on some of the amazing things that Women at Zynga is doing to enrich its employees' experience. The group has been around since 2011, and its goal is to create an environment that empowers women to succeed in their careers and communities.
While it's a women-led and focused group, Women at Zynga also emphasizes engaging and including men in its efforts. Members help facilitate a dialog between Zynga's female and male employees about ways to grow and support the female workforce across the company. "We encourage women and men across all of our internal disciplines to attend our events to gain insights and learn more about one another," Hess tells us.
Women at Zynga is not one of those organizations that merely exists and touts its goals without actually doing anything. The members do a whole lot: Hess and some other dedicated female leaders develop enrichment programs around education and training, career development and community building. They also help provide professional coaching, skills development workshops, speaker series, social events and celebrations marking women's triumphs.
For International Women's Day, for example, Women at Zynga held a variety of events. Members coordinated celebrations and #BeBoldforChange conversations at their 10 offices across the country and they sponsored a photo session for women who wanted to refresh their head shots for professional and social media purposes.
"We were inspired to do the photo refresh because as a mom – every picture I seem to have now is casual and has my daughters in it as well – so I have to find ways to creatively crop my photos for profile pictures!" Hess explained. "Many other women shared similar stories while others who are new to the workforce typically don't have a professional photo in their camera rolls. This event was empowering for our women and booked up in less than 10 minutes."
Women at Zynga also hosted a "FearlessFemales Livestream" for IWD that featured the company's VP of Games Nicole Opas and Lead Game Designer Anna Huerta. The women spoke about "Building and Working in Inclusive Teams" at the University of Southern California's Games for All speaker series. This is part of a close relationship Zynga has established with Professor Tracy Fullerton and USC's Cinema School where many of the company's female game developers will be teaching courses and mentoring female and minority undergrads.
"Women at Zynga has allowed me to exercise my leadership skills when I did not have an opportunity on my teams and gave me the confidence to transfer my skills in my day-to-day work," said Huerta. "I am now constantly being recognized for that growth by my colleagues and mentors - the support and affirmation fuel me to keep moving forward. I always thought being a leader was out of reach. The hours, the sacrifices, and amount of energy required seemed to be impossible requirements.
"Women at Zynga has introduced me to women who are board members, founders, and in executive positions," she adds. "Their stories have helped me break my own personal ceiling and redefined what it means to be a strong woman today's industry. As we break through the glass ceiling, it's important for budding leaders to know they are not alone. Women at Zynga is breaking the phobia of asking for help and is ensuring there are others available to reach out a hand and bring our leaders up as they climb to the top."
Hess says she's particularly proud to chair this group because she's had some amazing mentors of her own, and she wants to pay that forward. "A core value in my career has been to champion and celebrate women's achievements and to open doors for others to succeed," she explains. "I've been incredibly fortunate to have supportive mentors, managers and colleagues who have looked out for me and have been a part of my path. Throughout my career I have had the chance to do rewarding work while also being able to drive conversations and actions around inclusion."
She credits the group's success with the development of the Women at Zynga Advisory Board, which is made up of a cross functional group of longtime Zynga employees who represent game design, engineering, production, employee engagement and communications.
"I love the fact that we have a diverse board of directors for Women at Zynga," says Reams. "We have women in different stages of their career, a variety of disciplines, of different ethnicities and backgrounds. It's wonderful to see such a diverse group of women advocating for their colleagues and that spirit of inclusivity ripples through everything the group does. That's something that means a lot to me as a Filipino-American woman in this industry."
The Board meets regularly and is hands-on in shaping and designing program initiatives, planning events and representing Zynga as ambassadors across the professional disciplines they represent. The Board is also active in mentoring girls in tech and women in our fields both inside and outside of the company.
"The Women at Zynga Board of Directors has some ambitious plans for programming and events this year," adds Reams. "I think one of the biggest impacts we're having is really making all women feel like they're included, valued, and supported in their career."
Hess adds that "As a communications professional and mother to two young, strong daughters, the biggest thing I can do is to bring others up with me and help them tell their stories," says Hess. "My involvement with Women at Zynga enables me to do just that and it's an incredibly fulfilling part of my life at Zynga!"
Want to join this awesome community of women? Zynga's hiring! Check out these great jobs:
Senior Software Engineer, Server
Senior Manager, Business Operations
...and browse all open positions here.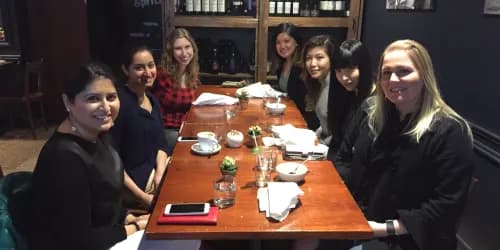 Fairygodboss is proud to partner with Zynga. Find a job there today!