10
One of the most viral videos out of San Diego Comic-Con 2017 wasn't actually related to comic books. The video, spread widely on Twitter, was of Gal Gadot meeting a little girl who was cosplaying as Wonder Woman. The girl was so overwhelmed to meet her role model that she began to cry, and Gadot comforted her in a way that only a superhero could. It's an incredibly touching moment that highlights the importance of female role models.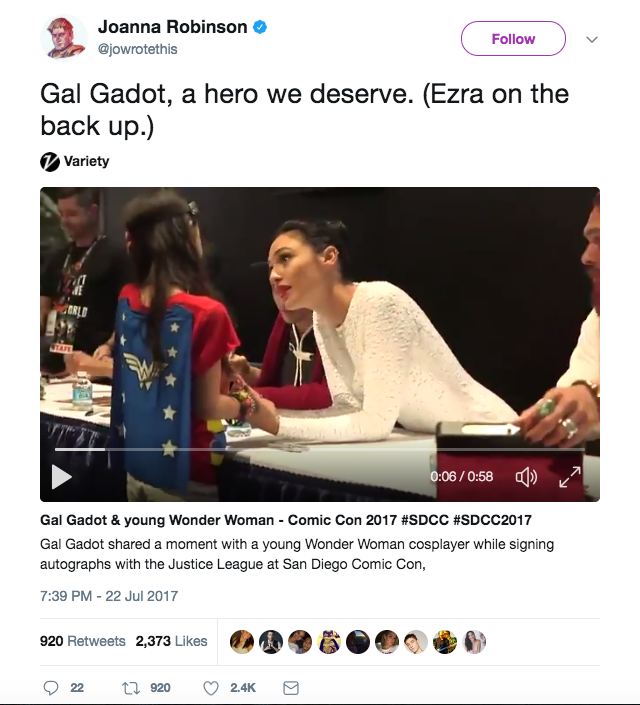 (Source: Twitter)
Though Gadot plays Wonder Woman on-screen, there are plenty of reasons why she's Wonder Woman in real life, too. Here are just a few of the (many!) reasons why:
1. She's a feminist.
When promoting "Wonder Woman," Gadot was clear that Wonder Woman is a feminist, and that she is, too. In an interview with Entertainment Weekly, Gadot said her definition of feminism was "all about equality and freedom and [women] choosing what we want to do." And, she added, that definition includes equal pay.
2. She's multilingual.
It's no secret that employers want workers who can speak multiple languages; being multilingual is an important skill as the world becomes more and more connected. Having grown up in Israel, Gadot speaks Hebrew as well as English and she is fluent in both.
3. She does her own stunts.
Before Gadot began acting in films, she served two years in the Israeli Defense Forces. Gadot is skilled in weapons and combat training, and these skills led to her discovery by a casting director. Even though your physical prowess may not land you a movie role like Gadot, it's important to balance your work with your personal health.
4. She's a great multitasker.
Gadot joined the IDF in 2004 — and in the same year, she also won the title of Miss Israel. Not only are those both great achievements for her resume, but it shows that she (and you) can balance two very different responsibilities.
5. She filmed her most intense stunt scenes while pregnant.
Gadot initially hid her pregnancy so she wouldn't be treated differently on-set. But, when it came time to do reshoots for the film's action sequences, her five months of pregnancy was difficult to conceal. Her bump was edited out in post-production, but knowing that Gadot was wielding a sword in the middle of a battlefield while pregnant is really cool.
6. She isn't afraid to speak up.
Gadot uses her personal platforms to speak up about issues that are important to her — be it military service, feminism, or something else altogether. When you feel like the spotlight is on you at the office, it can be difficult to find the courage to speak up, but Gadot shows us that it can be done with grace and confidence.
7. She proves it's okay to try out different career paths.
In addition to being an actress and having served in the military, Gadot was also a model, a babysitter, a fast-food worker, and even attended law school. We're glad she pursued acting long enough to play the role of Wonder Woman, but her varied career journey is a great reminder that it's okay to take your time on deciding your career path.
8. She praises the work of other women.
Though Gadot is the star of "Wonder Woman," she's consistently praised Patty Jenkins — the director of the movie — for making her a better actress. "You want somebody to push you further than you can push yourself," Gadot told The Hollywood Reporter. "Patty is very, very good at that." We love that Gadot is using her fame as a platform to support other women, especially those that supported her.
9. She puts her money where her mouth is.
With a "Wonder Woman" sequal in the works — and buzz that Gadot has been in the process of renogiating her original DC contract in a major way — we know a pretty significant pay day for the actress is in order. Yet, on Sunday (November 12), Gadot made it clear she's willing to forgo all of it if Warner Bros. chooses to continue working with Brett Ratner, a producer and co-financer of the first film who has since been accused of sexual harassment by six women.
"She's tough and stands by her principles," a source told Page Six. "She also knows the best way to hit people like Brett Ratner is in the wallet. She also knows that Warner Bros. has to side with her on this issue as it develops. They can't have a movie rooted in women's empowerment being part-financed by a man ­accused of sexual misconduct against women."
We can't help but think Wonder Woman herself wouldn't have done it any differently.