10
As Gabrielle Union would put it, "point blank and period," women in the workplace have a narrative issue. The issue? They think they're "lucky."
Nearly 1,500 attendees gathered on Wednesday to hear speakers such as Gabrielle Union, Amy Schumer, Brooklyn Decker and Whitney Casey speak at the 14th annual BlogHer two-day summit hosted by SheKnows Media. The BlogHer event was held at Pier 17 in New York City's Seaport District and featured an impressive lineup of female content creators and entrepreneurs. And one of the speakers who really got the room teeming with women riled up was Gabrielle Union.
Union has always been an outspoken advocate for women's equality, and she has never shied away from having difficult conversations. When she took the stage for a no-holds-barred chat about difficult topics like a sexual assault at the age of 19 and infertility issues, she was no different. In fact, she suggested that coming forward about the issues she faces in her life isn't so much a choice, but rather a necessity.
"I have seen the devil up close, I can't go any lower," she told the audience. "When you are being raped at gunpoint at work, I can't go any lower; when I watched my girlfriend at 35 die a slow death because she was afraid of finding out what the lump was in her chest, I can't go any lower. I've seen it. So at this point, I can only go up — and I'm trying to take as many people with me as I can."
And she certainly lifted up the women in the room Wednesday when she told the audience to stop feeling "lucky."
In a psychology study published in Women/Men/Management by Ann Harriman, researchers found that we actually attribute the successes of men to their internal abilities, while we attribute the successes of women to external factors such as good luck. Conversely, we attribute men's failures to bad luck and women's failures to a lack of skill and ability. Women actually think this of themselves. An analysis by the Center for Creative Leadership found that nearly half of all women attribute their success to "luck," compared to only a third of men. Perhaps that's why women are more likely to use hashtags like #lucky, #gratitude and #blessed than men on social media platforms, as well.
When this narrative of luck comes into play in business, it hinders women's success, Union warned the BlogHer audience.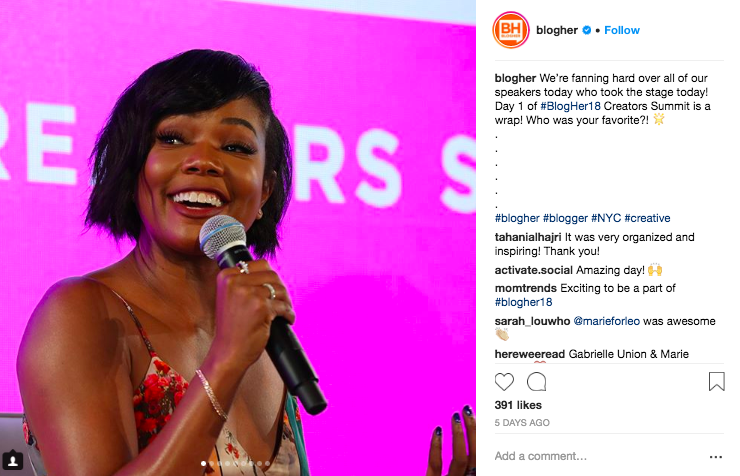 "Let's say you're looking for an investment, and we just feel lucky that anyone wants us," she said to the crowd. "A lot of us just want to be chosen, whether that be by a certain group of friends, a romantic partner or in business. A lot of times, we just feel lucky to be there. [We feel] lucky enough. But if you have a great idea, there's going to be more than one suitor. You can be choosy."
She also said that, if an investor is problematic, women need to take the extra time to do the background checks. She suggested looking into how that investor's other relationships have worked out — particularly, their relationships with other women.
"Make sure that who you are partnering with, allowing to invest in your ideas, knows you are worthy, that you deserve it," she said. "And never feel lucky. They are lucky. They work for you, not the other way around."
She let women know that it's okay to say, "Not you." It's okay to say no.
"I know we are all conditioned to be grateful and to not ask any questions that make anyone feel uncomfortable," she went on. "But you know what's uncomfortable? Having your company blow up because of a problematic person. What's uncomfortable is not realizing is that problematic person will [take it out on] you and your company, and destroy it from within. Problematic is someone who gave you money, but they don't actually have a plan; they don't really actually believe in you. They thought your company would hit it big in the first six months and when it doesn't, because most companies don't, they drop you like a hot boiled egg."
While it's nice to be chosen and to feel seen by other people, she explained, women need to dig deeper to ensure that investors, for example, truly believe in and align with their dreams.
In an interview with Fairygodboss, Union explained that great ideas will have many suitors, and she urged women not to forget that. That said, she admitted that even she is sometimes guilty of feeling lucky. At 45 years old, she said she's still figuring out how to not think of her own ideas' or brands' successes as results of luck.
"[There were times] that I felt lucky, and that I went with the first person that wanted to dance with me," she told Fairygodboss, admitting that she'd forgotten to ask the next questions. Those questions, she said, include "Do you have a long-term plan for this business? Do you have marketing dollars beyond this amount of time? Do you believe in the overall health and wellness of the brand? Or did I feel lucky that someone responded to my dreams and I hopped at the first chance?"
Eventually, she'd realized that she was not going to like all of the dance partners available to her, but she was confident that somebody out there would be the right match and knew that it probably was not going to be the first person.
"Don't panic, believe in yourself, and don't sell yourself short because you feel lucky, #grateful, for the first [person] who pays attention to you," she advised.
Union, an actress and author of We're Going to Need More Wine: Stories That Are Funny, Complicated, and True, is using her platform to be an advocate for women in as many ways as she can.
"I doubt I am speaking for everyone, but I am trying to give voice to anyone who hasn't found their voice, or hasn't found their way to a microphone yet," she told Fairygodboss. "I am trying to speak as much truth as I have learned from traveling the world and from people who've shared their experiences with me, and I am trying to destigmatize a lot of issues that a lot of us deal with daily. I am trying to encourage people to be their own best advocates, to not live in fear, to try to live their best lives. Whoever I am speaking to, if you embrace me as an advocate, awesome. If you feel that I am not speaking your truth, here's the microphone. There are enough mics to go around."
The positive energy in the room after Union took the stage was tangible, and the two-day summit left women feeling empowered and motivated to unapologetically chase their dreams and the credit they deserve.
"The conference has held onto its core mission which is to increase women's leadership and to acknowledge and amplify the best voices in women's content that is driving an agenda for women's equality," SheKnows Media CEO Samanatha Skey told Fairygodboss. "The core mission is to celebrate the best content creators, to celebrate diversity, to commit to intersectionality. Those core values have been present since day one... I think what's changed is that we've heavily expanded our definition of a content creator. it's not blogging alone — blogging, for us, is a euphonism for any piece of work that evokes emotion that challenges people or comforts people."
This year, Skey says that the summit is of particular significance.
"You can see from the panels we had this year that there's this cross-section of women who are really embracing the challenges of Hollywood and every industry, who are speaking frankly and unabashedly about sexual harassment, sexual violence, wage equality and fairness and credit in all work," she says. "We have a forum that already has a lot of trust and has a community. Maintaining this forum really allows us to amplify the voices who are moving the culture forward."
--
AnnaMarie Houlis is a multimedia journalist and an adventure aficionado with a keen cultural curiosity and an affinity for solo travel. She's an editor by day and a travel blogger at HerReport.org by night.