Due to ever-improving technological advancements, there are several apps specifically developed to make your job as a hairstylist much, much easier.
Download SalonCentric for product shopping and inspo, Style Station by Redken for color formulas and techniques and Instagram for brand-building.
Hairstylists might think that they can operate off the grid entirely. After all, cutting and styling hair is one of the oldest professions of all time — the word "barber" derives from the Latin word for barbarians, and razors dating back to antiquity were discovered in Egypt.
Because of this rich history, it might seem silly for a profession that has survived over 50,00 years to change its ways. However, due to ever-improving technological advancements, there are actually several apps out there that have been specifically developed to make your job as a hairstylist much, much easier. You don't have to dive right into scheduling all your appointments via an app, but why not dip your foot in the pool and see how you feel?
Features: Sets stylists up with clients in nearby areas
Glamsquad might just represent the future for hairstylists and other beauty experts. This app allows clients to book hair, nail and makeup stylists and request that they come to a location they provide themselves. You must apply to become part of Glamsquad, but once you're in, you won't be sitting around bored, waiting for clients — this company takes good care of their stylists.
Features: Easy product shopping, inspiration, Pro Beauty Perks for members
This app is a must-have for any hairstylist with their own salon. With SalonCentric, every big product brand is just a tap away. It also offers tips and inspiration for new 'dos that you might not be seeing otherwise. Consider downloading if you're looking to consolidate all your various product orders.
Features: Free scheduling software, in-app payments

Simple but effective, this app boasts that it's the "#1 Software for Salons and Spas," and we see no reason to disagree. The essential step of booking an appointment is made easy for your clients when you offer bookings over Fresha. (The app also suggests marketing tools to boost sales and sends SMS text reminders to clients so that they don't miss their appointments!)
Features: Timers, color formulas, techniques and tips in blog forum
This app was made to be used while you work. It provides color formulas to use with your clients, simultaneous timers so that you know how long to leave the dye in for multiple clients at once and advice from other stylists. You can also create your own lookbooks using this technology, instead of cutting out pictures from magazines as they did in the good old days. Style Station essentially removes the need for any tools that don't touch the client's hair itself!
Features: Storage for client information
Remembering color formulas has never been so easy! Gloss was designed to help you keep track of color formulas. This app helpfully sorts the information you want to remember about each client into its own slot; you can mark down their color formula and their name and even take a photo of the end product for posterity.
Features: Photo editing
Any person looking to get their hair styled these days will want to see proof of your mastery before they enter the salon. So you need to get your photos out there, but before hitting "Post," you need to make sure they're in tip-top quality. Snapseed is the best photo editing app on the market that can do that for you — with 29 tools and filters, your hair pics will come out just as shiny and beautiful as the hairstyle itself.
Features: Lookbook creation, hairstyle inspiration
Pinterest is a perfect platform for you as a hairstylist to find inspiration. Every time you encounter a photo you like or are inspired by, you can pin it to your own board, thereby creating a lookbook through no effort at all. Plus, there are often hairstyle tutorials and other hair tips posted on Pinterest that might come in useful.
Features: Connection with other hairstylists, brand-building
You likely already have a personal Instagram account, but have you created one for your business yet? A business account on Instagram has a lot more power than a personal account: you can view how many people engage with your content, promote certain posts and keep track of your following over time. Any savvy hairstylist these days can use Instagram to boost their brand and attract new clients.
So, were any of these apps tempting? The beauty of the profession of hairstyling is that tech will never be able take over this sector. Only a human can style hair. Because your hard work is still valuable, technology is not a threat to you as a hairstylist. In fact, it can only help; and with these tools on your phone, you'll be able to do your job more efficiently while reaching more clients. That in itself should be incentive enough to click download.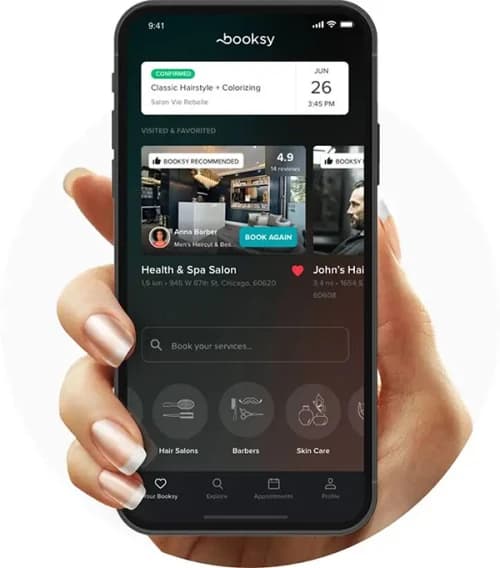 Features: Scheduling, payments, management
Booksy is nothing short of a powerhouse when it comes to managing a hair salon (or just about any appointment-based business). With its email and SMS marketing, payment processing, and robust management features, it can make the life of business owners (and their clients!) way easier.