A scheduling app can go a long way in helping you stay organized and managing all of your commitments.
Calendars with multiple viewing options, to-do lists, reminders and alerts, can help you keep track of all of your responsibilities.

Some free scheduling apps include Google Calendar, Cozi and Outlook.
Your life is hectic. Between meetings with clients, projects at work, a lengthy to-do list, family responsibilities, and other appointments, how can you keep track of everything you have on your plate?
Fortunately, a scheduling app can go a long way in helping you stay organized and managing all of your commitments. With features like calendars with multiple viewing options, to-do lists, appointment reminders and alerts, contact storage, and other content, apps are great tools for keeping track of all of your responsibilities. As an added bonus, many of these apps are free.
So, what is the best scheduling app to easily access all your commitments, appointments, and other responsibilities in one place? And what else can an app do to make your life a whole lot easier?
We've rounded up seven of the best free scheduling apps for work, family life, and more. Many of them serve multiple purposes, while some specifically target family schedules or work groups.
iTunes rating: 4.7
Google Play rating: 4.5
Any.do combines your calendar and to-do list into a single view. Smart reminders, task lists, tags, and other features facilitate easy planning. For $2.99/month, users can upgrade to the premium version for more customizable themes, unlimited collaboration and attachments, and location-based reminders.
"By far the best planning app out!" one user remarked. "Also love how simple and clean the app is and that you can plan things in advance and still see them," another said.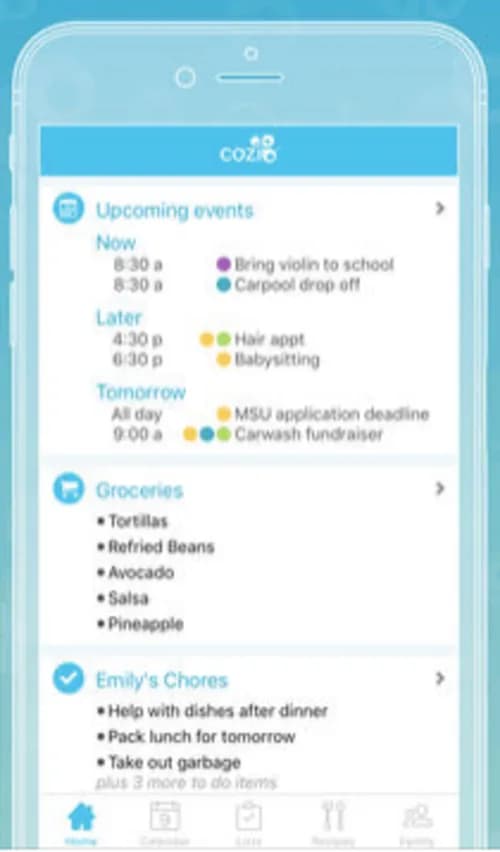 iTunes rating: 4.8
Google Play rating: 4.4
This app is a must for families. Users can coordinate schedules and plan activities through a family calendar, to-do lists, shopping lists, stored recipes, a family journal, and agendas at a glance.
Cozi Gold, which is ad-free and offers a calendar search feature, shared contacts, more reminders, a birthday tracker, and other features costs $19.99/month.
"It's been wonderful to be able to see what everyone has going on at a glance," one user wrote. "The best calendar I have found," said another."
iTunes rating: 4.5
Google Play rating: 4.2
The tried-and-true Google Calendar offers far more than just appointment scheduling. The app offers multiple views by day, week, or month and provides reminders for upcoming events. It also integrates with your Gmail, importing reservations, flights, and other events into your calendar automatically.
Despite some gripes about the appearance of the latest update, most users consider Google Calendar a life staple. "Can't live without it," one user wrote. Another praised the latest update, saying, "I LOVE the new look. As a full-time student, this is my favorite and most used app. I am really happy with the font changes and layout. It's so clean and organized. And I love that other Google apps had the same update as well. Everything looks so cohesive!"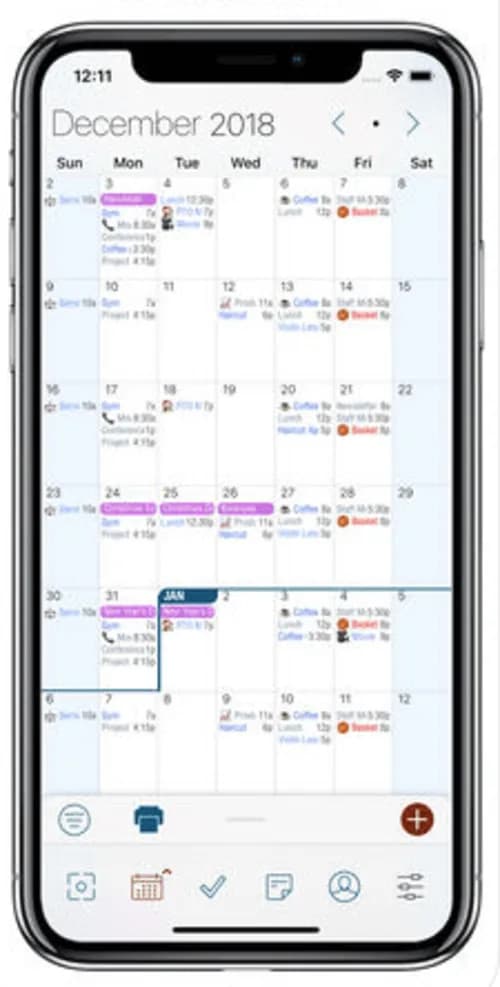 iTunes rating: 4.4
Google Play rating: 4.2
Informant is a calendar, task manager, and notes organizer all in one. The basic version with the "Essential Calendar" feature is free, and users have the option of upgrading to the Full Feature Access version for $2.99/month. Special features include checklists for task items Users praise features like time zone support and alarms, with one noting, "Time zone support is essential for travel, and the current version is easy and transparent."
Another user commented, "I have had this calendar app for eight years and I love it!! It keeps me organized with all of my family of five's activities and tasks I have to accomplish with alarms and reminders."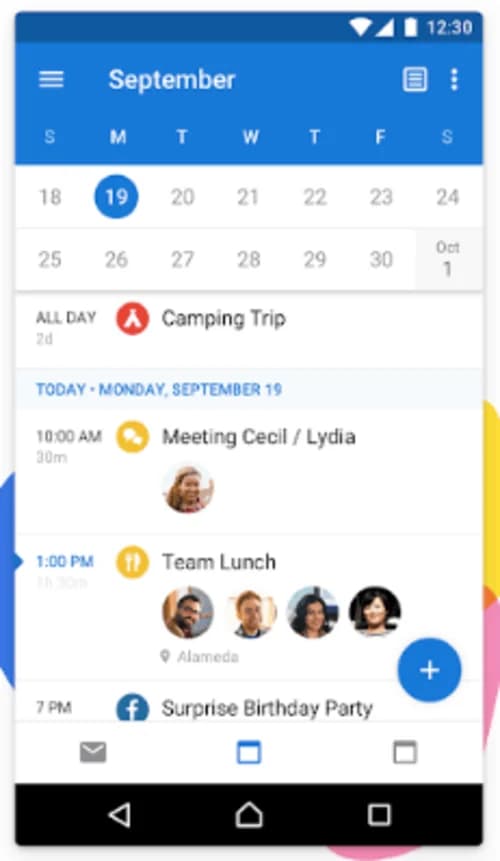 iTunes rating: 4.7
Google Play rating: 4.3
Bring your email and calendar into one place with Outlook. Through the app, you can easily schedule appointments and invite others to attend. You can also share your meeting availability and receive reminders about upcoming appointments.
"This is my go-to app on my phone now, just as it has been on my laptop," one user wrote. "Gold standard," added another.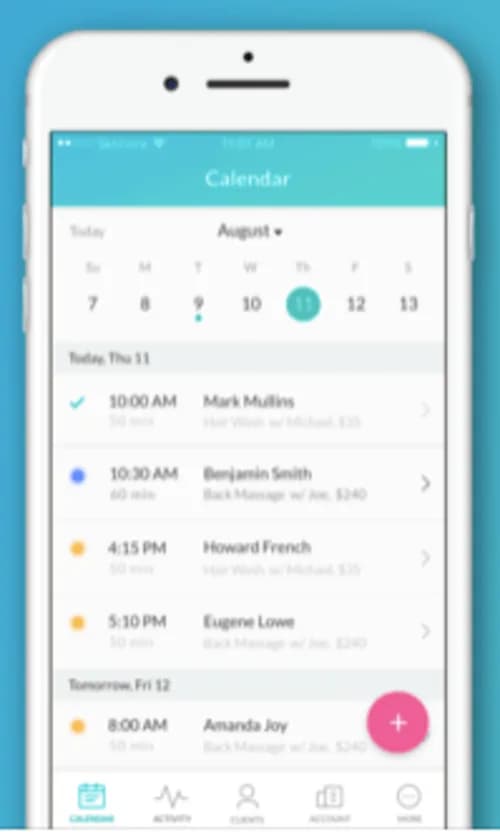 iTunes rating: 4.7
Google Play rating: 4.2
Geared toward businesses, Setmore is a free online scheduling platform that is easy to use. You can store customer information, manage multiple calendars, and share an online booking page with your customers. Users can upgrade from the free version to automatically text reminders to no-shows, consolidate calendars, add more users and more for $25.00/month. Setmore also offers a live booking service that answers your calls and schedules appointments for $89.00/month.
"Awesome real-time scheduling," one user remarked. "Rarely had any problems, and when I did they were corrected quickly" added another. "I would recommend this app to anyone and everyone. Been using this for almost five years and counting."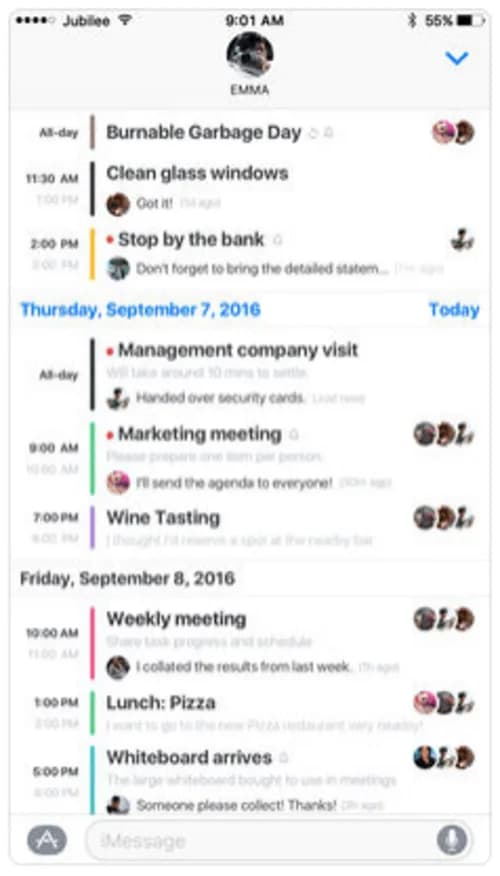 iTunes rating: 4.8
Google Play rating: 4.6
Shared calendars make TimeTree ideal for families. The app allows you to create and toggle between multiple calendars, as well as save photos and other information in one accessible location.
"I love TimeTree for so many reasons," one user raved. "I can create multiple color-coded calendars and toggle easily between them or see all of them. I can share certain schedules with my husband. I can attach pictures to events."
"We can finally have a common calendar to synch our family lives," added another.
Managing your busy life
Scheduling apps can help you keep track of appointments, meetings, and other commitments. Sync your calendar with other apps to facilitate even greater efficiency. For example, downloading Zapier allows you to integrate many calendar apps, such as Google Calendar, with apps like Slack, Trello, Google Sheets, MailChimp, Instagram, and many others to make task management and scheduling easier.
Looking for more ways to stay on top of your to-do list and manage your responsibilities? Check out: