Now more than ever it's important to stay up-to-date with news affecting women. And feminist blogs can be a great way to do so — all while supporting women bloggers, writers, journalists and activists.
Each feminist-based blog is different from the next, but all focus on issues relevant to us in society today, such as gender equity, reproductive rights, sexual harassment and assault, and more.
We've outlined some of our favorite feminist blogs who provide everything from opinions on the political implications of a popular television show to a reported longform piece on unethical race-based behavior in the police force. (And if you're looking for something more lyrical, we also have 15 feminist poets for you to browse).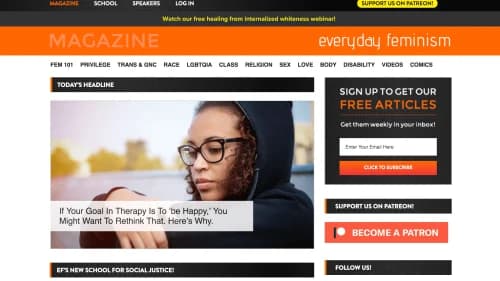 Everyday Feminism was launched in 2012 by Sandra Kim. The site produces a lot of listicle-style articles that cover everything from body image to politics to gender norms. And Kim writes her site's mission "is to help people dismantle everyday violence, discrimination, and marginalization through applied intersectional feminism and to create a world where self-determination and loving communities are social norms through compassionate activism." The site offers articles like "5 Ways to Create a Femme Friendly Workplace," and "Feminist Editors Share How They Make Their Style Guides Less Oppressive."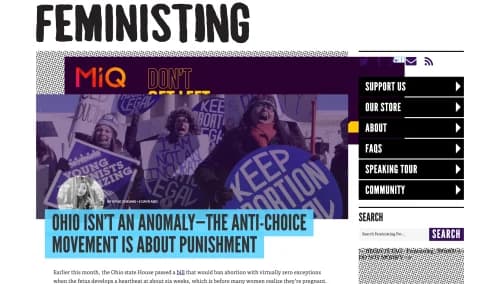 Feministing was created by feminist author and columnist Jessica Valenti in 2004. The blog is dedicated to and run by young feminists and covers intersectional feminist topics. "We serve as a gateway to the feminist movement for young people, giving our readers ways to take concrete action, as well as connecting them with feminist organizations and grassroots activists." The site also has an open community where writers of all ages can submit work to potentially be published. Popular articles include "The Anti-Choice Movement Is About Punishment" and "Why Do the Cops Keep Protecting White Supremacists?"
Rewire is an award-winning nonprofit that publishes news, research and investigative reporting online daily. The site covers reproductive rights and justice, as well as economic justice regarding immigration and race. Rewire lists its site goals as proactively informing readers, challenging false reporting and covering underreported issues regarding the previously mentioned subjects. Readers can expect articles like, "Why Now More Than Ever We Need 'Shout Your Abortion'" and "My Mother Died From AIDS. My Tribute to Her Is that I'm Not Ashamed of It."
Bitch Media has over 6 million readers around the world. The site (and print publication!) offers a modern feminist take on pop culture and the media. Readers can find articles like "Vogue and Victoria's Secret Are Both Selling a Warped Fantasy." The site's creator explained the controversial name by saying a woman is called a "bitch" when she speaks her mind, and "if being an outspoken woman means being a bitch, we'll take that as a compliment."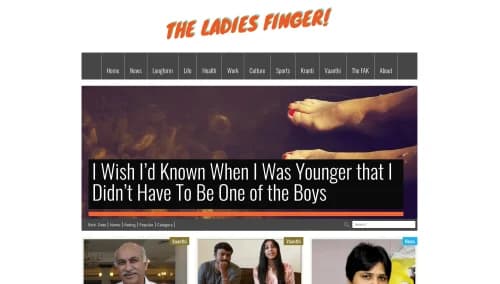 The Ladies Finger's motto is "We write what we want to read." The site covers controversial topics affecting women everywhere, including politics, culture, health, sex, work and more. The site offers longform, shortform, explainers, personal essays, reportage and more, with articles like "Happy Teachers' Day to the Women Who Changed My Life" and "I Am a Lesbian Feminist Killjoy and am Grateful for #MeToo in India."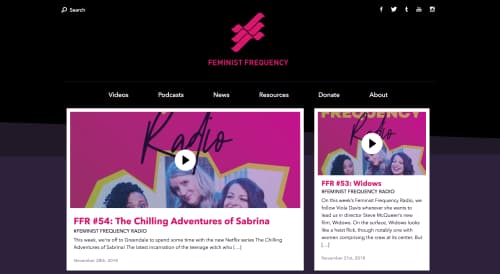 Feminist Frequency is a video blog dedicated to feminism and the way in which feminist issues are covered in the media. The site is a not-for-profit organization, and the focus is on gender, race and sexuality, with articles like, "The Courageous Life of Ida B. Wells" in their series titled, "Ordinary Women." Not only do they have an online blog, but the site has a podcast as well as a web series called The FREQ Show which discusses the intersection of culture and politics.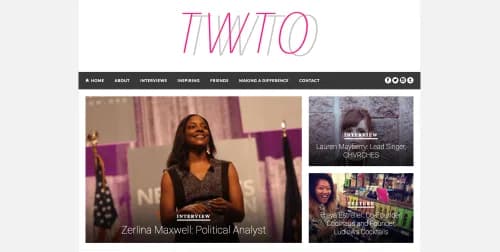 The Women Takeover is a blog that was started by writer and editor Rebecca Parks Fernandez, which she says began as her own way to learn more about feminism. "I wanted to share the things I'm learning and the people who are teaching me, and I am constantly searching for new examples and role models, new inspirations and stories and more women and men who are doing something extraordinary to fight for equality," she wrote. Rebecca's site is comprised mainly of interviews with admirable women, like Anna Holmes, the founder of Jezebel.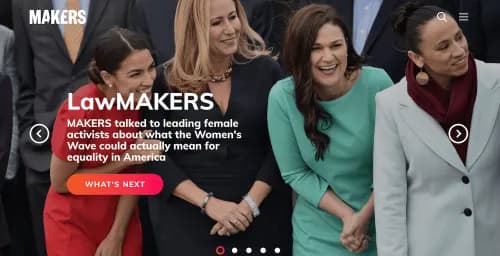 MAKERS is a site dedicated to women making a difference in society today and inspiring others throughout the world. The site is just six years old and has over 4,500 original videos and more than 400 original interviews. The site has interviewed people like Oprah Winfrey, Shonda Rhimes and Ruth Bader Ginsburg.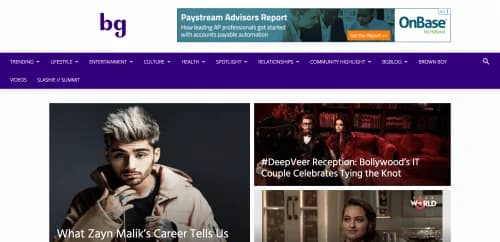 Brown Girl Magazine was created by South Asian women looking to give others female empowerment and inspiration. "We empower and engage those who identify as South Asian women living in the diaspora with a hyphenated identity. While our primary focus is to empower and uplift women, we support and ally with all gender identities," the site writes. Brown Girl Mag discusses news, trends, religion, culture and more through articles like, "Meet the All-Brown Cast of 'Mira, Royal Detective'" and "Blessed with Scars: How I Learned to Embrace My Flaws."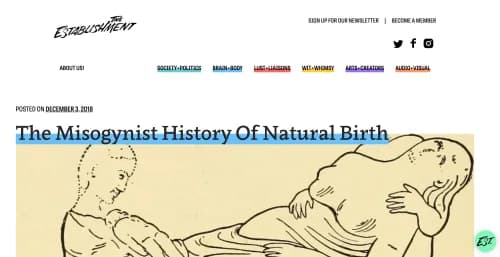 The Establishment is a millennial feminist blog run solely by women. The site covers politics, news, art, culture, beauty and more. The site shares longform, reported pieces as well as opinion pieces. A few of their articles include, "The Misogynist History of Natural Birth," "Food, Adoption and the Language of Love," and "Fighting Climate Change with Art and Saris."
More On Feminism
If you're looking to broaden your feminism horizons, these blogs are a great place to start. Brush up on your feminism history — from Betty Friedan to Susan B. Anthony to Elizabeth Cady Stanton — as well as your anti-feminism history (as difficult as that is to read!)
Learn about intersectional feminism — the recognition that there are many kinds of women experiencing different forms of discrimination based on race, transgenderism, income, sexual orientation and more — and the women who we believe are the best examples of intersectional feminism advocates. And check out our list of 45 (yes, 45!) different feminism movies to binge watch when you're done reading, including Gone with the Wind and Nine to Five.