LinkedIn
is an important if not essential networking tool for professionals. The social media platform allows you to connect with colleagues, mentors, and other members of your industry and beyond to grow your professional network and expand your breadth of knowledge and experience.
When people
use LinkedIn professionally
, it can go a long way in bolstering their career and broadening their connection base. Unfortunately, as with other social media networks, users sometime abuse the tool and create unpleasant and even hostile environments and experiences for others. If a LinkedIn connection or member is bothering you, there is a solution: blocking him or her.
What does it mean to block someone on LinkedIn?
Blocking someone
on LinkedIn essentially means you'll be hidden from her view. She won't be able to access your profile, send you messages, or post content to your profile. You won't be able to access her profile or activity, either.
Unless you have your profile set to private, meaning it won't appear in Google or other search engine results, a blocked user can still see your profile when she's not logged into LinkedIn. If you'd like to hide your profile from appearing publicly in search engine results, follow these steps:
This menu will also allow you to report an inappropriate profile or picture or alert LinkedIn that the user's profile may have been hacked. Before clicking the latter option, it's a good idea to contact to the user off of LinkedIn, if you have the means to do so.
If you block someone, she won't know that you've done so; she simply won't be able to see your presence anymore. LinkedIn will not alert the user in question that you have blocked her.
How do you look at someone's LinkedIn profile anonymously?
There are several reasons why you might want to view a connection or other user's profile anonymously. Perhaps you want to check in with someone from your past. Maybe you're investigating a potential client or job applicant. Whatever the reason is, browsing a user's profile in anonymous mode is relatively simple.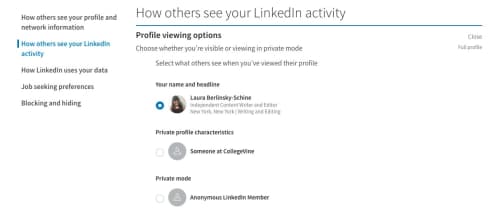 Click on the "Me" icon in the top right corner.
Click the Privacy tab in the top horizontal bar (second after account).
Scroll down to the section How others see your LinkedIn activity.
Click the first option: Profile viewing options.
The default option is to have your name and headline appear when you view someone else's profile. But you can reset it, so you appear as either "Someone at XX company" or "Anonymous LinkedIn member." Keep in mind, however, that once you disable the public viewing option, you won't be able to see who's viewed your profile or your viewer history, unless you upgrade your membership to premium.
Alternatively, you can log out of LinkedIn and search for the user via a search engine. From there, you will be able to see the user's full profile anonymously, unless she has her profile set to private mode, meaning only LinkedIn users may see her profile.
How do you remove a follower on LinkedIn?
You can easily remove a follower on LinkedIn. (NB: A follower is not necessarily a connection; this is someone who follows your posts and updates.)

Click on the "Me" icon in the top right corner.
Click the Privacy tab in the top horizontal bar (second after account).
Scroll down to the section Blocking and hiding.
Next to the first option, Followers, click Change to the right.
You can select Everyone from the list or Your connections, meaning that only your connections will be able to see your updates in the future. In order to prevent a specific connection from seeing your posts, you will need to remove her as a connection.
When should I block someone on LinkedIn?
There are several reasons why you might want to block a contact or user from being able to see your profile or contact you at all on LinkedIn. While simply following your gut is basis enough, you might choose to block someone on LinkedIn for other common reasons, including:
They are behaving in a rude, inappropriate, or offensive manner toward you or someone else.
They are using LinkedIn for purposes other than professional networking, such as dating.
They are misrepresenting themselves—or their profile is actually just a bot.
They spam you with messages or won't stop pitching their product or service to you.
They are a personal contact, not a business connection, and you don't care to be in touch with them in this or any capacity.
They repeatedly ask you for favors, such as endorsements, when you're unfamiliar with their work or don't want to vouch for them.
Again, if someone is just giving you a weird vibe, that could serve as reason enough to block him or her. Perhaps you feel uncomfortable or don't have a good feeling about the connection. Maybe she's posted something that upsets you. Go with your gut.
It may not be necessary to block someone completely; you might consider just removing her as a connection, assuming she hasn't outright offended you or exhibited truly reprehensible and unprofessional behavior. As with blocking, a connection will not be alerted to the fact that you've removed her. However, if any kind of harassment continues after you've removed her as a connection, it may be time to take more drastic steps.
How long does a LinkedIn block last?
A LinkedIn block will last as long as you want it to. That can be forever. If you decide to reconnect with a user, however, you'll have to wait at least 48 hours from the time of blocking her to reestablish your connection.
To view a list of members you've blocked, follow these steps:
Click on the "Me" icon in the top right corner.
Click the Privacy tab in the top horizontal bar (second after account).
Go to Blocking and Hiding in the menu at the left.
Click Blocking to see your list.
To unblock a LinkedIn user, follow the steps to see your list of blocked users, and click the Unblock button next to the name of the person on your list.
How do you hide your connections on LinkedIn?
Perhaps you don't want others to be able to see your other connections on LinkedIn. This might be because you're looking for a job and don't want your current manager or colleagues to see that you're connected to prospective employers, you want to respect the confidentiality of clients, or you're simply looking to maintain your privacy.