2017 certainty put us through the ringer. And even though it feels like it was a year of unprecedented uncertainty and challenges, a quick look back at history tells us this isn't the first time women have been put to the test. From Coco Chanel to Tracee Ellis Ross, each woman below is a testament to the phrase, "Where there's a will, there's a way."
With courage, strength, love and a bit of ingenuity, these women overcame life's challenges to transform our culture and the world. Get ready to print out these motivational quotes and inspirational quotes so you can put them on your mirror to serve as daily affirmations of your strength and greatness.
2018, we're coming for you! Here are some strong women quotes that can help you become the happy woman, the strong woman and the
independent woman
that you want to be. Don't worry, you wonderful woman, you've got this!
1. "The most courageous act is still to think for yourself. Aloud." - Coco Chanel
What you probably already know about Gabrielle Bonheur "Coco" Chanel is that she launched one of the most coveted fashion brands in the world. What you probably don't know is that she found the strength growing up in an orphanage to get there. She is credited with several notable firsts in the fashion industry, including liberating women from the constricting fashion of the time (hello Chanel suits, instead of corsets!) and was also the first designer to put her own name on a bottle of perfume (Chanel No. 5). Norms or precedent didn't define or limit her. She thought for herself – aloud. How's that for an inspiring quote?
2. "It's one of the greatest gifts you can give yourself, to forgive. Forgive everybody." - Maya Angelou
Maya Angelou's poems are tremendous — but it's her longer autobiographical works that truly showcase her courage and how strong this brilliant woman truly was. Her seven autobiographies, beginning with "I Know Why The Caged Bird Sings," reveal her commitment to authenticity and vulnerability — the hallmarks of true strength. Angelou overcame trauma to become one of America's most treasured and prolific creators. She teaches us one of life's greatest lessons: that forgiveness isn't something you exclusively offer to others — it is the greatest gift that people can give themselves.
3. "When I'm hungry, I eat. When I'm thirsty, I drink. When I feel like saying something, I say it." - Madonna
Madonna needs no introduction. She has epitomized strength and
ambition
since the day she made her first TV appearance on "American Bandstand" in 1984, where she prophetically told Dick Clark that her dream was "to rule the world." Despite incredibly humble beginnings, including losing her mother at a young age and moving to NYC to pursue her dream of becoming a dancer with only $35 in her pocket, she certainly has ruled the pop music world and beyond.
Madonna is clearly inspirational; she's an independent woman and a woman of strength. But it's this quote that is perhaps the simple secret to her success: she listens to her needs and honors them. In turn, she's captured our attention for four decades and counting (with no signs of stopping in sight).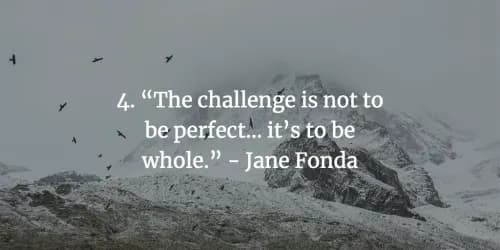 Jane Fonda has worn many hats — from broadway, TV and film actor to activist to fitness guru. Now in her self-proclaimed "third act," she is candidly sharing about overcoming her quest for perfection to achieve the ultimate strength a woman can possess: wholeness. And her inspirational quote for womankind reflects that.
For Fonda, wholeness has a dual meaning: first, in being whole without being defined by a partner (a realization she achieved after splitting from her husband, Ted Turner) and second, in accepting and loving your body (an important shift, as she struggled with an eating disorder for decades). When we relinquish the need for perfectionism and instead see ourselves through a lens of gratitude, our strength is amplified.
5. "I've been absolutely terrified every moment of my life — and I've never let it keep me from doing a single thing I wanted to do." - Georgia O'Keeffe
Georgia O'Keeffe is regarded as one of the most
successful
female artists — ever. Her work is so audacious and brave it's hard to imagine her being fearful at all, let alone all the time. A closer look at her life reveals many events that would have debilitated another. From financial hardships to mental and physical illness, O'Keeffe remained steadfast in her commitment to her art — a commitment she made at ten-years-old when she decided to become an artist.
Even if she took time away from painting, she always returned to it. Even when she lost her eyesight and could no longer paint, she turned to pottery as her new form of self-expression. The most powerful aspect of this statement is that it doesn't promote fearlessness. She promotes perseverance despite fear. That is the epitome of true strength and the best
motivation
you can offer yourself.
6. "The willingness to accept responsibility for one's own life is the source from which self-respect springs… to free us from the expectations of others, to give us back to ourselves — there lies the great, the singular power of self-respect." - Joan Didion
Joan Didion, an esteemed American journalist and writer, wrote this quote in her piece for
Vogue
, "Self-respect, its source, its power," in 1961. The story behind the piece reveals so much about the woman who wrote it. Although she was in her early twenties and fresh out of college, Joan managed to craft a perfect essay on self-respect (down to a specific word, line and character count), when the magazine's original writer failed to deliver and the piece was set to hit press.
Self-respect is one of her defining characteristics, and perhaps why she was able to transform the tragedies she endured later in her life into two of the most exquisitely evocative memoirs you'll ever read, "The Year of Magical Thinking" and "Blue Nights." When we take responsibility for ourselves, we fuel self-respect and in turn, empower ourselves. The first step to getting there is to work on
self-reflection
— which is definitely on the to-do list for 2018.
7. "Women speaking up for themselves and for those around them is the strongest force we have to change the world." - Melinda Gates
Melinda Gates is the co-founder of the
Bill & Melinda Gates Foundation
, and simply put, she takes philanthropy to the next level. Whereas many who reach her level of financial success are content cementing their legacies by putting their names on buildings, this
aspirational
leader's current goals are grander: to unlock the potential of women and girls everywhere. After nearly 20 years of leading the Gates Foundation, which is dedicated to eradicating poverty and global health problems, Melinda has narrowed her focus to women and girls specifically because she believes it's the best investment to fight poverty. So let's speak up: the future depends on it.
Actor Tracee Ellis Ross is increasingly becoming a muse and role model for women everywhere. At this year's
Glamour
Women of the Year Summit, Ross shared an intimate,
passionate
speech about her life as a single 45-year-old woman without kids. Despite her success, Ross shared that for many, she is not perceived as enough or whole. She adopted this mantra, "My life as mine," as a means for reclaiming herself, and putting herself first, without apology.
She continued in the speech to explain what it means to put yourself first as, "Speaking up, sleeping with who we want, eating what our bodies intuitively tell us to eat, wearing training bras instead of push-up bras." When you start thinking of your life as your own, then the world truly does become your oyster. If you don't believe me, simply take a look at her Tracee's
Instagram
.
Here are 27 more quotes on being a strong woman.
9. "
Women, like men, should try to do the impossible. And when they fail, their failure should be a challenge to others." — Amelia Earhart
10. "A woman is the full circle. Within her is the power to create, nurture and transform." — Diane Mariechild
11. "Woman must not accept; she must challenge. She must not be awed by that which has been built up around her; she must reverence that woman in her which struggles for expression." — Margaret Sanger
12. "Women's empowerment is intertwined with respect for human rights." — Mahnaz Afkhami
13. "The empowered woman is powerful beyond measure and beautiful beyond description." — Steve Maraboli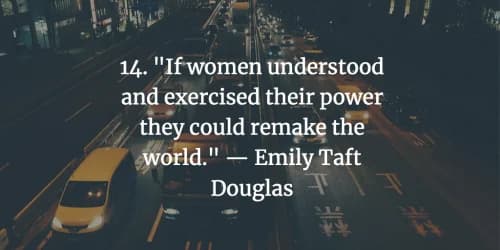 15. "When women participate in the economy, everyone benefits." — Hillary Clinton
16. "A woman is like a tea bag — you never know how strong she is until she gets in hot water." — Eleanor Roosevelt
17. "We need women at all levels, including the top, to change the dynamic, reshape the conversation, to make sure women's voices are heard and heeded, not overlooked and ignored." — Sheryl Sandberg
18. "Women are the real architects of society." — Harriet Beecher Stowe
19. "Women are the largest untapped reservoir of talent in the world." — Hillary Clinton
20. "I hope the fathers and mothers of little girls will look at them and say 'yes, women can.'" — Dilma Roussete
21. "Women are not the problem. They're the solution." — Sheryl Wudunn
22. "Don't just stand for the success of other women — insist on it." — Gail Blanke
23. "Gender equality will only be reached if we are able to empower women." — Michelle Bachelet
24. "Any woman who understands the problems of running a home will be nearer to understanding the problems of running a country." — Margaret Thatcher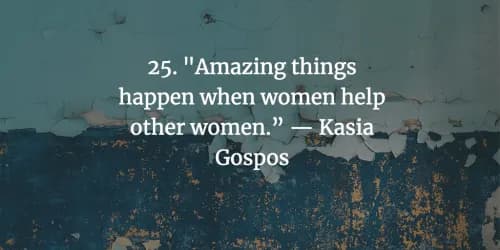 26. "Women who seek to be equal with men lack ambition." — Marilyn Monroe
27. "The day will come when men will recognize woman as his peer, not only at the fireside, but in councils of the nation. Then, and not until then, will there be the perfect comradeship, the ideal union between the sexes that shall result in the highest development of the race." — Susan B. Anthony
28. "A strong woman understands that the gifts such as logic, decisiveness, and strength are just as feminine as intuition and emotional connection. She values and uses all of her gifts." — Nancy Rathburn
29. "A strong woman builds her own world. She is one who is wise enough to know that it will attract the man she will gladly share it with" — Ellen J. Barrier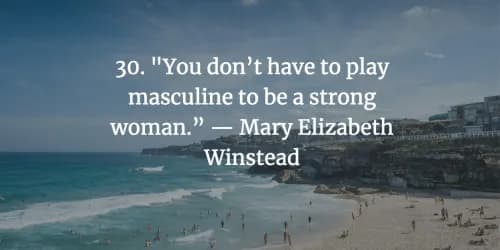 31. "Women are never stronger than when they arm themselves with their weaknesses." — Madame Marie du Deffand
32. "The king may rule the kingdom, but it's the queen who moves the board." — D.M. Timney
33. "Whatever women do they must do twice as well as men to be thought half as good. Luckily, this is not difficult." — Charlotte Whitton
34. "We still live in a world in which a significant fraction of people, including women, believe that a woman belongs and wants to belong exclusively in the home." — Rosalyn Sussman
35. "The best protection any woman can have … is courage" — Elizabeth Cady Stanton
Now that you've got your Woman Crush Wednesdays set for the first couple months of the year, ask yourself: how can you be your own hero in 2018?
--
Melody Godfred is the founder of
Fred and Far, A Self Love Movement
, and creator of The Self Love Pinky Ring. She is passionate about empowering women to choose themselves and commit to practicing self-love and self-care on a daily basis. Melody is also the founder of
Write In Color
, Los Angeles' leading resume writing service. Her career advice has been featured on Forbes, Inc. and The Muse. Connect with her directly on instagram
@fredandfar
.