We all know what social media is
—
Twitter, Facebook, Snapchat, even Instagram. These platforms give us a way to interact with friends and peers. We can share our feelings, discuss hot-button issues, and show off our personalities to the world.
LinkedIn is another social media network that can be used to show off another side of yourself to the world
—
your professional self.
What is LinkedIn?
LinkedIn is the world's largest online professional social networking site.
LinkedIn
has over 500 million users spanning over 200 countries in every profession, job title and industry imaginable. With its vast reach and search functionality, LinkedIn has revolutionized how we make and maintain networking connections; how we look for employment; how we find business opportunities; how recruiters and employers recruit talent; and how we stay connected with professional contacts even as they move on to new roles in their careers.
If you are a job seeker or you're looking to expand your social network and increase your visibility, develop your personal brand, and enhance your professional opportunities, then setting up a LinkedIn profile is a must.
How do people use LinkedIn?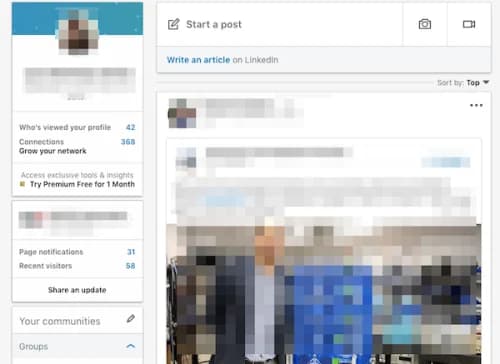 Despite the social nature of LinkedIn, it is very different than other social media networks like Facebook or Twitter. Given the professional purpose of the site, as a networker, you are expected to maintain a higher level of professionalism and formality in how you present yourself to a potential employer and how you interact with others. You can use LinkedIn for a myriad of professional purposes, including:
• To Grow Your Network
The top reason most people join LinkedIn is for the opportunity to
network
. A seasoned networker, as well as a novice, can leverage and maintain several professional networks on the site. While networking on LinkedIn does not replace the genuine connection that can be made in face-to-face interaction, it can be more efficient. LinkedIn's functionality provides a couple of methods to help users connect with other members:
Search Profiles
LinkedIn provides more targeted opportunities to connect with other professionals than the randomness of networking events. Your ability to search for and review someone's profile - which in many ways mirrors a resume - puts a ton of background information about an individual's work history, skills, schooling, and interests at your fingertips.
Discover Degrees of Separation
LinkedIn allows you to see how you may be connected to an individual outside of your network. This feature can help you to see how many connections you have in common and how many degrees of separation there are between you and another individual.
In other words, LinkedIn will allow you to see whether someone has a direct online connection to someone else or whether they have connections in common. Determining how many degrees there are between you and someone you would like to add to your network can help you identify someone who may potentially be able to facilitate an introduction.
• To Create Opportunities
Networking has always been important because of the potential it provides to create lucrative employment and business opportunities. LinkedIn offers employment postings and search features that can facilitate a job search as well as business ventures.
Job Search
If you are looking for employment, LinkedIn should be at the heart of your job search. At the most basic level, LinkedIn allows you to research a prospective employer and to create a visible online resume that highlights your skills, credentials and work experience (in essence, your personal brand). It also allows you to include recommendations and endorsements from colleagues and/or former colleagues.
At the most advanced level, LinkedIn allows you to conduct a powerful job search by utilizing keywords, leveraging your connections, recommendations, and endorsements, and researching potential employers. Not to mention that today most recruiters use LinkedIn to find new talent.
Business Ventures
If you are an entrepreneur or delving into the "gig economy", LinkedIn provides several options to help you market your businesses and / or services including buying targeted ads and publishing strategic content. LinkedIn also offers tools to help you track your reach and engagement.
• To Build a Platform
If you're passionate about an issue or have a message that you want to share with the world, developing a platform is a great way to become an influencer. LinkedIn has a couple of tools that can facilitate platform building.
Status Updates
Posting regular status updates or curating content pertaining to an interest that you are passionate about is a great way to build a platform on LinkedIn. The more consistent you are, the more likely others will be to identify you with your interest.
LinkedIn has a blogging feature that allows you to share articles that you have written. This is a great way to demonstrate thought leadership. This can be particularly helpful if you are looking to transition to a new industry because it is a tangible demonstration of your interest / passion / commitment to the new field.
• To Find Your Tribe
Finding others who share your business interests and / or who are working in your industry is a great way to build your professional community. LinkedIn's user interface is all about finding the members of your tribe.
Join or create a group
LinkedIn offers various professional networks and groups who share interests and affiliations. For example, you can join your alma mater's group or create a group for individuals who share your expertise in corporate philanthropy. Joining an established group is not only a great way to connect with others who share similar interests, but it also creates an online connection point between someone you may want to meet, but might not already be in your established network.
Comment on posts
In addition to connecting with others, LinkedIn Groups provide a great space for you to learn about topics or share your expertise. Groups are also great for seeking or giving advice. The more you post and comment in group forums, the more likely you are to make more meaningful networking connections.
• To Follow the Leaders
LinkedIn is a hub for trendsetters and industry influencers – companies and individuals who are transforming industries and making a mark on the world. LinkedIn provides these companies and individuals with platforms to share their messages.
Companies
Thousands of companies and brands can be found on LinkedIn. Most maintain profiles that are updated on a regular basis with company news, market research, leadership transitions and much more. This is the type of information that is key for a job seeker or even someone doing competitive analysis.
Individuals
LinkedIn dubs individuals who are visionaries, successful in their fields and who inspire others with a coveted "Influencer" badge on their profiles. Influencers are provided with a platform on LinkedIn where they can share frequent status updates, blog posts, and videos. As a LinkedIn user, you can follow these thought leaders who are transforming the way people live and work.
Getting Started on LinkedIn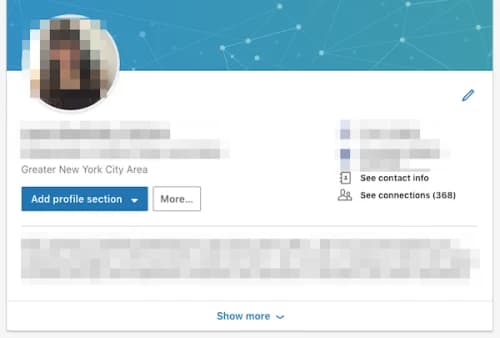 As you can see, LinkedIn is a powerful online tool that can enhance your professional reputation and open doors to new opportunities. Therefore, just like with face-to-face networking, first impressions are important on LinkedIn. Your profile is the first impression a recruiter or networking contact will have of you. Since you only get one chance to make a first impression, here are five tips to get you started on LinkedIn.
1) Choose the Right Profile Photo
Display a quality photo on your profile. Your photo will add a personal touch to your profile. Make sure your photo is clear and a good professional representation of you. If you don't have a good quality photo of yourself, leave that area on your profile blank until you get one. The blurry cropped photo of you at your family picnic last summer won't cut it. The photo you select will speak volumes about the care you put into your professional presentation. Therefore, put your best foot forward and display a quality professional looking photo.
2) Craft a Headline
Include a headline in your profile that captures your expertise. Stay away from using your job title or function. Rather, create a headline that states your value proposition, your unique brand value and what you bring to the table.
3) Include Your Professional Experience
The descriptions you provide in your professional background will help to establish your credibility. Therefore, you should be extra mindful about the information you provide. Be sure to include more than your job descriptions; include your professional accomplishments. Did you increase your company's market share by 25%? Did you improve employee retention by 15%? Did you develop and implement a new system that increased efficiency? Here is your opportunity to showcase what you have achieved. This information will help others determine whether they will want to add you to their network or not.
4) Solicit Recommendations
Aim to get at least one reference or recommendation for each of your professional positions. But don't just aim for references from your colleagues; get references from your supervisors and high-level clients who can attest to the quality of your work. This type of reference will speak volumes on your behalf and increase your stock as a professional contact.
5) Include Multimedia
In this age of Instagram and Facebook Live, people expect to see a more personal side of the individuals they connect with online. While you should keep in mind the professional tone of LinkedIn as compared to other social media tools, adding video presentations or slide shares can provide an added touch of personality to your overall profile.
These five items will strengthen your credibility and enhance the first impression you
make on a potential contact. Not only will you see an increase in the number of individuals who will want to connect with you, but you will see a marked improvement in quality of the person who will want to connect with you.
Is LinkedIn free?
Yes! You can create an account and start growing your professional network using LinkedIn for free. But there are upgraded plans that you can pay for to get access to additional special features. This is called LinkedIn Premium.
What is LinkedIn Premium?
LinkedIn Premium is the paid version of LinkedIn, and there are many different tiers. Job seekers and recruiters find LinkedIn Premium exceptionally helpful throughout the job application process.
With a paid account, you can send inMail directly to another LinkedIn user without an introduction, you can perform more searches, and you can access more information about people who have searched for you and looked at your profile.
Prices for the paid version start at $29.95 a month. But if you're just starting out and aren't using LinkedIn specifically for extensive business purchases, a free account will give you access to everything you need.
Shape Your Future
Pivotal moments in our careers are shaped by the choices we make, the lessons we learn, the risks we take, and the individuals we meet. When used strategically, LinkedIn can be an important vehicle in opening doors that can help you to shape your future.
--
Ellie Nieves, JD, MBA, develops webinars, seminars, and coaching programs to help women show up, speak up, and step up in their careers and personal lives. She is also the host of the Leadership Strategies for Women Podcast where she shares success tips to help women achieve more both personally and professionally. To learn more, go to: www.EllieNieves.com.