"Sports Illustrated" model, "Lip Sync Battle" co-host, and undisputed Queen of Twitter Chrissy Teigen also claims the title of mom to her two adorable children with John Legend, 2-year-old Luna and 2-month-old Miles. Teigen never shies away from keeping it real on social media and in interviews, and that attitude definitely extends to her motherhood experience.
Because she got right back to work shortly after the births of both her kids (and because she's a major social-media maven), she's written numerous tweets about her experience, and about motherhood in general. By revealing her (often hilarious) reactions to judgmental "mommy bloggers," the difficulties of getting into work mode after taking time off for parental leave, and the double standards applied to working moms and working dads, Teigen makes new parents around the world feel seen.
Here are a few especially clever examples.
1. When, while planning her return to her professional life after daughter Luna's birth, Chrissy took on the "sancti-mommies" of the world.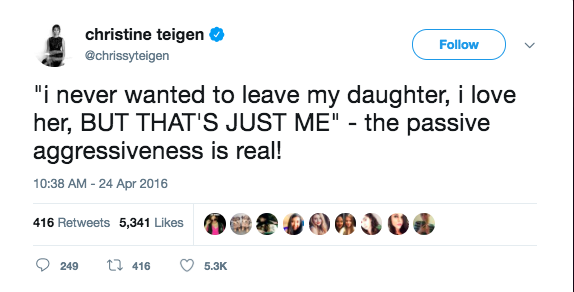 2. When she took a moment to consider how motherhood has changed the pace of her very outwardly glamorous professional life.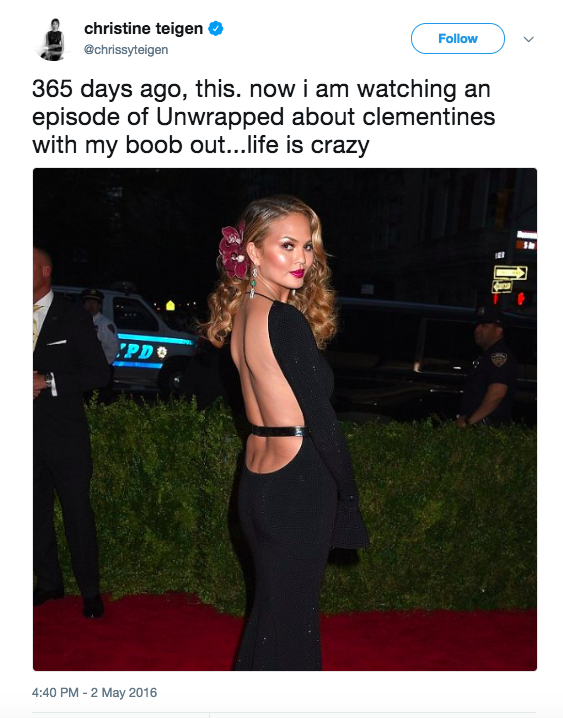 3. At the end of a long day, when she sent a tweet asking for support from the mom community (in her typically funny and quick-witted way, of course).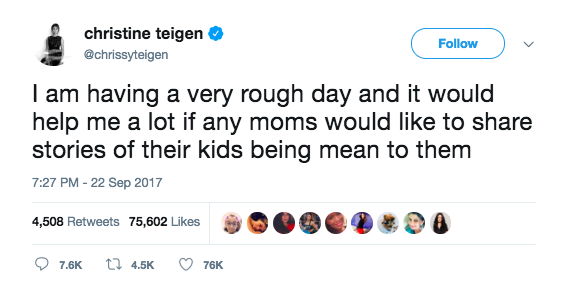 4. When, shortly after the birth of son Miles, she caught a glimpse of husband John on TV — and pointed out the perceived difference between dads who return to work right after a birth and moms who do the same.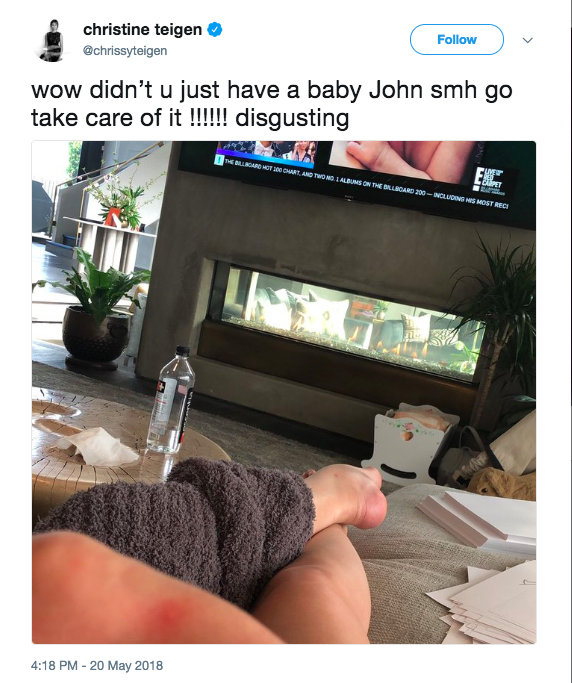 5. And, when in an interview with Yahoo! Style, she totally acknowledged her privilege and gave a shout-out to all the people who help her balance being a mom and being a working professional.
"Having help. My mom lives with us. I have hair and makeup people. I'm not getting up and doing all this by myself. If I'm not being done for something, I'm not going anywhere. A lot of hands go into it. We have help. It's important for people to know that. I have the utmost respect for mothers and single mothers who go to work and come home and make dinner. I do all these things because I have help. Luna goes down at 6:30 and has a nurse watch her, and I can cook dinner," Teigen told Yahoo!.