10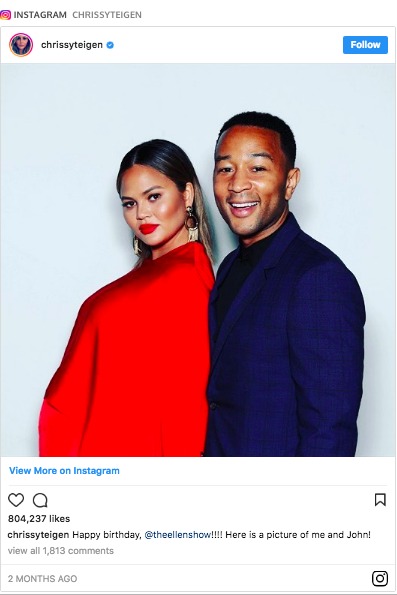 Source: Instagram
Whether or not you changed your last name or kept your own when you got married is a personal decision, but believe it or not, there are still people who are puzzled by the idea that some women wouldn't want to be a Mrs.
Case in point: A Twitter user who goes by the handle @_MercyFul and describes herself as the "lead vocalist for Destiny's Aunties." She told her Twitter followers, "I'd really like to hear the reasoning behind women who won't take their husband's last name."
Although she initially posted the query in August 2017, the tweet began to pick up steam in the past week, receiving over 1k retweets and thousands of witty replies, including some from model Chrissy Teigen, mom to Luna, 1, and expecting her second in June.
Though Chrissy is married to singer John Legend, she hasn't changed her last name. Her reply: "My husband didn't even take his last name?"
She's slyly pointing to the fact that Legend is her husband's stage name, not his actual last name. (It's Stephens, by the way.) Hours later, she also tweeted, "You'll never understand the simple reason of 'because I don't want to?'"

Source: Twitter

Source: Twitter
Leave it to Chrissy to respond so simply and hilariously.
Chrissy clarified her reply in a third post, revealing she isn't against women taking their husband's last name and was going to take John's surname, but "just never got around to it." She also said, "It wasn't some grand statement not to. I just don't see how the choice affects anyone else—why do people care so much?"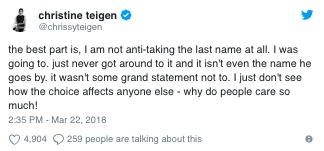 Source: Twitter