Warner Bros
. and
Time Warner
Inc.'s
Ocean's 8
topped the box office during its Friday-through-Suday debut weekend with $41.6 million — that's the biggest weekend gross ever for the
Ocean's
franchise. In the all-female spin-off, Debbie Ocean devises the biggest heist of her life: obtaining a necklace worth more than $150 million. She and her partner in crime, Lou Miller, recruit a crew of specialists, including jeweler Amita, street con Constance, suburban mom Tammy, hacker Nine Ball and fashion designer Rose, to get the job done.
"The heist movie has proven, once again, that movies for, by and starring women are not box office poison,"
writes Forbes contributor Scott Mendelson
. "You'd think we'd be well past having this conversation, but we're not. Even in the 11 years after Warner Bros. president Jeff Robinov was accused of declaring that he didn't want to make any more female-fronted movies following the failures of Hilary Swank's
The Reaping
, Nicole Kidman's
The Invasion
and Jodie Foster's
The Brave One
(a charge he denied, although the ensuing controversy brought this disparity back to the forefront as a topic of cultural discussion),
we're still having this conversation despite counterexample after counterexample."
Nonetheless, however, film critics flooded the internet with conflicting reviews. That said, some are calling out white male critics for misunderstanding the film and giving it negative reviews. In fact, a new study released just last week detailed the gender and racial breakdown of film
criticism
for the top 100 movies of 2017. And the
USC Annenberg Inclusion Initiative's findings
suggest that the majority of those reviewing these films are white males — specifically, 80 percent were men and 82 percent white.
Speaking to
Yahoo
Movies, Mindy Kaling called the dominance of white male reviewers "unfair." "If I had to base my career on what white men wanted I would be very unsuccessful, so there is obviously an audience out there who want to watch things like [
Ocean's 8
], what I work on, what Sarah [Paulson] works on," she said. "And the thing about so much of what this movie is, I think white men, critics would enjoy it, would enjoy my work, but often I think there is a critic who will damn it in a way because they don't understand it, because they come at it at a different point of view, and they're so powerful, Rotten Tomatoes."
Ocean's 8
scored just a 66 percent on
Rotten Tomatoes
, garnering 76 rotten reviews of the 224 total thus far. "The only reason to see this film is Hathaway...You'd say she steals the show, but there's nothing to steal," one person commented. Another wrote, "It just didn't feel as engaging as it could have been, given the actresses you have delivering the lines."
Despite the negative comments, however, the spin-off has thus far avoided the backlash that met Paul Feig's gender-flipped Ghostbusters film two years ago. Its debut weekend box office gains were fueled by an audience that was 69 percent female, many of whom took to
Twitter
to rave about the intersectional
feminism
displayed in the film.
Ocean's 8
brings together women of varying races, ages and sexualities in the ultimate girl gang. Here are 10 tweets that describe why the
feminist film
's intersectionality resonates so well with the viewers who've picked up what it's putting down (i.e. not so much the white men).
1. Pant suits: Enough said.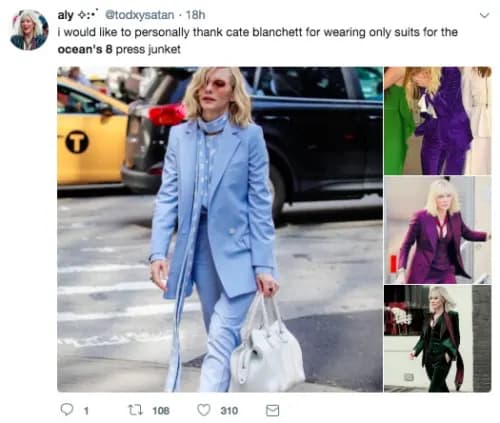 Source: Twitter
2. It's an all-female film, for once with lesbians.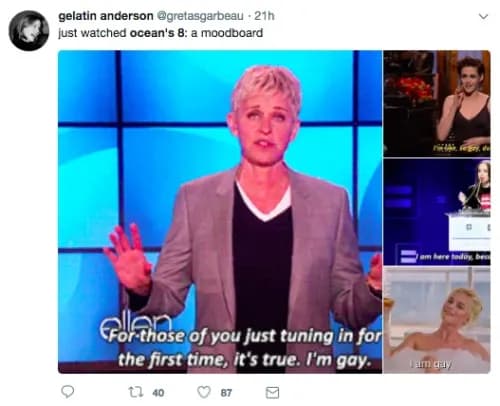 Source: Twitter
3. The women are totally themselves.

Source: Twitter
4. It proves that women are not box office poison.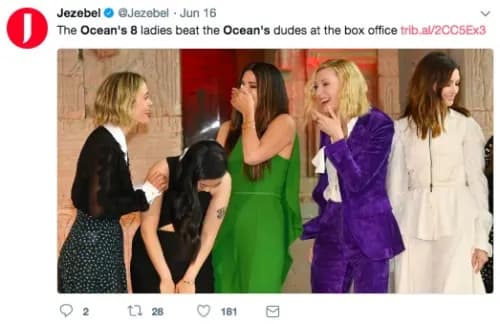 Source: Twitter
5. It embraces sexuality.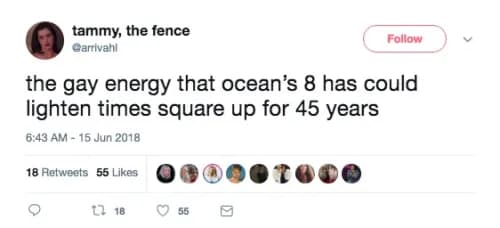 Source: Twitter
6. It touts women's brains over their beauty.
Source: Twitter
7. ...While still appreciating their impeccable style.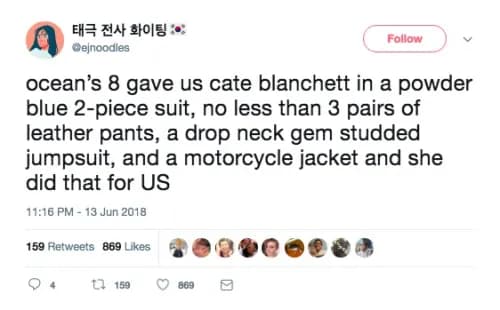 Source: Twitter
8. Even the press tour brought the world together.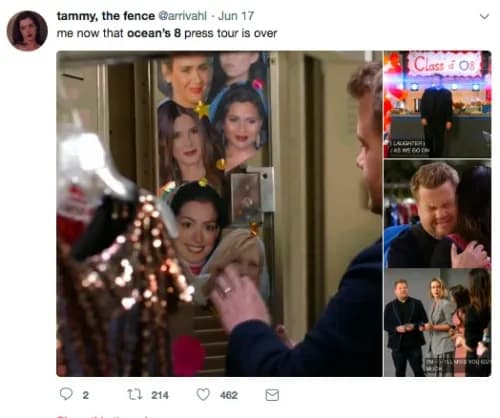 Source: Twitter
9. It's a reflection of how powerful women are.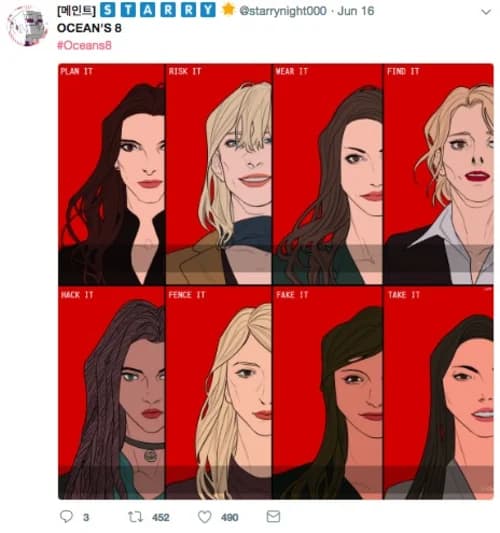 Source: Twitter
10. It brings iconic actresses together.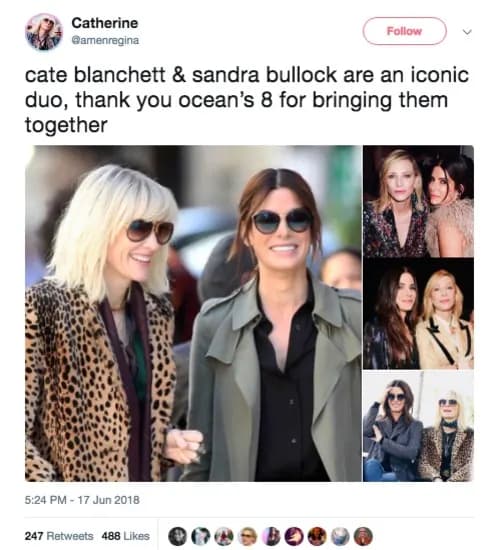 Source: Twitter
--
AnnaMarie Houlis is a multimedia journalist and an adventure aficionado with a keen cultural curiosity and an affinity for solo travel. She's an editor by day and a travel blogger at HerReport.org by night.