Writing a resume takes a lot of time and effort. You have to figure out how to put all of your work experiences and hard and
soft skills
into coherent, concise words that all fit onto one single page and convey to
hiring managers
why you're the best candidate for the job. At times, that can feel like an impossible feat.
You also have to tailor and tweak your resume for specific jobs if you're applying to different types of jobs or industries. This can take even more time.
What can smooth out and streamline the whole process, however, is using a resume template. With a
blank resume template
, all you have to do is fill out the blanks with your experiences and skills. This saves you a whole lot of time organizing and designing your resume to get it all to fit (and still read well!) on one page.
But where do you find blank
resume templates
? Fortunately for you, there are tons of blank resume templates online from which to choose. Here are 15 free blank resume templates that will make creating one
much
easier the next time you do it.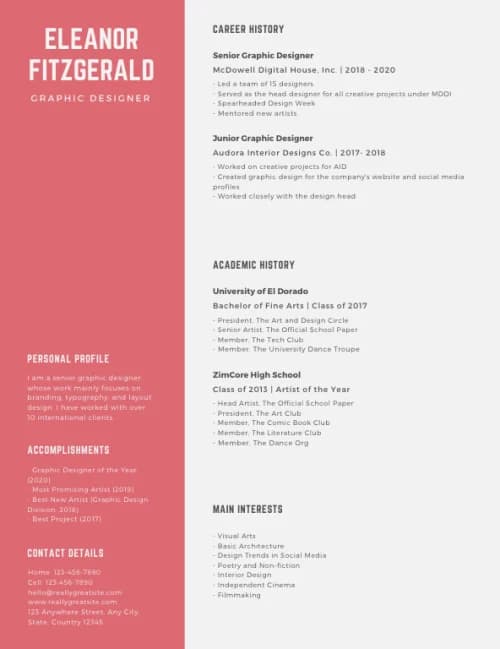 Canva's Red Graphic Design template is perfect for, of course, graphic designers, as well as anyone else who works in the creative field! The splash of color blocking adds a
clean creative flair to the resume
.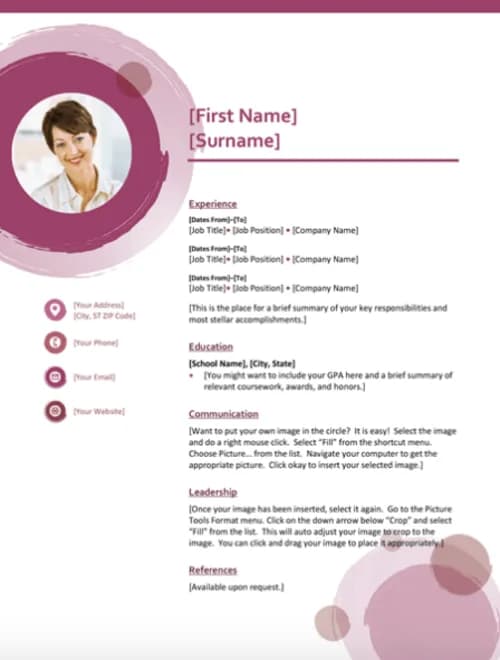 If you work in a creative industry, make your resume stand out with Microsoft Word's Rose Suite template. It's certainly eye-catching, and yet it's simple and clean, so the design won't distract from your experiences or skills.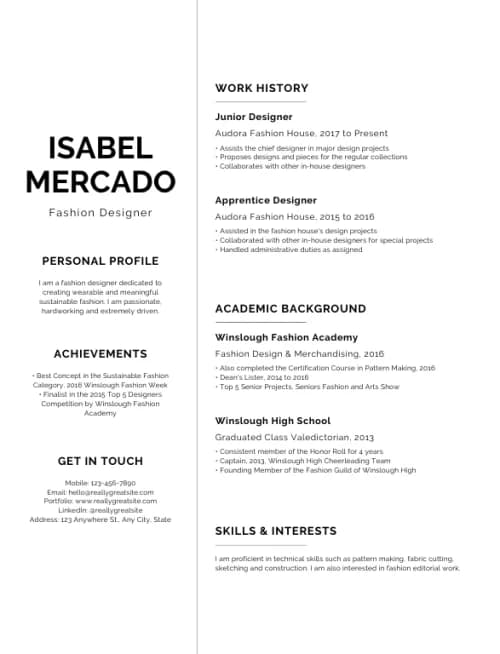 Canva's White and Black, Sleek Resume template is an ideal minimalist option for any type of professional looking to create a stand-out resume. Hiring managers won't forget your name in big, bold letters. And they'll be able to see your work history, academic experience, skills and achievements all on one easy-to-read page.
Microsoft Word's
Chronological resume
template lists an objective up top, for those who are insistent on having one, and experiences with job titles. This resume is listed in chronological order, which makes it easy to follow — it's great for someone who has a lot of job titles and experiences to list.
Google Doc's Coral resume template is simple but adds a pop of color to give it some
personality
! You can easily list all of your experiences with bullet points to describe your job roles, as well as your education and any awards you've received.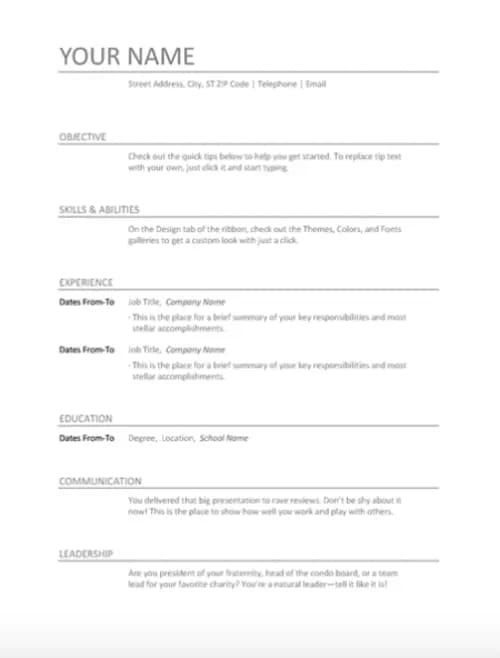 Microsoft Word's Minimalist resume template is as simple as it gets for the super minimalist. Fill in your name in bold, capital letters on the top, followed by your contact information. The resume then leaves room for an objective, your skills and abilities, your experiences listed in chronological order (with bullets for your role descriptions!), your education, anything you're super proud of that you want to communicate, as well as your
leadership
experiences.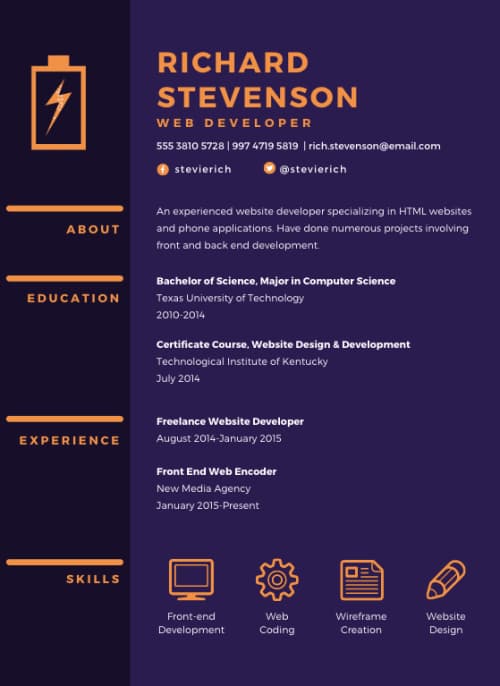 Canva's Purple Web Developer resume template may be created for web developers, but it's a great free template you can rearrange and tweak even if you're not a developer. The icons at the bottom of the resume template can be replaced for others, and it's an eye-catching design that's sure to garner attention.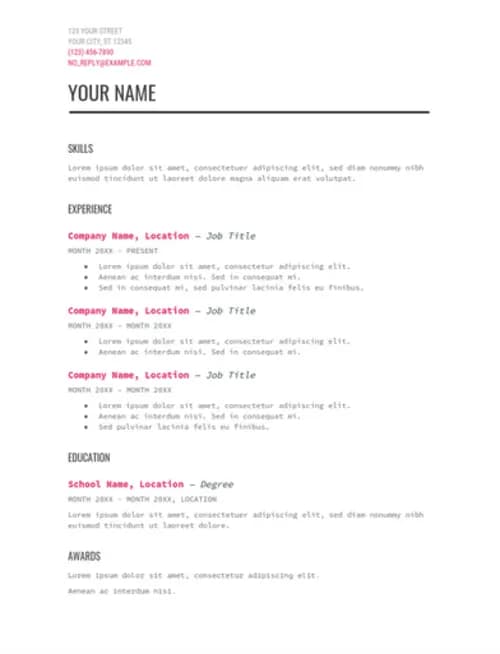 Google Doc's Modern Writer resume template is super simple for the modern professional who wants to send off a concise, well-
organized
resume. It starts with your skills and then experiences, and it leaves room for your education and awards, as well.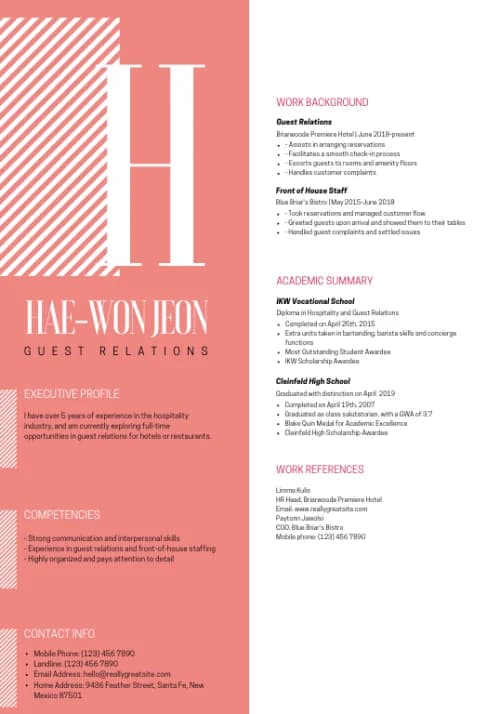 Canva's Corporate Concierge resume is stunning! If you want a resume that's super pleasing to the eye without too much glitz and glam, this is the one for you. Easily change the color scheme, but keep the bulk of the content the same: your executive profile, your competencies and your contact info fall under your name and title, and your work background, academic summary and work
references
sit on the right side of the page.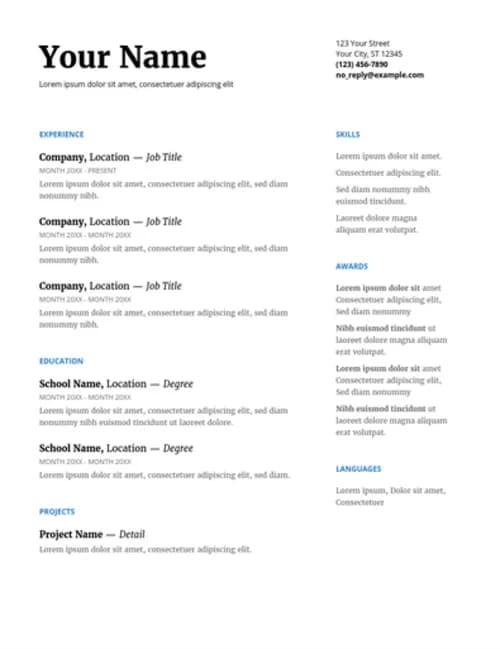 Google Doc's Serif resume template leaves ample room for the professional with a ton of experiences (or lengthier
job description
s to write!), as well as for the professional with projects to highlight. That's because it puts your skills, awards and languages in a sidebar, leaving space for experiences and a dedicated projects section.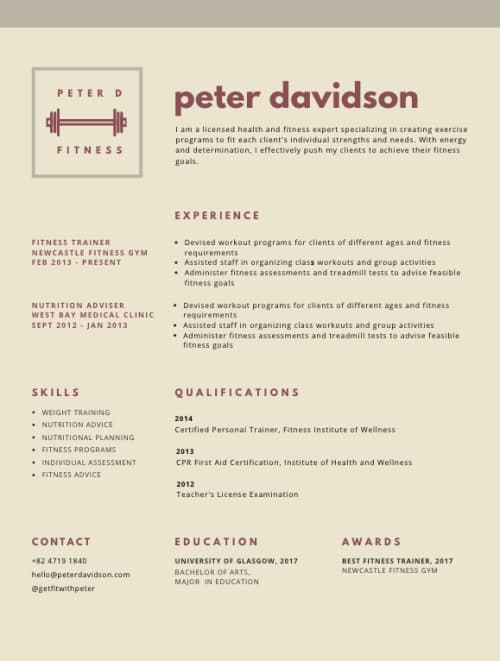 Canva's Bordered Fitness Trainer resume is designed for fitness trainers but, again, anyone can fuss with this free template and make it their own! The icon in the corner says so much without words, for example. You can even include a statement about yourself up top just below your bolded name. This is an especially good template for any kind of professional with a lot of certifications, as there's a dedicated section for qualifications.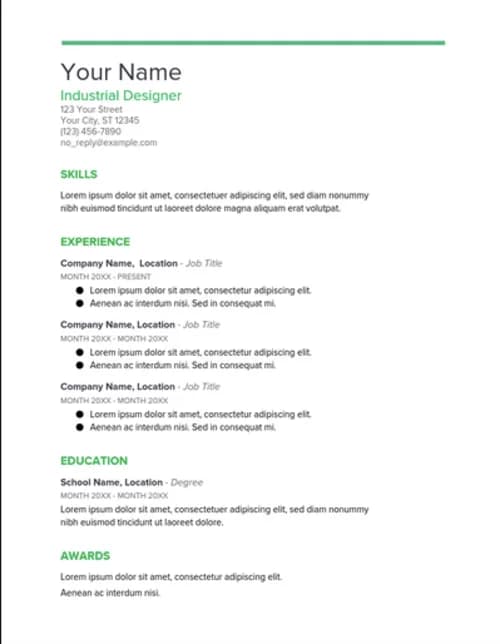 Google Doc's Spearmint resume template is for the minimalist who wants to add a pop of color. While this template is pretty plain, it's a perfect way to emphasize your experiences, skills and any awards and recognitions. Let your work history speak for itself — without all the jazz!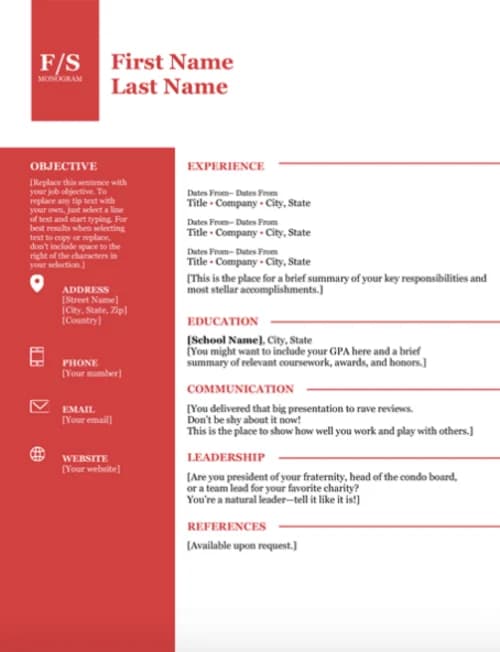 Who doesn't love a beautiful monogram? Send off an awesome resume after you've filled out this super simple template. Put your objective and contact information on the left sidebar, and take advantage of all the space for your experiences, education,
leadership roles
and references on the right side of the page.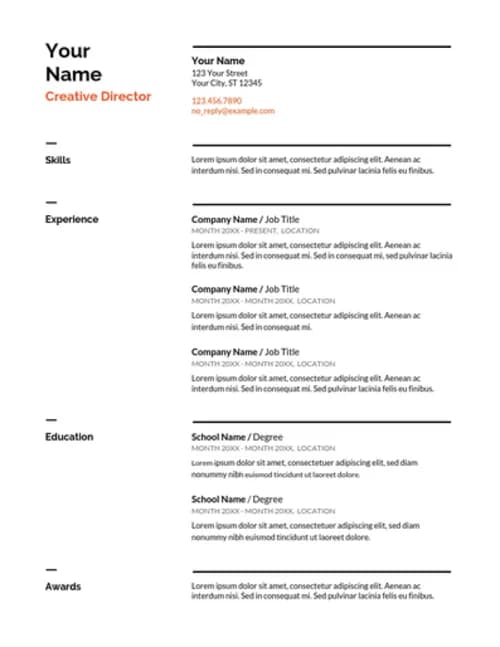 Google Doc's Swiss resume template is a solid option for those who want to keep things short and tight. It kicks off with your skills, followed by your experiences, education and any awards. All of the sections are clearly and cleaned outlined on the lefthand side of the page, so hiring managers will easily be able to follow it.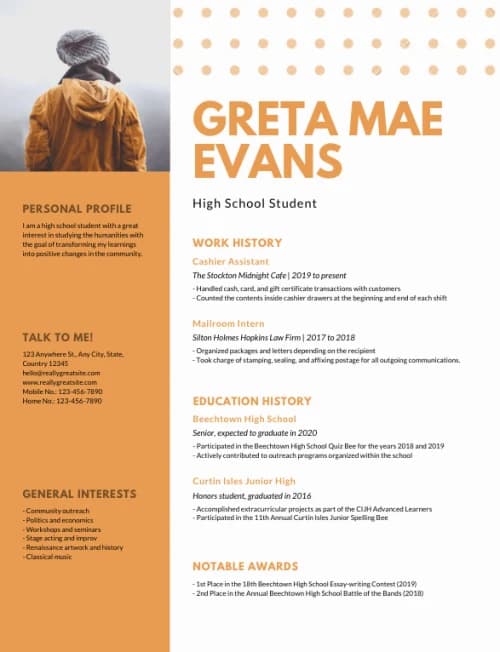 Canva's High School resume template is one of the best templates out there for high school students who want to create a resume with their high
school jobs
and education with ease. You can include a personal profile on the lefthand sidebar, just below your photo, where you can share a bit about yourself. And you can also include your general interests so that colleges, universities and hiring managers alike can all better understand the type of student and person you are! If you have any awards under your belt already, there's space for that, too.
--
AnnaMarie Houlis is a feminist, a freelance journalist and an adventure aficionado with an affinity for impulsive solo travel. She spends her days writing about women's empowerment from around the world. You can follow her work on her blog, HerReport.org, and follow her journeys on Instagram @her_report, Twitter @herreportand Facebook.