Fairygodboss held its inaugural
Galvanize Summit
on Nov. 1 and 2 with a specific objective in mind. The purpose of the sold-out event — which convened leaders and influencers from the Women's Resource Groups of over 50 major US corporations — was to identify ways to make these networks more effective in driving corporate gender diversity.
Attendees gathered in New York to collaborate with one another and to learn from a slate of inspiring speakers, among them
Accenture's CHRO Ellyn Shook
,
GE's Vice Chair Beth Comstock
, and Deborah Rosado Shaw, PepsiCo's SVP, Chief Global Diversity and Engagement. They also had the chance to hear from Fairygodboss Co-Founders Georgene Huang and Romy Newman, who spoke to
The New York Times
' Deputy Managing Editor Rebecca Blumenstein about how Fairygodboss came to be, how it's grown, and what its future may have in store.
"This is an amazing gathering — I can feel the energy in the room!" Blumstein said to the crowd. She probed Huang and Newman to offer insight on their experiences as entrepreneurs, moms, and as former leaders in more corporate environments.
Blumenstein asked Huang and Newman — both female leaders themselves with young kids at home — to shed light on "how they do it all."
Huang recalled that somebody recently asked her whether it was harder to be in corporate America with small kids [she and Newman had both been executives at
Dow Jones
] or to be an entrepreneur. "I think it was harder to be in corporate America," she said. "I wasn't a CEO at my last job, so I didn't get to make some of the same choices or have the same flexibility. I do think companies need to understand that people — whether or not they're parents — have a life outside of work that the need to tend to."
Newman wholeheartedly agreed. "I can take my kids to school every day," she explained. "At some companies, they'd understand this — but some wouldn't. And that 15 minutes can make a all the difference for some families."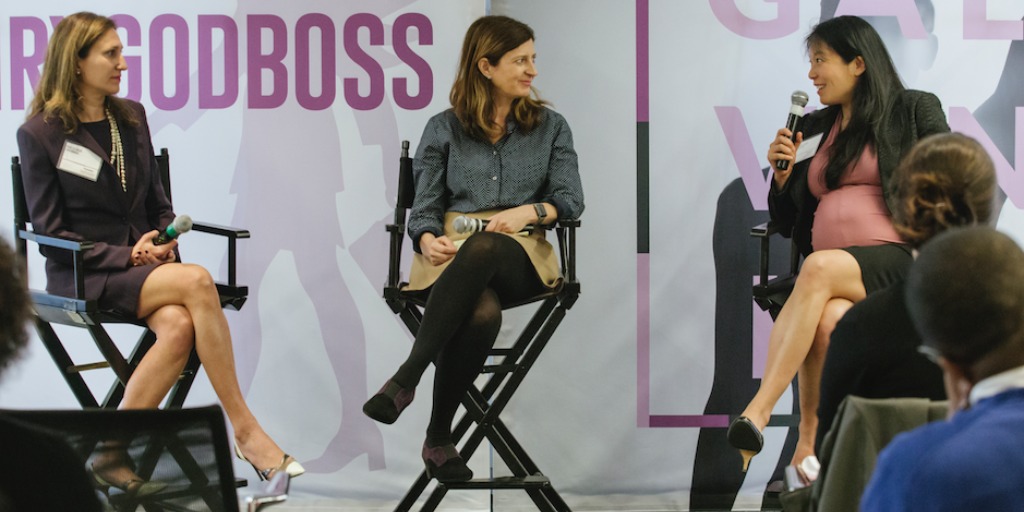 (From left to right: Romy Newman, Rebecca Blumenstein, and Georgene Huang. Photo: Krisanne Johnson)
Newman added that companies with more diversity perform better — so there's a real business case for employers to invest in improving gender equality. "Diversity becomes a side business, but smart companies will realize that it's fundamental to our day job and to making more money for shareholders. More financial pressure will certainly get us there."
What can companies actually do to get there? Huang and Newman cited Fairygodboss research that reveals a strong correlation between good parental leave and flexibility practices and employee satisfaction, and also stressed that companies need to get more women in leadership positions.
Huang also explained how and why the initial idea for Fairygodboss took shape: a few years ago, while she was just two months pregnant and hiding it, she was unexpectedly laid off during a management shakeup. While job searching, she was hoping to uncover information on how prospective companies treated women, what their parental leave and flexibility policies were like, and whether women were paid and promoted equally to men.
She turned to the internet for help, but had trouble finding answers — so she figured she'd crowdsource the information and build a database herself. "We have to tell the truth about our workplace experiences in order to move forward in reaching gender equality," Huang said, adding that "it means so much for women to hear directly from other women."
This space with content for women, by women also encourages women to speak up about topics that they might otherwise shy away from discussing. When Blumenstein asked about how women might be able to use Fairygodboss as a space to discuss sexual harassment issues — which, of course, have dominated headlines lately — Newman explained reviews are completely anonymous, and Fairygodboss has worked hard to create a high-quality experience rather than a dumping ground for negativity. "Even when women do have concerns, they articulate them in an appropriate manner," Newman said.
She went on to discuss how Fairygodboss is a useful resource not only for individual employees, but for company leaders as well. "I hope companies will view Fairygodboss as a data source and also a tool through which to get better. I do realize it can feel intimidating; no one likes to see negative reviews — but I think almost universally there's a balance [of positive and negative reviews]. I think smart employers will take this information and learn from it."