At Fairygodboss, we use emails to keep our community members informed about their job search, the companies they've reviewed and changes to our website. We also send emails to keep FGB'ers updated with career advice, community posts and virtual career fair information.
To change your email or to deactivate your account entirely, please contact [email protected] for support. Your request will be processed within 48-72 hours. If you'd like to learn more about Fairygodboss emails or how to adjust or pause these emails (without deactivating your account), keep reading for answers!
Fairygodboss Emails
There are two types of Fairygodboss emails: news & announcements and community emails. News & announcements emails are curated by the Fairygodboss team to deliver you information about our content, upcoming events and other opportunities you may be interested in. Community emails keep you updated on open jobs and what's happening in the FGB Community — and if you have any other questions about Fairygodboss, we'd love to invite you to our Fairygodboss FAQ page to get more of your questions answered.
Fairygodboss News & Announcements Emails
You receive these emails if you set up an account on Fairygodboss — either by supplying an email, password or username, or by accessing Fairygodboss through your Gmail or Facebook accounts. You may also be receiving these emails if you previously registered to receive the Fairygodboss email newsletter.

If you unsubscribe from these emails by clicking "unsubscribe" in the email's footer, you'll be taken to a page that looks like this:

Please note that unsubscribing from this email will not remove you from other Fairygodboss user emails.
Fairygodboss Community Emails
These emails are sent to those who have created Fairygodboss accounts. These will typically be sent by "Fairygodboss Daily" or "Fairygodboss Weekly".
There are six types of community emails that you may receive:
1. Recent news. Based on your activity on Fairygodboss, we send you the most popular and recent community posts that you missed.

2. Notifications of comments on your post. You receive these emails when a FGB'er responds to a post or comment you have made on the site.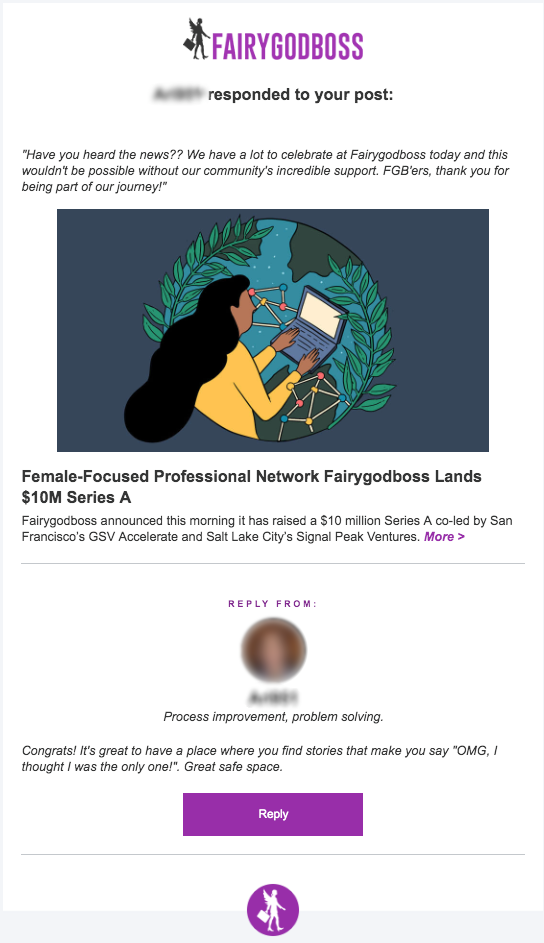 Image caption
3. Notifications of likes or views on your post. You receive these notifications when there is community engagement with something you posted.

4. Notifications that you have new messages from another FGB'er.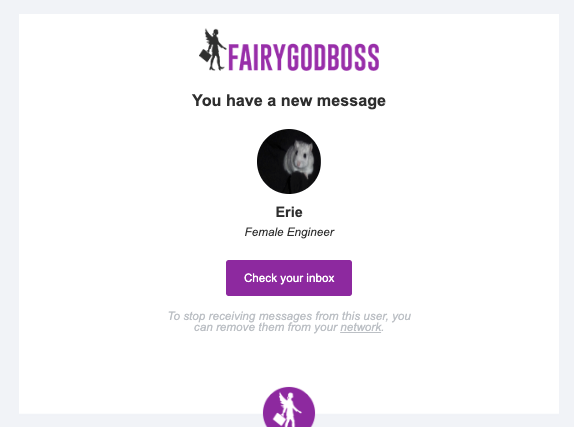 5. Notifications that a company you have reviewed or followed has received a new review.

6. Job alert emails, based on job searches you have conducted or job alerts you have created under your account.

7. Jobs we recommend to you that you have not yet seen and that others have viewed.

Manage Your Preferences.
In order to manage your email preferences for all of the emails listed above, please log in to your Fairygodboss account and navigate to "My Settings" (https://fairygodboss.com/users/alerts). We take your security and privacy seriously, which is why you must authenticate yourself before you access this portion of your profile and settings. If you have forgotten your password or need help accessing your account, you can always reset your password or email [email protected] for support.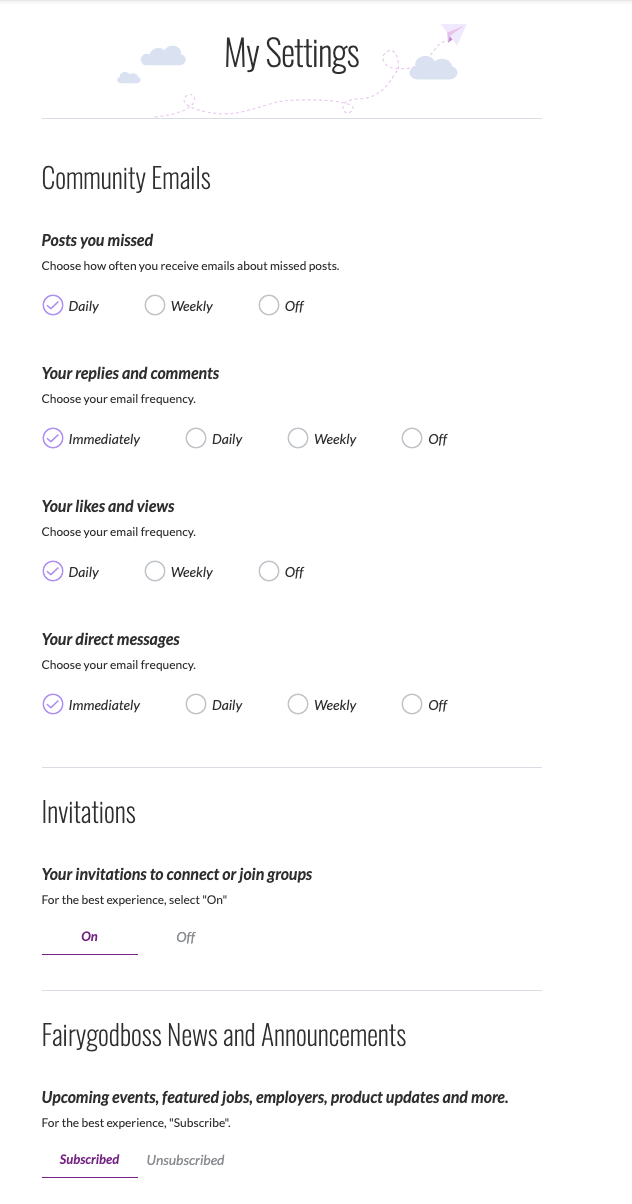 Choose which emails you would like to receive by clicking your preferred timeframe for each type of email. After personalizing the options in My Settings, your preferences will automatically be saved and can be changed at any time.
Unsubscribe.
To unsubscribe from all Fairygodboss emails and alerts:
Sign in to Fairygodboss.

Click your Fairygodboss profile icon.

Click My Settings in the drop-down menu.

Click "unsubscribe" and "off" for all.
Note that if you simply unsubscribe from Fairygodboss editorial emails (without unsubscribing to your user emails), you will still potentially receive all user emails.
There are two emails that you might receive from Fairygodboss that you cannot unsubscribe from.
1. Emails from another user who is interested in inviting you to join our community.
This is similar to getting an invitation from someone to join their LinkedIn network, for example.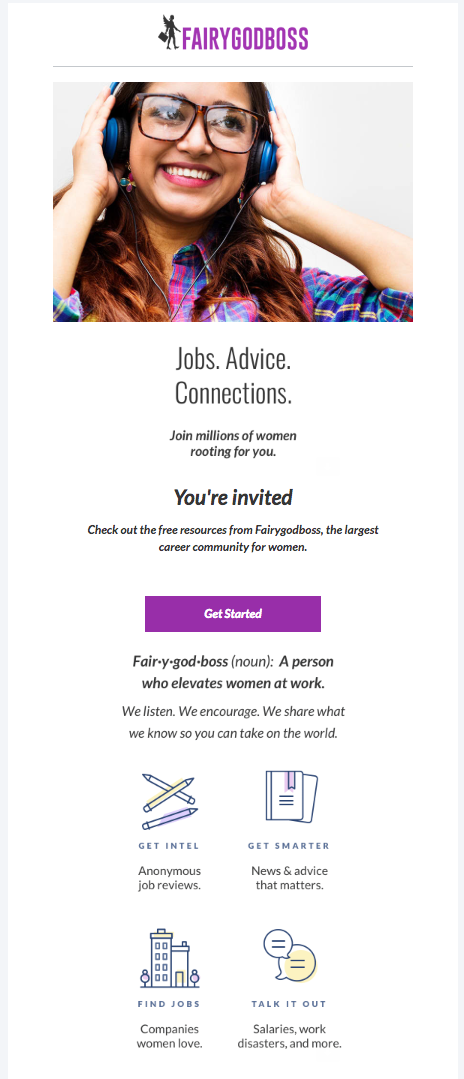 2. Emails containing updates to our Privacy Policy and to our site's Terms and Conditions.
Deactivate Your Fairygodboss Account.
To deactivate your Fairygodboss account and no longer receive emails from Fairygodboss, please email [email protected] for support. Your request will be processed within 48-72 hours. Deactivating your account means you will no longer have access to any of the reviews, job alerts, webinars, virtual career fairs and most articles, nor will you be able to share/post messages to anyone else in our Community.
We are always looking to hear from our community, so if you have any feedback regarding these emails, please contact us at [email protected]. More questions? Check out our Frequently Asked Questions page to get more of your questions answered. Thank you!