Last week, the Wall Street Journal published a report concluding that women in white-collar, high-paying professions experienced a larger gender pay gap than women in blue-collar professions. Among the top 10 professions where women's earnings lagged men's,"doctors, compensation managers and personal financial advisers" were among those showing the widest earnings gaps."

After examining 446 major occupations, the Wall Street Journal discovered that highly educated women in elite jobs were among those with the largest earnings differentials.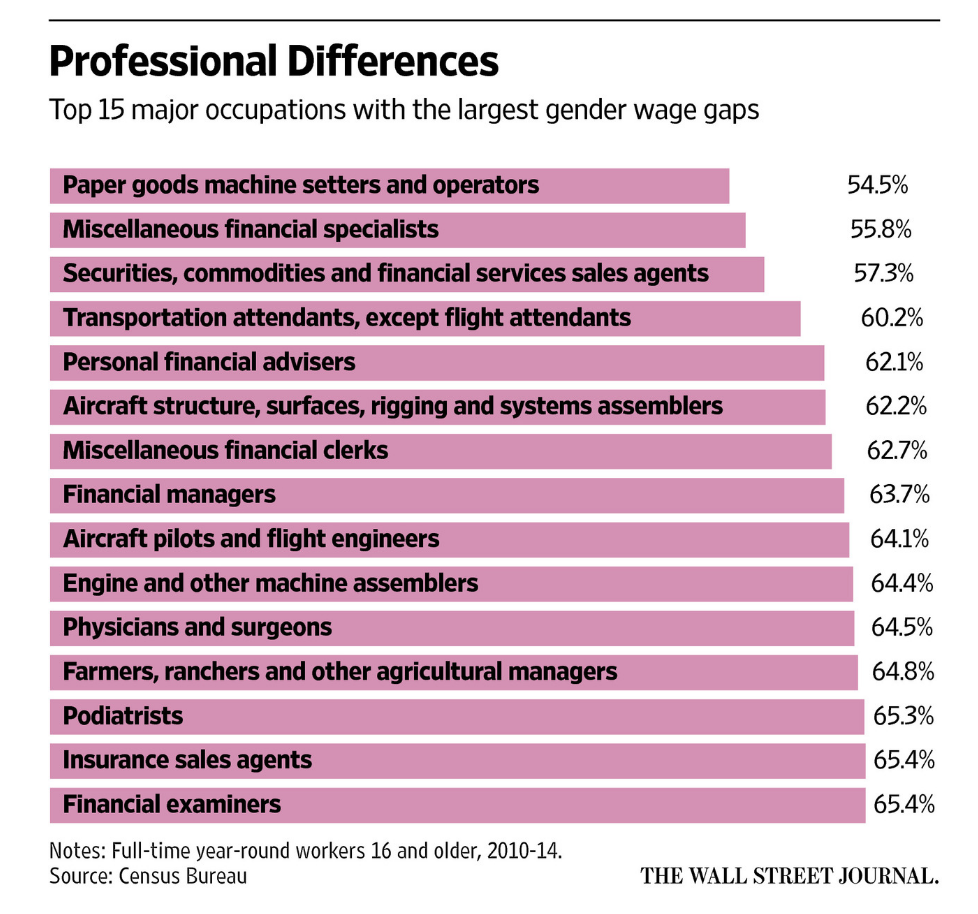 Many of us are familiar with the average statistics about what men and women make. According to the U.S. Labor Department, the average women earn $0.79 to the $1, an average man earns. Economists who study the gender pay gap have attributed this difference to a combination of different factors. Foremost among them is that the occupations / industries that women work in are typically lower-paying, which means that women are not being paid less for identical work to men -- just being paying less for the work they do because of the nature of that work. Lest one think that it's just a simple matter of choice (or even socialization and education differences that lead more women and men into certain job roles, respectively), recent research reported by Claire Cain Miller of the New York Times suggests that even when women enter a previously male-dominated industry, pay declines for exactly those jobs previously held by mostly men.

Cornell University economists Professors Francine Blau and Lawrence Kahn have been studying gender pay disparities for over 40 years and tried to isolate the role of education, experience, occupation choice and other variables in explaining the pay gap between men and women. They estimate that the following factors are at play in explaining the pay gap:
If the above factors are the reasons for the gender pay gap, fixing the problem will have to involve a multi-pronged approach. Individual women must choose more remunerative careers, and the educational and training paths that lead to those careers. Many high-paying careers, however, often seem out of reach to young girls, or is at odds with social expectations, education, conditioning beginning at a young age. Moreover, women should consider negotiating for higher pay. And employers should consider paying employees for the roles and responsibilities they fulfill, rather than tenure-based pay decisions. In terms of discrimination, there are already laws that make it illegal for employers less for equal work and recently, the government has announced additional pay disclosure rules. That said, employers can also conduct pay gap audits and examine their compensation practices more closely to ensure that they aren't inadvertently based on unconscious bias.

Fairygodboss is committed to improving the workplace and lives of women.
Join us by reviewing your employer!