A Michigan woman sent an email to her colleagues letting them knowing she would be using two sick days to focus on her mental health — and the way her CEO responded went viral for all the right reasons.
Madalyn Parker, a web developer for the tech company Olark Live Chat, recently took to Twitter to share the exchange with her boss, Ben Congleton. The tweet shows the message she sent colleagues letting them know of her upcoming mental health days, adding she hoped this would enable her to "be back next week refreshed and back to 100%." And users of the Internet are loving what Congleton said in return.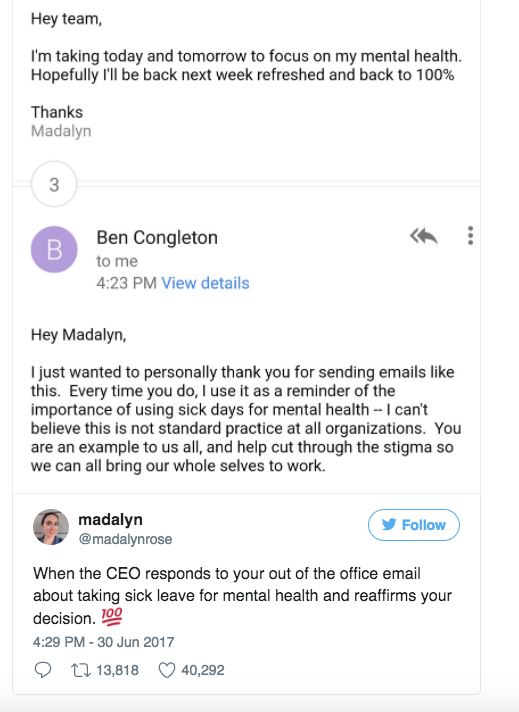 (Source: Twitter)
"I just wanted to personally thank you for sending emails like this," Congleton responded. "Every time you do, I use it as a reminder of the importance of using sick days for mental health -- I can't believe this is not standard practice at all organizations. You are an example to us all, and help cut through the stigma so we can bring our whole selves to work."
The tweet, which has been shared nearly 14,000 times since Parker posted it in late June, has sparked an online discussion about mental health in the workplace, with some Twitter users sharing their own less-than-ideal experiences of asking for time off to focus on mental wellness.
"I took a mental health afternoon at my last job and got passive aggressive documentation about the mental health coverage in our health plan," commented one woman. "We had been on a crunch for ten days and I was having self harm impulses."
"This is great!! I once called in to take a mental health day," wrote another Twitter user. "My boss told me anxiety isn't a real illness & that I needed a doc's note."
Parker responded to commenters' negative experiences by calling them "terrible" and stressing that "mental health IS health!" She also added that her mental wellness has always been prioritized and supported at Olark: "I've been asked on multiple occasions what I'm going to do to take care of myself after a stressful day. They legit care about me."
For his part, Congleton, who's already being hailed as an example to other CEOs and managers everywhere, took to LinkedIn to express his surprise over all the internet attention, saying that a response like his "should be business as usual" for companies.
"The reactions revealed that my stance on mental health in the workplace is unconventional, to say the least," he wrote. "It's 2017. I cannot believe that it is still controversial to speak about mental health in the workplace when 1 in 6 americans are medicated for mental health."
He also called out the hypocrisy in the way people differentiate mental and physical health in the U.S., adding "our jobs require us to execute at peak mental performance. When an athlete is injured they sit on the bench and recover. Let's get rid of the idea that somehow the brain is different."
We couldn't have said it any better ourselves, Congleton!