"Our people thrive. Our value is clear. Together, we connect the world."
C.H. Robinson — one of largest logistics platforms in the world — solves logistics problems for companies across the globe and across industries, from the simple to the most complex. C.H. Robinson services accelerate trade and help to seamlessly deliver 20 million shipments annually, which are full of the products and goods that drive the world's economy. There is no wonder why over 100,000 companies worldwide rely on C.H. Robinson!
This meaningful work is important to C.H. Robinson employees like Karol. "Beginning my career as an Intern at C.H. Robinson, I've had the opportunity to work with many different leaders in my career here," says Karol. "I have often witnessed that they have focused on what was good for me, and what I wanted in the development of my career by providing appropriate training and guidance to the next step in my career advancement. They help prepare you for success."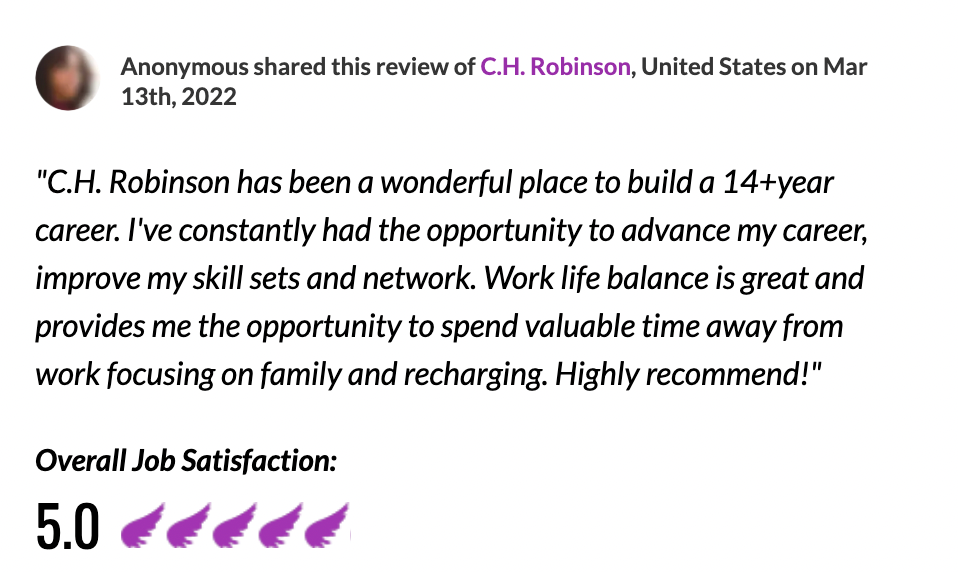 An anonymous C.H. Robinson review on Fairygodboss.
And, at C.H. Robinson, you can connect the world through technology and innovation. In fact, their people and technology literally move the world! Join the company to reach for success, reach your life goals, and grow your best self with them.
If you'd like to learn more about why employees enjoy growing their careers at C.H. Robinson, read on...
Making inclusion a top priority.
At C.H. Robinson, they make creating a culture of inclusion and belonging a top priority — a culture that celebrates the dimensions of diversity, both seen and unseen. In order to ensure diversity and fairness in all that they do, and to champion different perspectives, experiences and backgrounds, the company relies on four principles to guide their work:
Social and racial inequalities exist; so the company works to remove barriers to promote success for all.

DE&l is embedded in all of C.H. Robinson's values and they integrate it into all aspects of their business to ensure long-term, sustainable change.

C.H. Robinson knows that differences make them stronger and better able to meet the needs of customers, carriers, people, and communities.

Every C.H. Robinson employee plays an active role in creating a culture of inclusion and belonging where all people can contribute and thrive.
To further grow their culture of inclusivity, belonging and empowerment, the company also utilizes five DE&I commitments to:
Foster a culture of inclusivity and belonging where all employees feel valued and empowered to share their diverse opinions.

Build high-performing, diverse leadership teams across the business.

Hire and retain a diverse workforce that represents the communities employees live and work in.

Invest in business and community partnerships that support the company's diversity and inclusion commitments.

Hold themselves accountable and ensure that everyone is responsible for the success of this work.
As for part of their DE&l work, C.H. Robinson has company-supported and employee-led ERGs, LatinX, B.L.A.C.K., Pride, Women, Women in Sales and Women in Tech, with others in development. An annual, company-wide global inclusion week has committed to the ParityPledge in Support of Women and People of Color, CEO Action for Diversity & Inclusion and Business Roundtable Statement on the Purpose of a Corporation, and participates in holidays like International Women's Day, as we see in the following video.
All of C.H. Robinson's concerted efforts result in an ever-improving company culture for all employees. "The culture is collaborative, welcoming, inclusive, and definitely fun. They do a really great job of bringing the employees together," says Sierra, a sales executive. "You can tell that work-life balance is really important to the company."
C.H. Robinson's team composition also reflects the company's DE&l efforts. Their global team is 48% women (with management made up of 45% women and a +0.99% change of overall representation for women employees between 2020 and 2021), four generations and 28% BIPOC in the U.S. Their Women in Tech ERG has grown by 2.6% and Women in Sales by 4.7%, as well.
Why employees love working at C.H. Robinson.
To start, C.H. Robinson also puts a strong emphasis on growing careers. "Coaching up BIPOC and women in the workplace to be leaders is very important to me," shares Daniel, a PM at the company. "It is good to see people like you and of other backgrounds in the workplace and in leadership. An inclusive environment makes the company better, smarter, and helps with retention."
To help employees across the globe grow their careers, C.H. Robinson offers a comprehensive suite of mentorship programs, career pathing, onboarding, and training programs, along with networking and team-building.
Thanks to this emphasis on growth, C.H. Robinson employees don't just get to elevate their careers, they get access to amazing opportunities outside the company, too. For instance, Angie Freeman, the Chief Human Resources Officer Executive at C.H. Robinson recently participated in a White House Roundtable for Women in the Trucking Industry. In this, she helped share ideas on how to get more women into the truck driving profession. "Today, only 10% of U.S. truck drivers are women," states Freeman, "imagine the change we could make with dedication to advancing women in our industry."
A push to change and influence communities all over the world is a common thread within C.H. Robinson. "As a responsible global citizen, we are also proud to contribute millions of dollars to support causes that matter to our company, our Foundation and our employees," C.H. Robinson shared with Fairygodboss. Charitable donations, an employee match program, the Robinson Cares program, and strategic partnerships are only a few of the ways that C.H. Robinson aids the world at large.
Another key reason employees love the company are the competitive and supportive benefits. The company believes that their employees' total wellbeing is the foundation of their business. As such, they invest in professional growth and development and benefits that support their global team's financial, family and personal goals.
In order to give employees the flexibility to create a career that works with their life, C.H. Robinson offers many benefits, including:
A flexible work model (as of Sept 1, 2021, over 75% of employees have a hybrid work style)

Fertility benefits, which connect employees to leading fertility specialists providing the most advanced, effective fertility treatment

Adoption assistance

Gender-affirming care

A 401(k) with 6% company matching

An employee stock purchase plan with a 15% discount

Paid time off, paid volunteer time off and holidays

Flexible spending and health savings accounts

A scholarship program
Overall, C.H. Robinson employees in 2021 noted that the things they valued most about the company were the great compensation, support for well-being, stability of the company, flexible work conditions, and the ability to solve complex problems for customers.
Due to their top-of-the-line culture and benefits, C.H. Robinson has received a wide range of awards, including:
Fortune Ranking of Top-200 Company, 2021

Fortune's List of World's Most Admired Companies, 2022 & 2021

LinkedIn's Top Companies in Mpls-St Paul, 2021 (headquarters)

Supply Chain Digital - Top 100 Companies in Supply Chain 2022

Freightwaves FreightTech Top 25 (#14) 2021
---
Interested in joining award-winning C.H. Robinson culture and creating a career that works with your life? They're hiring! Check out open positions below.
Fairygodboss is proud to partner with C.H. Robinson. Find a job there today!