10
We already love Chrissy Teigen for a myriad of reasons — she's a talented model, a revered home chef (and cookbook author!), a proud mother of her children and fur babies, a seriously skilled jokester, a shameless selfie queen and a dexterous video gamer. And now we've yet another reason to love the mother of two: She's not afraid to show off her post-pregnancy body, even if she's not totally confident with it herself.
Teigen, who just gave birth to her newborn son Miles in May, took to Instagram and Twitter to share a candid video and mirror photo of her bikini-clad body. She was on vacation with her husband, John Legend, when she took the photo and video.
"I guess these just aren't going to go away," she says in the close-up footage of stretch marks on her stomach, captioned "mom bod alert!" "This is my new body.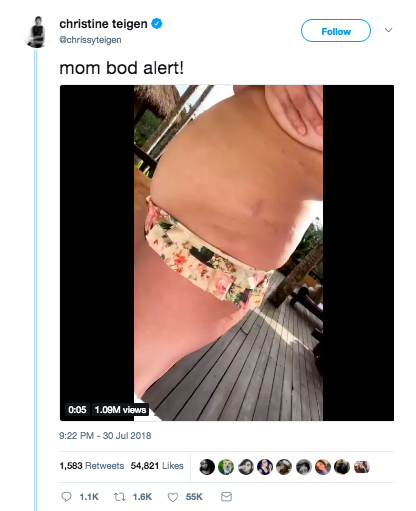 Following the video, she shared the topless mirror selfie, in which she's covering her breasts with her arm and kissing Legend. She then tweeted to her 10 million followers about how "crazy" social media can be in terms of inundating our feeds with "killer bodies."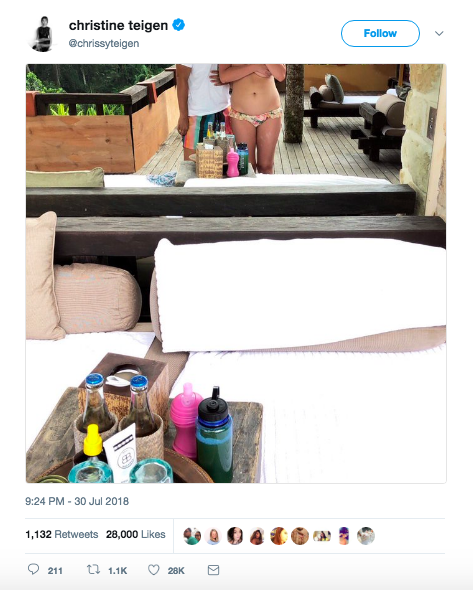 "Instagram is crazy," she writes. "I think it's awesome people have killer bodies and are proud to show them off (I really do!!) but I know how hard it can be to forget what (for lack of a better word) regular ol' bodies look like when everyone looks bonkers amazing."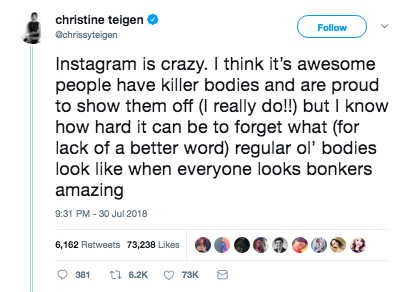 In a separate tweet on the thread, she adds that she wouldn't necessarily label her post as "body confidence" because she says she's not quite there yet.
"I'm still super insecure," she admits. "I'm just happy that I can make anyone else out there feel better about themselves!"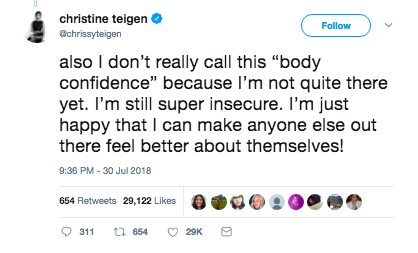 Teigen isn't alone — and we appreciate her willingness to share despite her own insecurities. Her honesty is, frankly, refreshing.
Don't miss out on articles like these. Sign up!
--
AnnaMarie Houlis is a multimedia journalist and an adventure aficionado with a keen cultural curiosity and an affinity for solo travel. She's an editor by day and a travel blogger at HerReport.org by night.